Versatility
Our line of HDMI/SDI IP cameras support both HDMI and SDI outputs. Whether you're looking for an SDI camera for streaming or an HDMI camera for streaming, an HDMI/SDI IP camera will be your solution. HDMI can be found on most consumer displays and AV equipment. SDI connections are preferred for professional productions due to its improved reliability. Most of our HDMI/SDI IP cameras also support a USB 3.0 video connection as well.
Simplicity
Equipped with features like Auto-Focus, Automatic White Balance, and advanced image processing capabilities, BZBGEAR SDI/HDMI IP cameras make it easy for ordinary users to achieve professional results.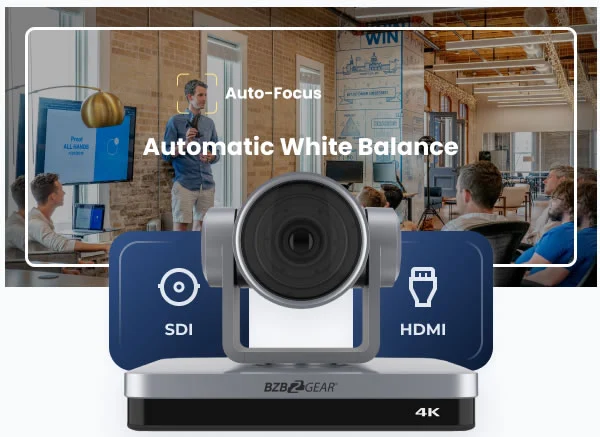 Easy To Use
Some of our HDMI/SDI IP cameras support PoE. PoE stands for power over ethernet. What power over ethernet does is provide power and a network connection to the camera with one category cable. If your HDMI/SDI IP camera supports PoE, you will not need an additional power source. This allows for a clean and simple set up.
PTZ Optical Zoom
Most of our SDI/HDMI IP cameras come in 3 different zoom models. Users can choose between a PTZ camera 10x, PTZ camera 20x or a PTZ camera 30x model.
What is an SDI camera?
An SDI camera is a live streaming camera that uses an SDI video connection to share footage or livestream. What makes SDI stand out is the lock in connection. Unlike HDMI, which plugs straight into your device, the SDI connection is locked in place. SDI is also a longer and sturdier cable than HDMI. This makes SDI cameras perfect for professional live streaming and broadcasting applications.
What is an HDMI camera?
An HDMI camera is a live streaming camera that uses an HDMI video connection to share footage or livestream. What makes HDMI stand out is its variety of possible applications. HDMI is what's found on most consumer based equipment and devices. This gives users more flexibility in the displays they can use to live stream their footage.
HDMI Cables Explained
HDMI stands for High Definition Multimedia Interface. HDMI is the most commonly used high definition signal for the transmission of both HD video and audio through a single cable. An HDMI sends these signals from one device to another. HDMI is often used for commercial solutions.
SDI Cables Explained
SDI stands for serial digital interface. SDI is a standard for digital video and audio transmission over coax or fiber cabling. SDI cables are capable of transmitting signals at higher speeds than HDMI cables. SDI cables are typically used for more professional solutions due to its distance, strength and speed.