The Next Generation of Medical Grade PTZ Cameras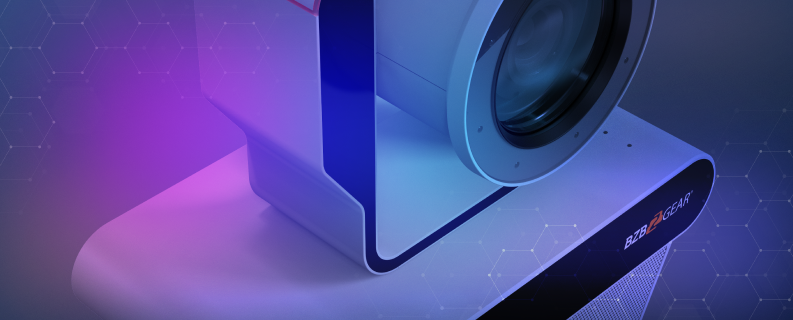 BG-NUTRIX: The Next Generation of Medical Grade PTZ Cameras
The BG-NUTRIX is a brand-new 4K/Full-HD IEC 60601 Certified auto-tracking medical grade NDI|HX PTZ camera with night vision, integrated stereo speakers/microphone, and a 30X optical zoom lens. It features smooth PTZ functions, advanced image processing features, and flexible connection options in addition to its spotlight features. Thanks to its NDI|HX compatibility, users can easily maintain a stable live video feed by leveraging their existing network connection.
IEC Medical Certification, Night Vision, and Stereo Speakers: These features make the BG-NUTRIX ideal for various medical applications. The IEC 60601 medical certification ensures that the camera meets safety standards for medical environments. The IEC 60601 certification is a mandatory requirement for medical devices to be sold in most countries worldwide. It is designed to ensure the safety and reliability of medical equipment, particularly concerning the electrical and electronic components that make up the device.
The night vision feature allows the camera to function in low-light conditions, which can be essential for remote patient monitoring and medical procedures. The stereo speakers and microphone provide clear audio, which is important for communication during remote consultations, telemedicine, and live medical procedures.
High-Resolution Imagery: 4K@60 / 1080p@60 resolutions: High-quality video resolutions are essential in the medical industry for various applications such as telemedicine, live medical procedures, training sessions, and remote consultations. With 4K@60 / 1080p@60 resolutions, healthcare professionals can accurately view the details of a medical procedure, making it easier to diagnose, analyze, and discuss cases remotely. Additionally, the 30X optical zoom lens lets medical professionals magnify the subject they are recording without losing image quality.
Multiple Connection Options: HDMI, USB, LAN: These connectivity options offer versatility in terms of video input and output options. HDMI ports can connect cameras, medical imaging devices, or any other video source to the system, while USB and LAN provide additional connectivity options for peripherals such as keyboards, mice, or networked devices. The variety of connection options ensures the BG-NUTRIX will have interoperability with any pre-existing systems.
What is NDI?
Network Device Interface (NDI) is a high performance AV over IP standard that allows anyone to use real time, ultra low latency video on existing IP video networks. The NDI open protocol enables professionals to share video through a local area network (LAN) with video-compatible devices. With a single ethernet cable connection, professionals can merge all stages of production from start to finish. That way, all production tasks and processes will be united, so accomplishing a creative vision will be simple. With the NDI 5.5 tool-kit, users will also be able to connect any audio device as an NDI source with NDI's Audio Direct tool. This adds audio over IP to NDI's revolution.
What is NDI|HX3?
NDI|HX3 is an updated version of the HX2 standard. The difference is, HX3 provides a better image quality and lower latency than HX2. NDI|HX3 also uses slightly more bandwidth than NDI|HX2, but the increase in bandwidth is not significant enough to be an issue. There are a limited amount of NDI|HX3 compliant devices due to a hardware limitation most NDI|HX2 compliant devices have. Overall, NDI|HX3 is the latest update to the standard and offers the best features. Learn more
Who Uses NDI Technology?
NDI technology is utilized across various industries, including broadcasting, live events, education, gaming, healthcare, corporate communication, security, entertainment, virtual studios, and government. It enables seamless, high-quality audio and video transmission over IP networks, facilitating tasks like live broadcasts, remote learning, esports streaming, medical imaging, and more.
Control Options for the BG-NUTRIX
RS Communication Protocols: The BG-NUTRIX supports RS422 (compatible with RS485) output and RS232 input/output. RS232 supports cascading, making it easy for engineers to operate.
Control Protocols: Support for multiple control protocols including VISCA, PELCO-D, PELCO-P, and auto identification protocol.
Network Protocols: Support for multiple network protocols including ONVIF, GB/T28181, RTSP, RTMP protocols, and supports push mode in RTMP to link with streaming media servers easily. Plus, it supports RTP multicast mode and network full command VISCA control protocols.
NDI Interface: Camera operators can use the NDI interface to transmit video signals from their cameras over a local area network (LAN) to other devices on the same network.
BG-Nutrix Management Software: BZBGEAR presents a cutting-edge, complimentary management software designed exclusively for the BG-Nutrix. This software empowers users to seamlessly oversee the camera's PTZ capabilities, audio configurations, and essential camera settings from a remote location. Moreover, it serves as a gateway to critical medical data, including patient information and medical records. For a deeper understanding of its capabilities, reach out to a BZBGEAR representative today.
The auto-tracking technology uses the latest human detection AI algorithms to exhibit unparalleled tracking speed and accuracy. This monocular tracking method uses only one camera and one lens to easily detect and capture human forms and moving objects in seconds.
The auto tracking is presented in two modes: Presenter Tracking and Zone Tracking. Presenter Tracking tracks its target everywhere without the need to wear any receiving devices. It has strong locking and anti-interference capabilities giving medical professionals the flexibility to work without interruption while continuously being tracked. Zone Tracking can be set to track a specific area providing a clear, smooth representation of what the medical professional wants to monitor or showcase.

Features
2-Way Audio

Communicate effectively without the need for additional audio equipment

Night Vision

See clearly in low light conditions

Connection Options

HDMI/USB 3.0/LAN

4K at 60Hz

Output up to 4K@60Hz resolution

30X Optical Zoom

Zoom in and out 30X without interrupting image clarity

Medical Grade

IEC 60601 Medical Certified
Ambarella CV22 Chipset: Designed to deliver high-performance image processing and Auto-tracking

Memory Card Slot

Kensington Security Slot

NDI|HX technology: High-performance AVoIP
Videos
Get a Better Examination of the BG-NUTRIX Medical Grade PTZ at IBC 2023
Transforming Healthcare: The Next Level of Patient Monitoring with BZBGEAR 30X Zoom 4K PTZ Camera
Beyond HD - Introducing BG-NUTRIX Certified #4kptzcamera for Medical Applications
A Breakthrough in Patient Monitoring Introducing the Medical Certified 4K PTZ Camera | BG-NUTRIX
Brand New Medical Grade PTZ Camera From BZBGEAR! The BG-NUTRIX | NAB 2023
BZBGEAR Attends HIMSS Global Health Conference in Chicago
BZBGEAR Unveils Medical Grade PTZ Camera at HIMSS Global Health Conference
Certified Medical Camera From BZBGEAR! #NAB #BZBGEAR
Tech Specifications
| | |
| --- | --- |
| Resolutions | 4K@60 / 1080p@60 |
| Interfaces | HDMI, USB, NDI/LAN |
| NDI|HX, Dante AV-H | Stream high-quality audio/video over a network while minimizing latency |
| Night vision | Supported |
| Speakers | Built-In stereo speakers |
| Microphone | Built-In microphone |
| Working Environment | Indoor Only |
PACKAGE CONTENTS
1x Camera
1x Power supply
1x User Manual
Interfaces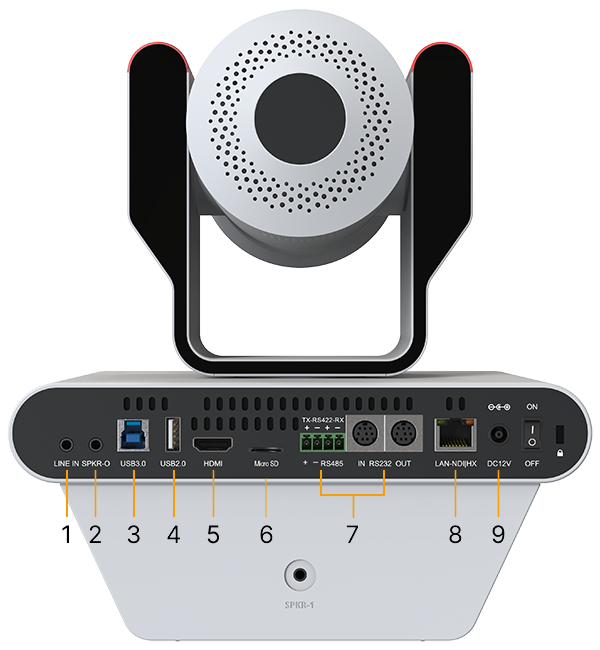 USB 3.0:

Connect USB 3.0 type B cable to a PC for plug & play connectivity for any conferencing service like Skype or Zoom, supporting resolution up to 1080@60Hz.
USB 2.0: Connect USB 2.0 type A cable to a PC for plug & play connectivity for any conferencing service like Skype or Zoom, supporting resolution up to 4K@60Hz.
SDI: Connect to an SDI device up to 330ft such as a video production switcher or a video display at resolutions up to 12G (4K@60Hz) over SDI cabling.
HDMI: Connect to an HDMI device such as a video production switcher or a video display up to 4K@60Hz.
MicroSD: Record up to 1 TB of 4K video.
Audio In: Connect external audio sources such as a microphone or small audio mixer to embed the sound into all video output interfaces.
RS-232, RS-422/485: Connect cascading RS-232 or RS-422/485 to control the camera(s) with a joystick controller or control software.
LAN-ND|HX: Connect to a network switch via category cable to supply power (PoE), control (TCP/IP or webGUI) and stream (NDI|HX).
Power: Connect supplied 12V power adapter.