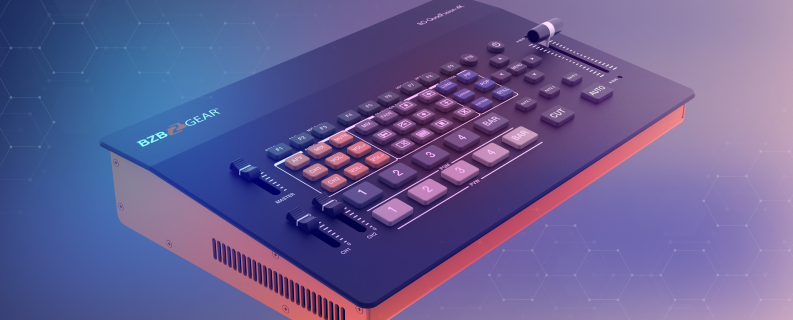 Overview
Introducing the BG-QuadFusion-4K: A Feature Packed 4K UHD 4-CH Video Production Switcher. The BG-QuadFusion-4K is a versatile video production switcher designed for professional broadcast and TV stations. This switcher offers comprehensive control options, including keyboard-based special effects and transitions, intuitive menu display functions, and a camera joystick for precise camera control. It supports up to 4-CH HDMI/DP (DisplayPort) inputs 4K60 signals, making it ideal for a wide range of live broadcasting applications, including sports events, concerts, and studio recordings.
Audio and Visual Excellence
This video production switcher boasts an impressive array of features, including HDMI and DP decoders, support for various input resolutions, built-in format conversion, audio processing, video streaming capabilities, and more. It provides 4 video input channels and 4 HDMI video output channels, along with 2 analog audio input and output channels. Additionally, it supports DCB control, tally output, H.26x encoding for video streaming, and remote upgrade capability. 
The BG-QuadFusion-4K is built for both studio and on-location use, making it suitable for live performances, course recordings, and studio guidance. Its advanced functions include multi-format video input, audio embedding, audio mixing, an SD card slot, USB 3.0 streaming, keying effects, RS422 control, and more, all accessible through user-friendly operation. 
The switcher allows control of up to 4 cameras and is particularly well-suited for large-scale events like sports broadcasts and concerts. Its robust construction, featuring metal aluminum alloy, ensures durability, while its ultra-thin design facilitates transportation and maintenance
In terms of special effects, this switcher offers a range of transition options, including MIX, FADE, and various wipes. It also supports picture-in-picture (PIP) and picture-out-picture (POP) effects. Chroma key and luma key functionalities enable easy overlay of graphics and subtitles. 
The switcher's menu settings are straightforward to navigate, offering language options, fan control, and system reset capabilities. With its comprehensive features and user-friendly interface, the BG-QuadFusion-4K is an essential tool for professional video production.
Features
HDMI Encoder & DP Decoder

Effortlessly manage multiple video sources

Special Effects

Unlock creative potential with built-in effects

Control Options

Convenient RJ45 remote, backlit buttons, and knobs for precise adjustments

Immersive Audio

2-CH MIC inputs, LINE OUT for rich soundscapes

4K Support

Present content in stunning, clear 4K resolution

Durable Mobility

High-strength aluminum alloy for lasting, portable use
Videos
4K Production Switcher BG-QuadFusion-4K: Unleashing the Power of Creativity
Brand New Lineup of Professional Broadcasting Production Switchers from BZBGEAR | IBC 2023
Tech Specifications
SKU
BG-QuadFusion-4K
Video Signal Input
Input signal
HDMI / DP video signal
Code rate
270Mbps ~ 18Gbps
Connector
Standard
Signal amplitude
800mV±10% (HDMI/DP)
Impedance
100Ω (HDMI), 100Ω (DP)
Balance
Adaptive
DVD input
480i/576i, 480p/576p, 720p, 1080i, 1080p, 2160p
HDMI/DP input support
3840x2160, 1920x1080, 1680x1050, 1600x900,
1440x1050, 1366x768, 1360x768, 1280x102,
1280x960, 1280x800, 1280x768, 1280x720,
1280x600, 1152x864, 1024x768, 800x600
Video Signal Output
Output signal
HDMI video output
Code rate
6Gbps ~ 18Gbps
Connector
Standard
Return Loss
>15dB 5MHz~3GHz
Signal amplitude
800mV±10%(HDMI/DP)
Impedance
100Ω (HDMI), 100Ω (DP)
DC offset
0V±0.5V
Clock recovery
Support
General Parameter
Power supply
12V
Power rate
<35W
Size
11.2in x 6.9in x 2.4in [284mm x 175mm x 60mm]
Control panel
Support on-site production, integration of a variety of buttons
Operating temperature
32°F ~ 122°F / 0°C ~ 50°C, No condensation
Storage temperature
-4°F ~ 167°F / -20°C ~ 75°C
Working humidity
20% ~ 70%RH
Storage humidity
0% ~ 90%RH, No condensation