Comparison Table
| SKU | SERIAL | IP | PROTOCOLS | RS-232 | RS-422 | RS-485 | POE | CAMERAS SUPPORTED |
| --- | --- | --- | --- | --- | --- | --- | --- | --- |
| BG-COMMANDER-JR | YES | YES | VISCA, UDP, AND PELCO P/D | YES | YES | YES | × | 5 |
| BG-COMMANDER | YES | YES | IP VISCA, ONVIF, VISCA, PELCO-D, AND PELCO-P | YES | YES | YES | YES | 7 |
| BG-COMMANDER-PRO | YES | YES | IP VISCA, ONVIF 2.8, VISCA, PELCO-D, AND PELCO-P, NDI | YES | YES | YES | YES | 9+ |
| BG-CJ-IPRSPRO | YES | YES | IP VISCA, ONVIF, VISCA, SONY VISCA, AND PELCO P/D | YES | YES | YES | × | 7 |
| BG-CJ-RS | YES | × | VISCA, PELCO-P, AND PELCO-D | YES | YES | YES | × | 6 |
Manage Multiple Cameras
BZBGEAR Joystick Controllers allow a single user to effectively operate multiple PTZ cameras. Quickly and seamlessly switch between multiple PTZ cameras and camera angles with the powerful preset functions. Easily make color corrections and exposure adjustments on the fly with dedicated white balance and iris controls. Joystick controller setup is also made simple with our easy to follow manual included with every package.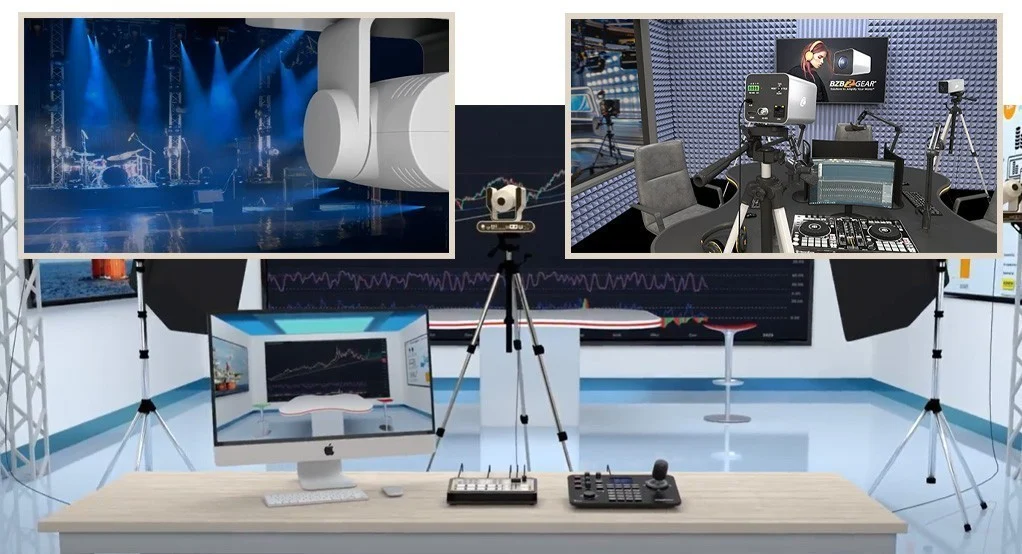 Work efficiently
The addition of a joystick controller to your production allows users of all skill levels to step in and take control of your PTZ cameras. Our simple and effective controllers enable entry level volunteers to control cameras. This will allow your technical staff to do more demanding tasks, increasing your overall productivity.

Features
IP Control

Connect a simple ethernet cable and enjoy instantaneous camera response.


Compatibility

Our joystick controls work with most major camera manufacturers.

Support for Multiple Protocols

Our joystick controllers support VISCA over IP, ONVIF, VISCA, PELCO-D, and PELCO-P.


PoE Support

Power and control signals provided via a single category cable.


Integrated LCD Screen

Review settings at a glance.


Variable Speed

Adjust PTZ speed to dial in the perfect degree of responsiveness.


Advanced Image Settings

Adjust white balance and iris settings on the fly.


3 Year Warranty

Parts & Labor covered for 3 years

The BZBGEAR Difference
There is a reason our customers return to us time and again for advice, add-ons, and system expansion. Our belief in our products is demonstrated in our 3-year A/V Equipment and 5-year Camera Warranties, and our pride in customer service is backed by a team of highly trained sales and technical support engineers. Our ever-expanding Knowledge Base features step by step guides for setup and integration, and our YouTube channel features in depth dives into the setup, configuration, and features of our diverse family of products.