What is a video wall?
A video wall is a display made up of multiple screens that are positioned to appear as one large screen. Video walls can be configured to display different images on each individual screen or the individual screens can all be used to display a single image. Video walls also provide a greater screen area per unit cost and provide a greater pixel density per unit cost. This is due to the economics of manufacturing single screens which are unusual in size, shape and resolution.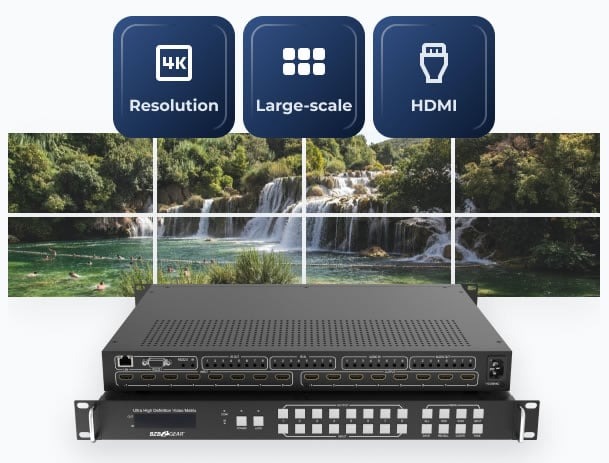 From Big Screen to Bigger Screen
BZBGEAR's Video wall processors let you create large-scale video wall arrangements. Large format displays can be expensive. Combining several smaller displays with a video wall processor can create an even larger display for less! Our video wall processor will also provide a greater pixel density per unit cost. That way, you can also get a higher quality image than you would with a large format display.
Video Wall Solutions
Create attention-grabbing displays with a video wall processor. With a video wall processor you can create captivating displays for venues such as live events, restaurants and sports bars. For those who work in the houses of worship industry, video wall processors are more than capable of creating video walls for churches. Video wall processors are also perfect for advertising products and services in retail spaces, or creating impressive demonstrations at trade shows. Overall, video walls will help set you apart from the competition!
Ultra HD for Less
BZBGEAR video wall processors can output resolutions up to 4K@60Hz, allowing you to produce sharp images with realistic details on a large-scale display. Did you know that combining four 1080P displays in a 2x2 configuration creates a 4K UHD video wall?