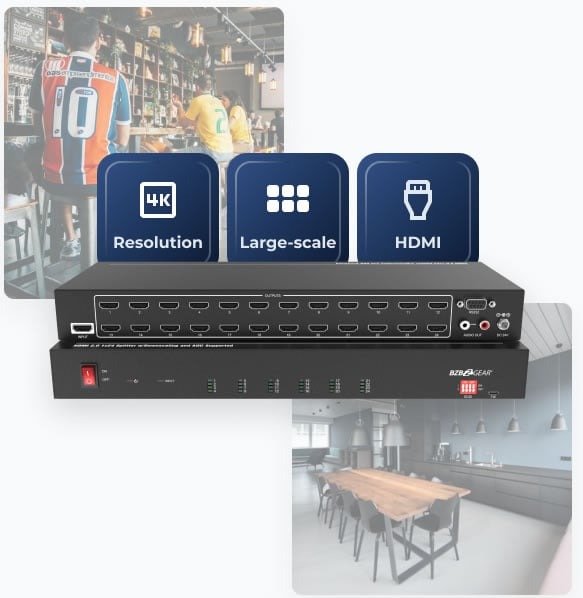 From One to Many
BZBGEAR HDMI signal splitters are designed to share a single HDMI source to multiple displays. They are perfectly suited for applications like sports bars or auditoriums, removing the need for multiple source devices, simplifying installation and adding reliability to a system.
Centralize your Wiring
The inclusion of an HDMI splitter in your system design creates a single point of connection for all of your displays, easing troubleshooting and eliminating the messy wiring and clutter that multiple source devices can create.
How do HDMI splitters work?
HDMI splitters split an HDMI source into multiple HDMI outputs. Plug your desired HDMI input into your HDMI splitter then connect your other HDMI cables to the HDMI splitter to use as outputs for your desired HDMI input source.
Do HDMI splitters reduce quality?
No, HDMI splitters just copy the digital signal so the quality should not get reduced automatically. If you are using lower quality hardware to split your signal, you can experience a low quality. You may also experience a lower quality if you are using a non-powered HDMI splitter or extending your HDMI signal over a very long cable. HDMI cables tend to have signal interruptions when extended over 50ft. Other than those exceptions, you should not experience reduced quality when using a high quality HDMI splitter.