Overview
Audio/video over IP systems enable users to stream their audio and video with a network connection. What equipment will you need to complete your AVoIP system? You will need the BG-VOP-MT transceivers, the BG-VOP-CB controller and a network switch. If you are missing any of these 3 devices, you will not be able to complete your AVoIP system.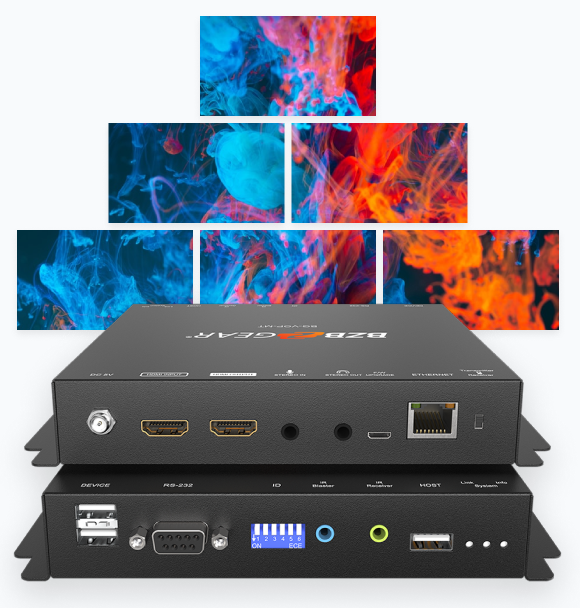 Versatility
BZBGEAR's AVoIP (Audio/Video over IP) features a multitude of connections including HDMI, analog audio in/out, bi-directional IR, and RS-232. Our AVoIP system also delivers the various connections over a Local Area Network (LAN). The possibilities are endless – everything from creating a virtual A/V Matrix system, a Video Wall, or even KVM extension – all while utilizing your existing network infrastructure!
Simplicity
BZBGEAR's AVoIP system is designed to be fast to install, easy to configure, and simple to operate. This is even easier when you have access to our intuitive browser interface and our iOS App.
Our unique transceiver design allows each unit to operate as an AV over IP transmitter or receiver at the flip of a switch. Being able to switch between encoding and decoding will provide a great deal of flexibility.
Ultra HD Images
Connect input sources at resolutions up to 4K@60Hz and output clear images at resolutions up to 4K@30Hz HDR. Signals can travel up to 328 feet/100 meters between network switches with a category cable. Additionally, receivers feature integrated scalers allowing legacy 1080P displays to be connected.