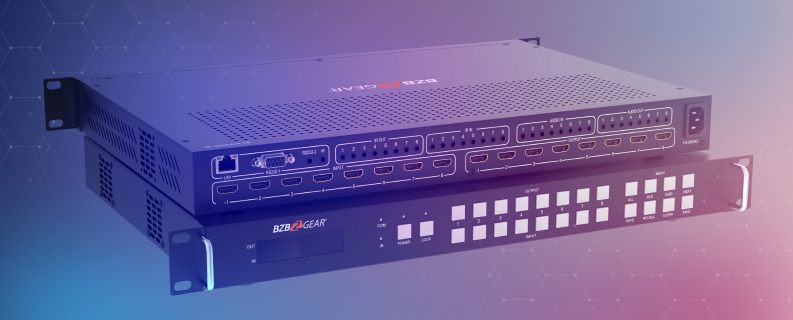 Overview
The BZ-MVS8X8-4K video wall processor and matrix switcher is an incredible tool that supports up to eight inputs and eight outputs. The unit can support multiple commercial-grade video walls with 4K HDR quality simultaneously in various configurations such as 1x2, 2x2, or 3x2 up to 8 displays total.
Connectivity
The BZ-MVS8X8-4K is HDMI 2.0 and HDCP 2.2 compliant with bandwidth speeds up to 18Gbps. These features enable this unit to support eight HDMI inputs and outputs with resolutions up to 4K@60Hz. Users can also embed or extract two channel audio onto each HDMI input and output respectively using 3.5mm mini stereo audio cables.
IR matrix routing is available on this unit via the included IR extenders with 8 IR in and 8 IR out connections. The superior connectivity features and image quality of the BZ-MVS8X8-4K make it an incredible choice for those looking to create beautiful video walls or matrix multiple displays for advertising, events, and more.
Control
This matrix switcher offers a variety of control methods including buttons on the front panel, IR remote control, a PC Utility, RS-232, or web interface. To connect to the PC Utility software, operators can use either USB or a direct Ethernet connection. The PC Utility software also offers automatic or manual EDID management. Up to 8 matrix scenes can be saved and recalled for future use making this device flexible for different configurations that your business may need.
Features
Video Wall Processor

Spread a source across multiple displays

Video Matrix

View any source on any display

Crystal Clear Images

Supports resolutions up to 4K@60Hz on all inputs and outputs

Multiple Control Options

Utilize the physical buttons, RS232, Bi-Directional IR, or Web interface to mange your devices and display layouts

HDCP 2.2

High-Bandwidth Digital Content Protection Supported

Audio Embedding and Extraction

Embed or extract audio on each HDMI input or output
Seamless matrix switching

Auto/manual EDID management

Save & recall videowall/matrix scenes

Up to 8 HDMI inputs and 8 HDMI outputs

IR matrix routing follows video routing

Supports multiple video wall configurations on up to 8 displays (two 2x2, four 1x2, one 2x3, one 2x4, etc)
Videos
How to Use The NEW BZBGEAR Switcher Control App for AVoIP, Matrix, & Video Wall
BZBGEAR Switcher Control App: Streamlined Matrix, Video Wall, Multiviewer & AVoIP Manager
The Best Video Wall Processors for Any TV 2022
One Unit, Eight 4K Sources, Matrix Switching & Video Wall Processing | BZ-MVS8X8-4K
INFOCOMM 2022 | BZBGEAR 4K Video Wall Processors & Matrixes
Multi-display Setup: 4K HDR HDMI Video Wall Matrix Switcher | BZBGEAR BZ-MVS8x8-4K
Seamless 4K HDR HDMI Video Wall Matrix Switcher Astounds | BZBGEAR BZ-MVS8x8-4K
Tech Specifications
Electrical parameters
Interface
HDMI-A
HDMI /DP /VGA Version
HDMI2.0, HDCP2.2
Bandwidth
18Gbps
Video Resolution
Input
800x600@60Hz, 1024x768@60Hz, 1280x768@60Hz, 1280x800@60Hz, 1280x1024@60Hz,1360x768@60Hz,
1366x768@60Hz, 1400x1050@60Hz,1440x900@60Hz, 1600x1200@60Hz, 1680x1050@60Hz,
1920x1200@60Hz. 480p,576p,720p,1920x1080i,1920x1080p,
3840x2160@24Hz/25Hz/30Hz/50Hz/60Hz, 4096x2160@24Hz/25Hz/30Hz/50Hz/60Hz
Output
1920x1080@60Hz, 3840x2160@30Hz, 3840x2160@60Hz, 1280x720@60Hz, 1024x768@60Hz,
1360x768@60Hz, 1600x1200@60Hz, 1920x1200@60Hz
HDMI Amplitude
T.M.D.S +/- 0.4Vpp
Differential impedance
100±15ohm
RS232/Ethernet control
Baud rate and protocol
Baud rate:9600, data bit:8
stop bit:1, no parity checking
Ethernet
IE10.0+, HTML5
Power
Max Consumption
100W, 110-240VAC
Matrix Mechanical dimensions
Size(mm)
17"(L) x 11.8"(W) x 1.7"(H) [430(L) x 300(W) x 44(H) mm]
Weight
11 lbs [5kg]
Other
Operating temperature
32°F ~ 104°F / 0°C ~ 40°C
Storage temperature
-4°F ~ 158°F / -20°C ~ 70°C
Permissible humidity
10%-50%
PACKAGE CONTENTS
1x BZ-MVS8X8-4K unit
1x BZ-MVS8X8-4K User Manual
1x AC Power Cord
1x Remote Control
1x RS-232 / USB Cable
Interfaces

LAN:

LAN (10Mbps/100Mbps).
RS232-1, RS232-2: Use RS232 for PC control.

IR:

 Connect IR blaster to take any IR signal from any input.

IR OUT:

 IR OUT routing follows the video matrix routing, no need to separately control IR matrix.

IR IN:

 IR IN routing follows the video matrix routing, no need to separately control IR matrix.

Analog Audio IN ports:

 The IN ports bind to corresponding HDMI ports.

Analog Audio OUT ports:

 The OUT ports bind to corresponding HDMI ports.

110-240VAC:

 110-240V AC power input port.

HDMI Inputs 1-8:

 HDMI inputs connect HDMI source devices such as a DVD player or gaming console with an HDMI cable.

HDMI Outputs 1-8:

 Connect to the monitor to display the video of the signal source.

LCD Panel:

 Displays the current video selections.

COM:

 Power LED (also indicates control commands).

IR:

 IR LED.

POWER:

 Press button POWER, to make the matrix enter or release standby state. When standby, the power LED will be lighted.

LOCK:

 Front panel lock/unlock. Press button LOCK, to lock or unlock front buttons. When locked, the Lock LED will be solid.

INPUT:

 Input selection buttons 1-8.

OUTPUT:

Output selection buttons 1-8.

ALL:

 Set all outputs to the next input selection.

SAVE:

 Save the current matrix setting as a preset.

RES:

Set the output scaler resolution.

RECALL:

Set the matrix setting from a saved preset.
EDID: Set the EDID options for the next input selection.
CLEAR: Cancel the current command function.
NEXT: Select the next available option.
TAKE: Set the displayed option.