4x4 4K UHD Seamless HDMI Matrix Switcher/Video Wall Processor/Multiviewer over Cat5/6/7 with 4 Receivers Kit

Overview
Introducing the BG-4K-VP44PRO: Your Ultimate 4x4 HDMI 2.0 CAT5/6/7 Seamless Matrix. Experience the next level of video distribution with the BG-4K-VP44PRO, a versatile all-in-one solution that's redefining the audiovisual landscape. Packed with advanced features like video wall and multi-view modes, this device unleashes a new era of flexibility, empowering your audiovisual setup with unmatched signal extension capabilities for even the most expansive spaces. Its sophisticated audio matrixing ensures crystal-clear sound, while the Power over Cable (PoC) functionality eliminates cable clutter, streamlining your setup and providing a cleaner, more efficient solution. Upgrade your AV setup today with the BG-4K-VP44PRO and elevate your entertainment experience to new heights.
Connectivity and Quality
Extend your HDMI 2.0 signals up to an impressive 70m(229ft) using a single CAT5/6/7 cable. Enjoy the flexibility to position your devices exactly where you desire, without compromising on signal quality. Immerse yourself in stunning visuals and crystal-clear audio, whether it's for a home theater, corporate environment, or event space.
The BG-4K-VP44PRO's audio matrix capabilities offer unparalleled versatility. Seamlessly distribute audio signals to multiple zones or rooms, creating the perfect soundscape throughout your venue. Host unforgettable events, deliver impactful presentations, or enjoy your favorite music with a level of control that ensures every corner of your space is filled with pristine sound.
Equipped with HDMI inputs, RJ45 outputs, and an HDMI loop-out functionality, this seamless matrix provides extensive connectivity options. Immerse yourself in the brilliance of 4K resolution, 4:4:4 color sampling, and 8-bit color depth, all while maintaining HDCP 2.2 compliance and efficient EDID management. Experience your audiovisual content with remarkable clarity, accuracy, and fidelity, captivating your audience like never before.
SIMPLE INSTALLATION AND CONTROL
Installing and controlling the BG-4K-VP44PRO is a breeze. With multiple control options—including panel buttons, remote control, RS232, TCP/IP, and the BG-SWITCH-CONTROL app, a free BZBGEAR proprietary matrix switcher control software for Windows, Mac, iOS, and Android—you can effortlessly manage the device according to your preferences. The inclusion of PoC functionality optimizes power distribution to receiver units, simplifying the installation process and enhancing overall system reliability. Say goodbye to cable clutter and hello to a streamlined setup that maximizes efficiency without compromising performance.
Features
Signal Extension

Extend your HDMI 2.0 signals up to 70m (229ft) over cat 5

Audio Matrixing

Analog audio embedded & extraction - the audio can be independently routed

PoC

Power over Cable enables devices to be powered and centralized via a single cable connection

Multiview Mode

Display 4 different sources on the same screen

Video Wall Mode

Supports up to a 2X2 video wall - Up to 7 different modes built-in and supports cascading

4K UHD

Support for 4K@60Hz 4:4:4 8bit, HDCP 2.2
HDMI Loop out

Seamless Matrix Mode: 4 in 4 out no switching delay and signal loss

Advanced EDID management

LPCM 2.0 Audio format

Control via Panel button, Remote, RS232, TCP/IP Control
Videos
The Swiss Army Knife of the AV World! BG-4K-VP44 Matrix Switcher, Video Wall & Multiviewer! InfoComm
4K Seamless Matrix Switcher With Built-in Video Wall Processor| BG-4K-VP44PRO
Tech Specifications
Input ports
4x HDMI Ports
Output ports
4x RJ45 Ports and 4x HDMI Ports
Matrix mode
4x4 seamless switching
Video wall mode
Multiple video wall modes
Multi-viewer mode
Multiple multi-viewer modes
Video Input Connectors
4x HDMI Type A, 19-pin, female
Video Output Connectors
4x RJ45 female and 4x HDMI Type A, 19-pin, female
Bandwidth
18Gbit/s
Video Format Supported
4K@60Hz,YUV4:4:4 8bit
4K@30Hz/1080P/1080i/720P
Audio Formats Supported
LPCM 2.0
HDCP Compliant
HDCP 2.2 and HDCP 1.4
Power Consumption
41 Watts (Max)
Dimensions (L x W x H)
Matrix: 10 x 6.4 x 1.4in [262 x 163 x 36mm]
Weight (Main Unit)
Matrix: 5.97 lbs [2710g]
Operating Temperature Range
23 to +104°F / -5 to +40°C
Storage Temperature Range
-14 to +140°F / -10 to +60°C
Operating Humidity Range
5 to 90% RH (no condensation)
PACKAGE CONTENTS
1x BG-4K-VP44PRO
1x 12V/4A DC power adapter
1x Remote control
5x 3 Pin Phoenix Terminal Plug
4x BG-4K-VP44PRO-R
5x IR Transmitter Cables
5x IR Receiver Cables
1x CD and User Manual
Interfaces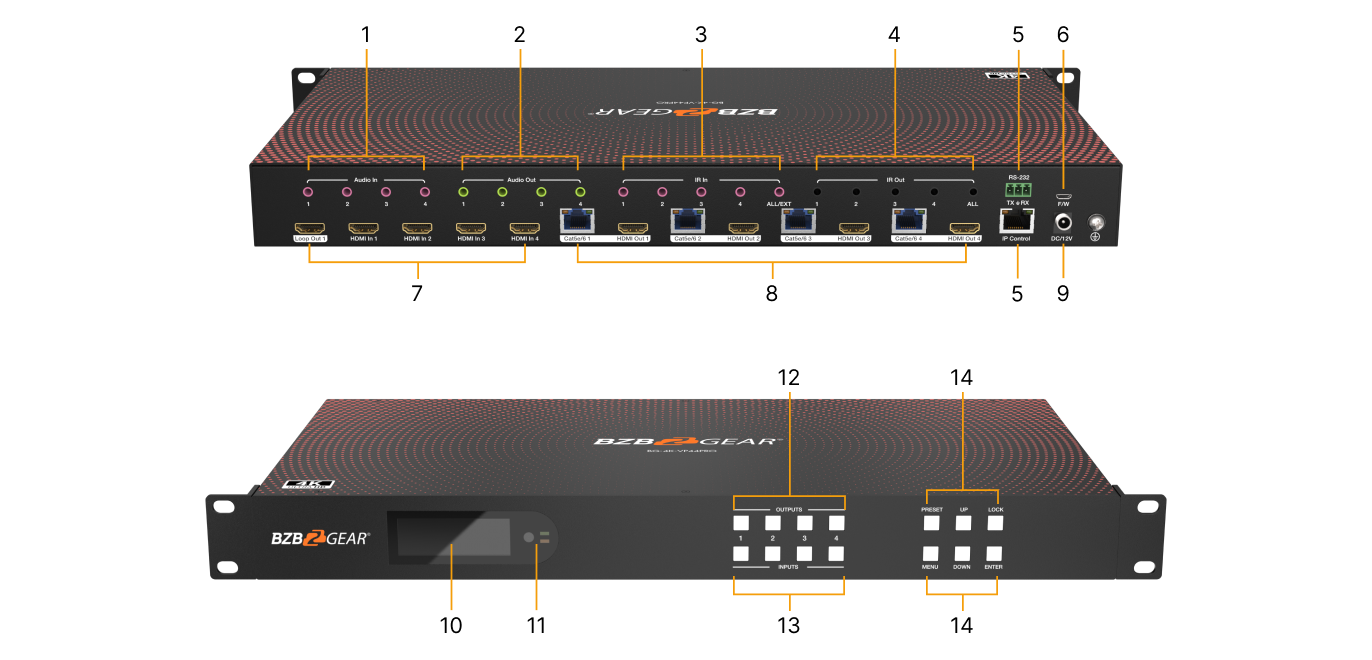 Audio In: 3.5mm stereo mini for audio embedding.
Audio Out: 3.5mm stereo mini for audio extraction.
IR In: Connect the IR receiver extension cable. IR follows video matrix routing.
IR Out: Connect the IR blaster extension cable. IR follows video matrix routing.
Control Connections: 3-Pin Phoenix RS232 for analog control and RJ45/LAN for IP based control and internet connection.
FW: Micro USB for firmware updates.
HDMI Input and Loopout: 4x HDMI 2.0 inputs and 1x HDMI loopout for local source viewing.
HDMI Output and Cat5e/6 Extension ports: 4x HDMI 2.0 outputs and 4x Cat5e/6 extension ports that provide PoC power to receiver units.
DC Power Input: DC 12V power supply.
LED Display: Shows onscreen menu and current matrix routing.
IR Remote Window and LED Indicators: Receives IR remote commands and LED lights display current command status.
Output Select Buttons 1 – 4: Press to select an output whose source you would like to change then select and Input.
Input Select Buttons 1 – 4: Press and select an output first and then press and select an input to route to the previously selected output.
Menu Control Buttons: Menu, Preset, Up, Down, Lock, and Enter are used to navigate the on-screen menu/LED display menu options and manage/recall preset configurations.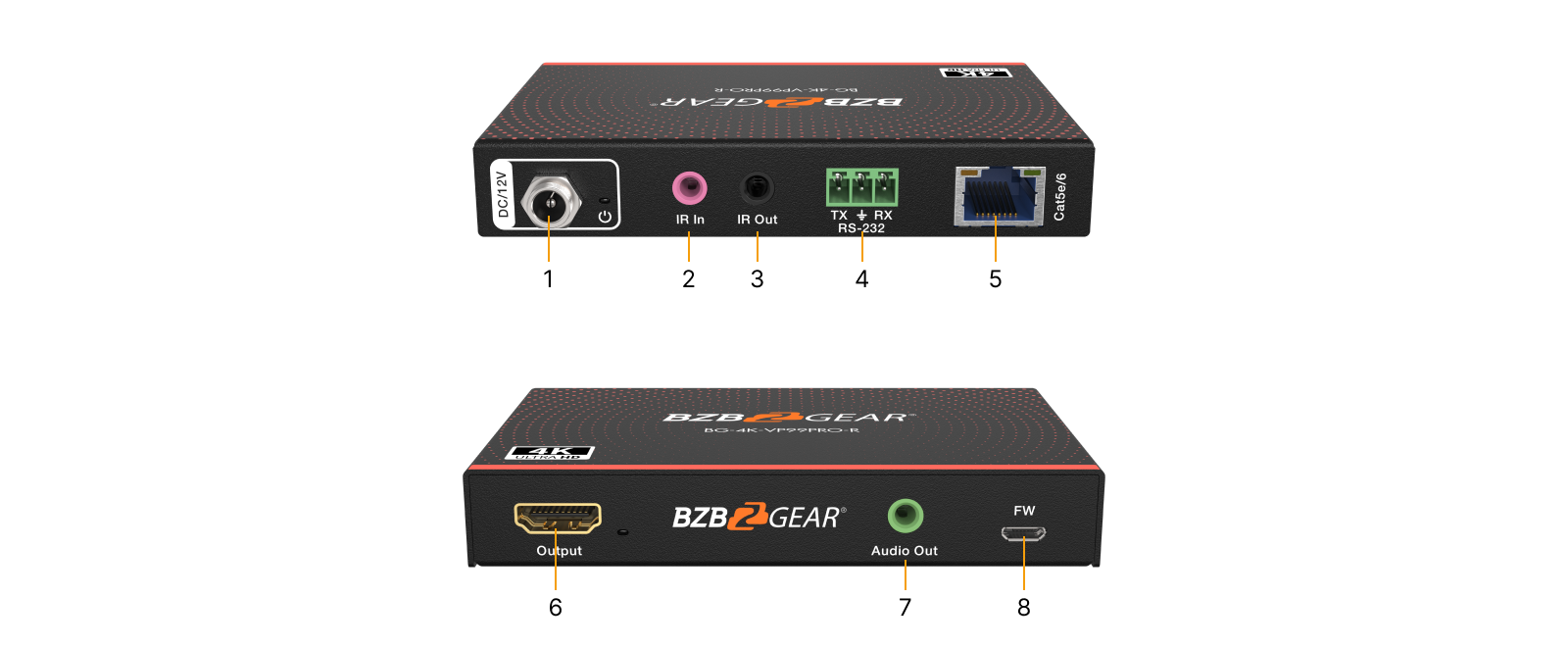 DC Power Input (Receiver): 12V DC power input for receiver.
IR In (Receiver): Connect the IR receiver extension cable. IR follows video matrix routing.
IR Out (Receiver): Connect the IR blaster extension cable. IR follows video matrix routing.
RS232 (Receiver): 3-Pin Phoenix for RS232 control command passthrough.
Cat5e/6 (Receiver): LAN connection to base unit for signal extension and PoC power.
Output (Receiver): HDMI 2.0 output for audio and video.
Audio Out (Receiver): 3.5mm stereo mini for audio extraction.
FW (Receiver): Micro USB for firmware updates.