Overview
The BG-4K-VP44 is a powerful video processor and supports four HDMI inputs that can be independently routed to HDMI Outputs. This unit can create video walls, act as a multi-viewer and perform matrix functions! The BG-4K-VP44 supports Video Wall configurations of up to 7 different modes with each monitor. It can also display four pictures on the same screen and has multiple split display modes.
Connectivity and Quality
With max resolutions up to [email protected] 4:4:4, the BG-4K-VP44 is capable of producing high-quality imagery with pristine detailing and rich color. All HDMI ports on this unit are HDCP 2.2 compliant. This device also supports analog audio extraction, and audio channels can be switched independently.
Control
The BG-4K-VP44 offers multiple control methods including front panel controls, IR remote control, RS-232, or IP control. The included IR receiver allows the unit to be controlled with the included remote while located out of sight for a clean installation.
In addition to a full-featured web interface, the BG-4K-VP44 includes control software that can be operated via the RS-232 connection. These interfaces allow users to adjust advanced features like EDID management, mapping, and network settings.
Features
4X4 Matrixing
4x HDMI Inputs that can be independently routed to 4 HDMI Outputs
Video Wall
Supports Video Wall up to 7 different modes with each monitor
Mutiview Capabilities
It can display 4 pictures on the same screen and has multiple split display modes
HDCP Compliant
HDCP 2.2 compliancy ensures copyright protection
Control Options
Control via panel button, Remote Control, RS232 Control, TCP/IP Control
No switching delay or picture loss during transitions

Supports HDMI audio formats including Dolby-5.1, DTS-5.1

Analog audio extraction and the audio can be independently switching

Advanced EDID management: Seamless scaling for the best results
Videos
The Swiss Army Knife of AV Distribution - Matrix Switcher, Video Wall, Multiviewer
Tech Specifications
Input ports
4xHDMI
Output ports
4xHDMI
Video Format Supported
[email protected], YUV4:4:4 8 bit
[email protected]/1080P/1080i/720P
Audio Formats Supported
HDMI digital audio DTS-5.1/Dolby-5.1
HDCP Compliant
HDCP 2.2 and HDCP 1.4
Input Video Signal
0.5-1.0 volts p-p
Input DDC Signal
5 volts p-p (TTL)
Bandwidth
18 Gbit/s
Matrix mode
4×4 seamless switching
Video wall mode
Multiple video wall modes
Multi-viewer mode
Multiple multi-viewer modes
Power Consumption
23 Watts (Max.)
Operating Temperature Range
23 to +104°F / -5 to +40°C
Storage Temperature Range
-14 to +140°F / -10 to +60°C
Operating Humidity Range
5 to 90 % RH (no condensation)
Dimensions
Matrix: 10"(L) x 6.4″(W) x 1.4"(H) [L262 x W163 x H36 mm]
Mass (Main Unit)
6lbs [2710g]
PACKAGE CONTENTS
1x Main Unit (4×4 HDMI Matrix)
1x DC 12V/3A power adapter
1x Remote control
1x Wide-Band IR Receiver cables
1x CD for user manual & Command list
1x 3 Pin Phoenix terminal plug
Interfaces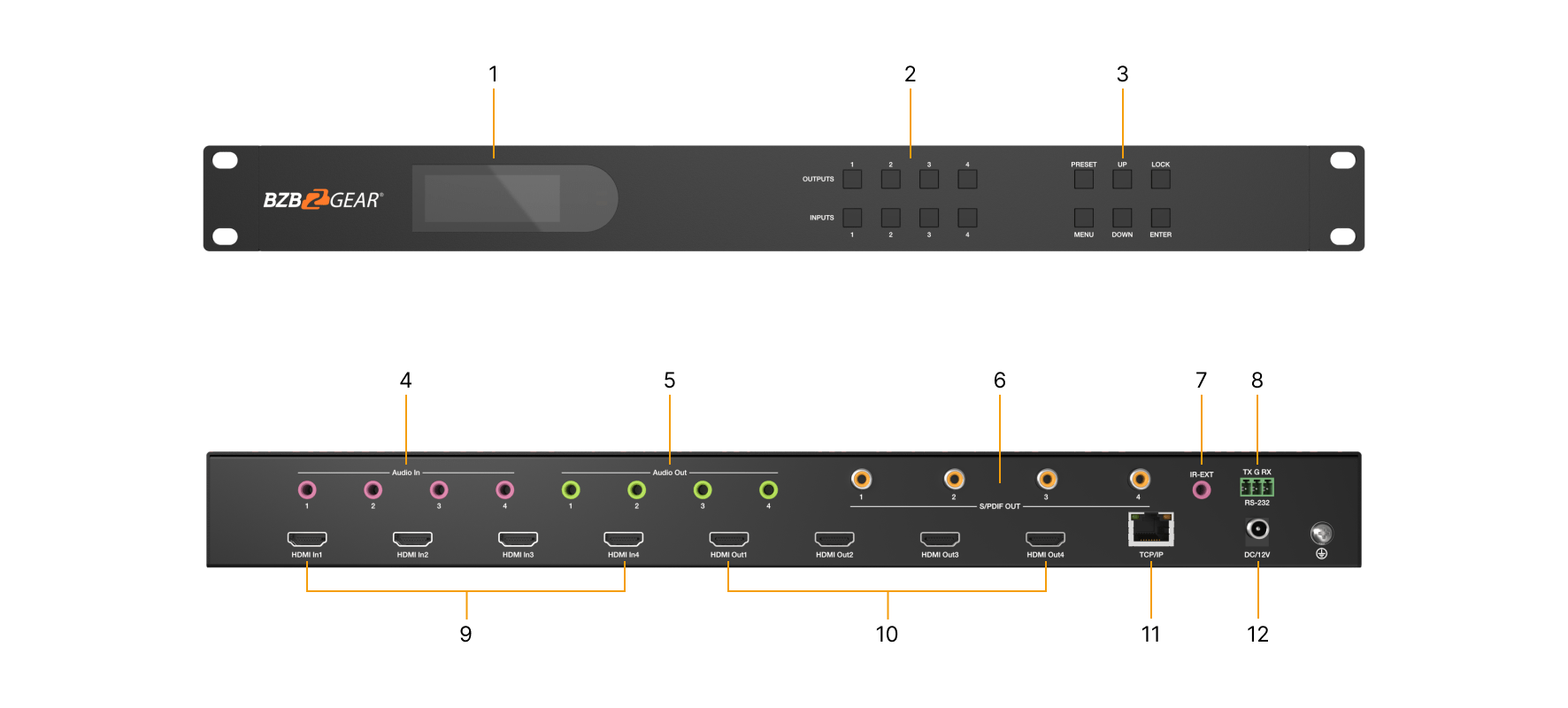 LCD Screen:

LCD screen and IR receiving port, indicator light.
Output & Input buttons: Output button OUT 1~4 & Input button IN 1~4.
MENU button: PRESET, MANU, UP, DOWN, LOCK, ENTER.
Audio In 1~4: 3.5mm ports.
Audio Out 1~4: 3.5mm ports.
S/PDIF OUT 1~4: Coaxial Ports.
IR EXT: 3.5mm port.
RS232 Port: 3PIN Phoenix port:TX – GND – RX.
HDMI IN 1~4: A type 19 PIN-HDMI Port.
HDMI OUT 1~4: A type 19 PIN-HDMI Port.
Ethernet port: WEB GUI Control.
Power: Power input 12V/3A.