Overview
Go viral with the BG-PACKSHOT-C10X! This 1080p HD camera features fast, accurate near-field auto-focus, an integrated stereo microphone, and the ability to swap between landscape and portrait formats with the flip of a switch. Specifically designed for content creators, this camera makes it easy to create high-quality videos and streams with crisp audio and accurate color reproduction.
Ideal for up-close and personal shoots, the BG-PACKSHOT-C10X is a versatile solution for capturing videos and photos meant to be viewed on both traditional monitors as well as mobile devices. This makes it possible to record not only for wide format platforms like YouTube, but also for vertical-focused content like TikTok and YouTube Shorts.
Camera & Connections
The 2 Megapixel BG-PACKSHOT-C10X camera has an output resolution of up to [email protected] with 10x optical zoom. With simultaneous USB 3.0 and HDMI video outputs, it's perfect for direct streaming or sending to a video mixer. The auto-focus algorithm is optimized for near-field focus, allowing detailed close-ups that are perfect for hobbyist and how-to videos.
Control
The BG-PACKSHOT-C10X features a remote controller equipped with laser-based sensors, enabling immediate and precise control. The on-screen menu features a detailed suite of image settings including focus, exposure, white balance, and more. These adjustments ensure users can create beautifully rendered videos in any condition. In addition to the detailed manual adjustments, multiple image presets and powerful automatic image adjustments help even novice users quickly find optimal camera configurations.
Features
Crystal Clear Image
10X Zoom
Lens features a 10x motorized optical zoom
Adjustable Orientation
Change from landscape to portrait mode at the flip of a switch
Multiple Outputs
Simultaneous USB 3.0 and HDMI outputs
Plug and Play
Simply connect power and USB or HDMI - no other setup needed
Near-field Focus
Advanced optics provide stunning close-up shots
1/2.8" high quality CMOS sensor

Two integrated stereo microphones

Fast, accurate and stable auto focusing

Auto/manual/one push white balance

Features multiple image presets

Perfect for up close video shoots
Videos
BZBGEAR BG-PACKSHOT-C10X Captures Close-ups, Rich Color, & Crystal-Clear Detail
BZBGEAR PACKSHOT Closes In on the Details
This BZB GEAR PACKSHOT Camera has 10x Zoom! Perfect for meetings or as a secondary camera.
Tech Specifications
Camera Parameter
Sensor
1/2.8 inch sensor
Effective Pixels
2 Megapixel, 16:9
Video Format
HDMI video format
[email protected], [email protected], [email protected], [email protected], [email protected],
[email protected]
USB3.0 interface video format
Horizontal screen: 1920×[email protected], 1280×[email protected],
1024×[email protected], 960×[email protected], 800×[email protected], 640×[email protected],
640×[email protected], 320×[email protected]
Vertical screen: 1080×[email protected], 720×[email protected], 576×[email protected],
540×[email protected], 448×[email protected], 480×[email protected], 480×[email protected]
View Angle
8.8°~68°
Focus Length
f=4.34mm~41.66mm
AV
F1.85 ~ F2.63
Optical Zoom
10X
Minimum
Illumination
0.1Lux (F1.8, AGC ON)
DNR
2D&3D DNR
Super Auto noise
reduction
On/Off
White Balance
Auto / Manual/ One Push
/3000K/3500K/4000K/4500K/5000K/5500K/6000K/6500K/7000K
Focus
Auto/Manual/One Push Focus
Exposure
Auto/Manual
BLC
On/Off
SNR
>50dB
Vertical Screen
Switch
On/Off
Focus Assist
On/Off
Minimum Object
Distance
10cm(W)~100cm(N)
Input/Output Interface
Video Output
USB Interface: USB 3.0
HDMI Interface: HDMI 1.4
Video Compression
Format
YUV, NV12, MJPG, H.264
Audio Input
Built-in 2 MIC pickups
Control Interface
USB Interface
Other Parameter
Input Voltage/Current
Voltage:
Power Adapter 12
USB 5V
Current:
Power Adapter 0.425
USB 1A(Max.)
Power Consumption
5W(Max.)
Stored Temperature
14°F~140°F / -10°C~+60°C
Stored Humidity
20%~90%
Working Temperature
14°F~122°F / -10°C~+50°C
Working Humidity
20%~80%
Dimension (WxHxD)
3.1 x 5.4 x 3.1in [78 x 138 x 78mm]
Weight
1.3 lbs [0.6Kg]
Application
Indoor
PACKAGE CONTENTS
1x BG-PACKSHOT-C10X Camera
1x Wireless Remote Control
1x USB3.0 Cable
1x User Manua
Interfaces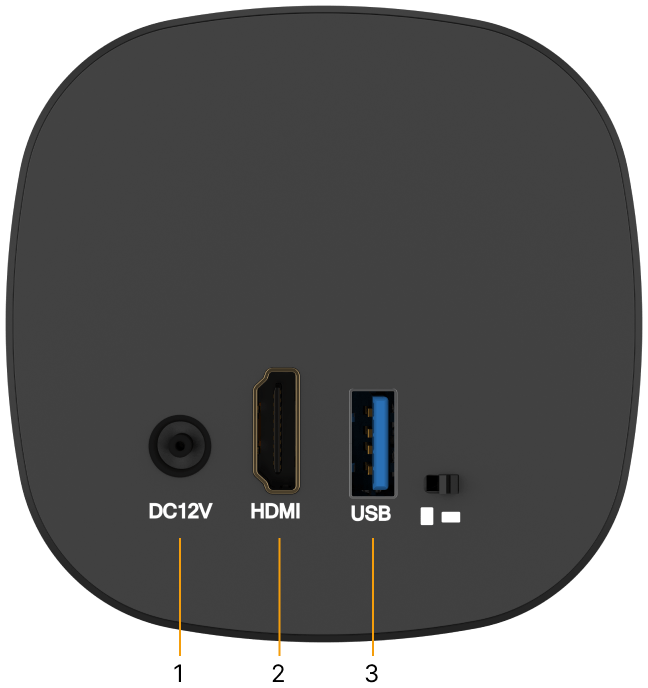 Power:

Connect supplied 12V power adapter.

HDMI:

Connect to an HDMI device such as a video production switcher or a video display up to 

[email protected]

USB:

 Connect USB3.0 type B cable to a PC for plug & play connectivity for any conferencing service like Skype or Zoom, supporting resolution up to 

[email protected]