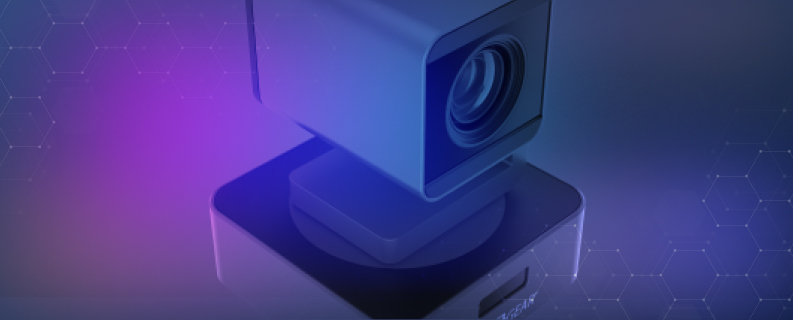 Overview
Introducing the BG-VPTZ-HSU3, a versatile COMPACT PTZ 1080P FHD camera with 10X/20X/30X zoom options, multiple output interfaces (HDMI, 3G-SDI, USB 3.0, IP streaming), and a compact design perfect for offices and classrooms. With the ability to capture 1080p@60Hz video, this camera delivers exceptional image quality and supports H.264/H.265 video compression and RTMP(S) for live streaming. Offering flexible control via RS-232, RS-485, LAN, or IR remote, it also boasts 255 preset positions.  Additional features include Power over Ethernet (PoE), audio embedding, and a sturdy all-aluminum chassis, making it a top choice for high-quality video capture and streaming in various settings.
The BG-VPTZ-HSU3 camera finds applications in video conferencing, live streaming, content creation, surveillance, and large venue settings. Its high-resolution imaging, audio integration, and multiple output options enhance professional video conferences and engaging webinars.
Connectivity and Features:
The BG-VPTZ-HSU3 camera boasts impressive capabilities. It can capture images at resolutions of up to 1080p at 60Hz, ensuring that you get high-definition, sharp visuals for your applications. What sets it apart is its versatility in output options, with simultaneous HDMI, 3G-SDI, USB 3.0, and IP streaming outputs. This flexibility enables seamless integration into various workflows, making it adaptable for a wide range of settings and purposes. 
Additionally, it offers 10X, 20X, or 30X optical zoom lenses, which is invaluable for capturing detailed close-ups, even in large venues. For applications where synchronized audio and video are crucial, the camera features a 3.5mm audio input jack to embed audio directly into the video stream. It supports H.264 and H.265 video compression formats and can broadcast using ONVIF, RTSP, and RTMP IP streaming protocols.
Control Options:
The BG-VPTZ-HSU3 camera provides a wealth of control options to suit your specific needs. It can be controlled using RS-232, RS-485, LAN (local area network), or the included IR remote control. This diverse range of control methods ensures that you can choose the most convenient one for your particular use case. Moreover, the camera supports various control protocols, including IP VISCA, ONVIF, and PELCO-P/D, which simplifies integration into existing setups and control systems. When it comes to configuring and managing camera angles and settings, you have the luxury of storing up to 255 preset positions internally. 
Furthermore, nine of these presets are easily accessible via the included IR remote control, streamlining camera operation and enhancing user-friendliness. In conclusion, the BG-VPTZ-HSU3 camera is a versatile and adaptable solution, offering high-resolution imaging, diverse output options, audio integration, and a comprehensive array of control methods and protocols to cater to the unique needs of a wide range of professional applications.
Features
Broadcast Quality Video

Fluid motion, clear image, and accurate colors

Latest Streaming Tech

Supports H.264/H.265 video compression and RTMP(S) network protocol for Youtube/Facebook
live streaming

Simultaneous Video Outputs

3G-SDI / HDMI / USB3.0 / IP Streaming

Power over Ethernet

Delivers power directly over an ethernet cable from your PoE enabled network switch

Audio Embedding

Connect audio mixer output or powered mic and embed audio into your live stream

Flexible installation options

Supports ceiling, wall, tripod, or desk mount installations
Multiple control options

Smart menu & WebGUI Interface

Includes 2D/3D noise reduction functions

All-aluminum high-stability chassis

Resolutions up to 1080p@60Hz

Small form factor for tight installs

AAC audio encoding support

Advanced video image processing

Main and sub streams available
Videos
GaETC 2022 | Budget Friendly Education Based PTZ the BZBGEAR VPTZ
Seamless Content Capture with 4x2 Multiviewer Presentation Switcher Scaler | NAB Show 2022
Command and Control Various BZBGEAR PTZ Cameras via Newly Updated BG-PTZ-Control App (Full Overview)
How To Network the BG-VPTZ-HSU3 PTZ Camera Using BZBGEAR's Upgraded WebGUI
BZBGEAR BG-VPTZ-HSU3 PTZ Camera with USB 3.0, 3G-SDI, HDMI, and IP for Live Streaming
Top 3 BZBGEAR PTZ Cameras Comparison
Setting Up an IP Address for a PTZ Camera on the LAN Using Mac - BZBGEAR BG-VPTZ-HSU3
How to Connect a PTZ Camera to a Joystick Using Serial Control - RS232, RS422, RS485
How To Network Your BZBGEAR PTZ Camera - BG-VPTZ-HSU3
How BZBGEAR PTZ Camera Picture Quality Stacks Up
BZBGEAR BG-VPTZ-HSU3 PTZ Camera - USB 3.0, 3G-SDI, HDMI, and IP Live Streaming
Firmware Update for BZBGEAR's BG-VPTZ-10HSU3 Series Live Streaming PTZ Cameras
How to Network a PTZ Camera | BG-VPTZ-HSU3 IP Setup Live Stream Video over LAN
BZBGEAR PTZ Camera for Live Streaming Outputs HDMI, 3G-SDI, USB 3.0, and IP Simultaneously
How to Mount a PTZ Camera | BZBGEAR BG-VPTZ-HSU Series
Tech Specifications
Camera Specs
Image Sensor
1/2.7″ Exmor CMOS (10X), 1/2.8″ Exmor CMOS (20X), 1/2.8″ Exmor CMOS (30X)
Frame Rate
1080p@60/ 59.94 / 50 /30 / 29.97 /25
1080i@60/59.94 / 50 / 30 / 29.97 / 25
720p@60/50/ 30 / 25, 480i@60, 576i@50
Zoom
Optical - 10X/20X/30X
F-number
1.6(W)-3.5(T) (10X), 1.6(W)-3.5(T) (20X), 1.3(W)-4.8(T) (30X)
Focus
f=5.1mm~51mm (10X), f=4.7mm~94.0mm (20X), f=5.2mm~148.4mm (30X)
Effective Pixels
2.70 Megapixel (10X), 2.38 Megapixel (20X), 2.70 Megapixel (30X)
View Angle (H)
72° (10X), 65° (20X), 65.4° (30X)
Min Illumination
0.5lux (F 1.8, AGG ON)
Shutter Speed
1 to 1/10000s
Image Adjustment
Vertical Flip & Mirror Supported
Input/Output Interface
Video Output
HDMI, 3G-SDI, USB 3.0 (USB 2.0 backwards compatible port only), RJ45 Network (10/100M Adaptive Ethernet ports)
Audio Input
3.5mm audio interface, Line In
Communication interface
1X RS232 IN, 1X RS232 Out, 1X RJ45, RS485
Power Connection
DC IN 12V, Power over Ethernet
Mechanical
Pan/Tilt Rotation
±178°, Tilt Rotation Angle -30°~ +90°
Pan 90°/s; Tilt: 90°/s
Presets
Max 255 Presets ( Remote 9 Presets)
Network Protocol
VISCA, PELCO P/D, ONVIF Protocol
IPC Video Features
Video standard
H.265/H.264/MJPEG
Video Stream
Main stream, Sub stream
Main stream resolution
1920x1080, 1280x720
Sub stream resolution
720x480, 320x240
Bit Rate
128K, 256K, 384K, 512K, 768K, 1024K, 1536K, 2048K, 3072K, 4096K, 5120K, 6144K, 8192K
Bit Rate Type
Variable rate, Fixed rate
Maximum Frame
60fps
Audio encode standard
G.711, G.722, G.722.1, G.728, G.722.1C AAC
Audio stream rate
96K, 128K, 256K
Supported protocols
TCP/IP, RTSP, RTMP
Generic
Dimensions (L*W*H)
4.7in x 4.7in x 5.7in / 120mm x 120mm x 145mm
Gross Weight
3.5 lbs [1.6kg]
Operating Temperature
14°F ~ 122°F / -10°C ~ 50°C
Max Consumption
12W DC12V@1A
Attention:
USB 3.0 connection port on BG-VPTZ-10HSU3 camera is only compatible with USB 3.0 port on either PC or MAC when connected directly and only compatible with up to 10ft USB 3.0 cable due to a limitation in the chipset. This camera will not work with any USB 3.0 peripherals. It doesn't affect BG-VPTZ-20HSU3 or BG-VPTZ-30HSU3 models.
Working Environment
Indoor Only
PACKAGE CONTENTS
1x BG-VPTZ-HSU3 Camera
1x IR Remote Controller
1x RS-232 to DB 9pin cable
1x 12V/ 2.0 A DC Power Adapter
1x User Manual
Interfaces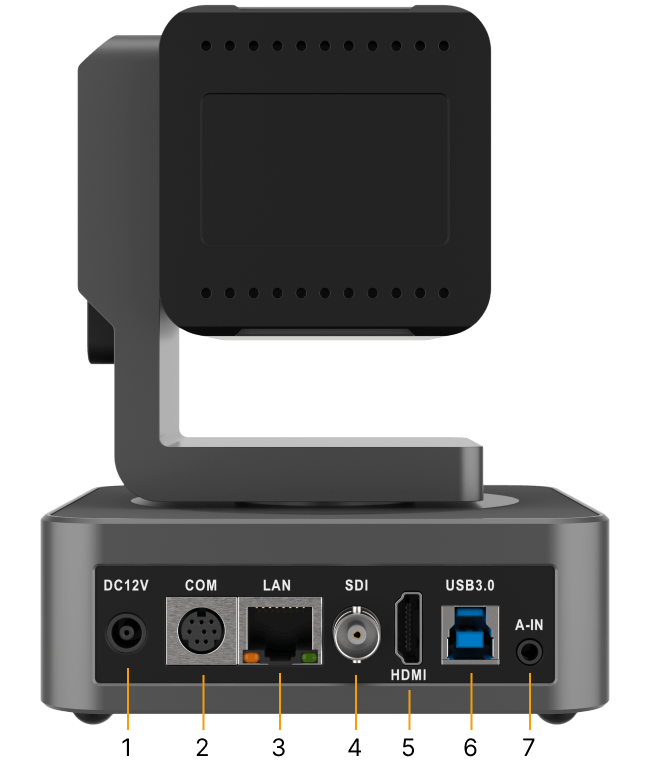 Power:

Connect supplied 12V power adapter.

COM:

Connect cascading RS-232 to control the camera(s) with a joystick controller or control software.

LAN:

Connect to a network switch via category cable to supply power (PoE), control (TCP/IP or webGUI) and stream.

SDI:

Connect to an SDI device such as a video production switcher or a video display at resolutions up to 3G (1080@60Hz) up to 330ft away over SDI cabling.

HDMI:

Connect to an HDMI device such as a video production switcher or a video display up to 1080p@60Hz.

USB:

Connect USB3.0 type B cable to a PC for plug & play connectivity for any conferencing service like Skype or Zoom.

A-In:

 Connect external audio sources such as a microphone or small audio mixer to embed the sound into all video output interfaces.