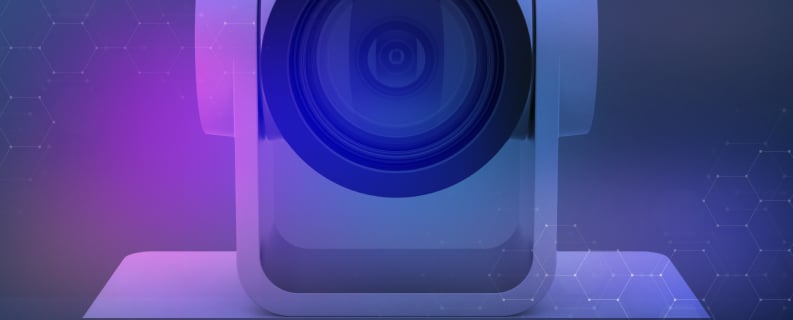 Overview
Meet the Universal 1080P FHD PTZ HDMI/SDI/USB 3.0 RS232/485 Live Streaming Camera - BG-UPTZ. This camera offers 12x, 20x, and 30x zoom options, delivering outstanding 1080p image quality through a 1/2.8" Sony CMOS sensor. With simultaneous HDMI, 3G-SDI, and USB 3.0 outputs, it seamlessly integrates into various workflows. It supports popular video protocols like ONVIF, RTSP, and RTMP, allowing compatibility with video production software and direct streaming to platforms like YouTube and Twitch. Offering IR remote, IP control, and RS232/485 serial connections, it allows precise control and up to 255 camera presets. The BG-UPTZ also supports SRT for reliable internet streaming and comes in black, silver, or white. With superb auto focus and multiple output options, it's the ultimate choice for streaming and recording needs.
Connectivity
The BG-UPTZ's connectivity options are second to none. Its 1/2.8" Sony CMOS sensor provides crystal-clear images at resolutions of up to 1080p@60Hz, ensuring that your content looks stunning. What sets this camera apart is its versatile zoom choices. With 12X, 20X, and 30X zoom options, it adapts effortlessly to any venue's size, allowing you to capture all the details, whether you're in a small studio or a large auditorium.
Versatility doesn't stop at image quality. The BG-UPTZ is equipped with simultaneous HDMI, 3G-SDI, and USB 3.0 outputs, making it compatible with various setups and video production equipment. This flexibility means you can use it in a live production environment, connect it to a computer for streaming, or even record high-quality video directly to storage devices.
Compatibility is a top priority with the BG-UPTZ. It supports popular video protocols such as ONVIF, RTSP, and RTMP. This means that whether you're using professional video production software or looking to stream directly to popular platforms like YouTube, Twitch, or Facebook, the BG-UPTZ seamlessly integrates with your workflow. Additionally, the inclusion of a 3.5mm input jack allows for external microphones and audio systems to be effortlessly embedded into your video stream, ensuring that your audience hears your message loud and clear.
CONTROL
Precision and control are key features of the BG-UPTZ. An onboard dial enables users to lock the output resolution, preventing potential resolution discrepancies before they occur, giving you the peace of mind that your content will look consistently professional.
Control options are abundant. The BG-UPTZ can be managed via an IR remote, IP control (IP VISCA, ONVIF), or through a user-friendly browser interface. For advanced users, the RS232 and RS485 serial connections support VISCA, PELCO-D, and PELCO-P protocols, allowing for precise control and customization of your camera's settings. You can store up to 255 camera preset positions, and with the IR remote control, ten of these presets are easily accessible, making it simple to switch between your preferred angles and shots.
Moreover, this camera supports Secure Reliable Transport (SRT) technology, ensuring high-quality, low-latency video can be reliably sent over the internet. This feature is invaluable for those looking to stream with minimal delay and top-notch video quality.
Features
Zoom

Available in 12x/20x/30x optical zoom
+10x digital

Control

IP, IR, and cascadable RS232/485 (VICSA/Pelco) + 255 preset positions

Multiple Video Outputs

HDMI, 3G-SDI, USB 3.0, and IP-streaming working simultaneously

Latest Streaming Tech

Supports H.264/H.265 video compression and RTMP(S)

Superb Auto Focus

Auto focusing algorithms resulting in quick, accurate, and stable focus

Power over Ethernet

Delivers power directly over an ethernet cable
1/2.8" 2.07MP low-noise CMOS

Quiet, high-quality step motor

Pristine image quality

FOV between 56° & 72.5° (dependent on zoom)

Resolutions up to 1080p@60Hz

Network protocols ONVIF, RTSP, RTMP / RTMP(S)

3.5mm stereo audio input

Shutter speed 1/1~1/10,000s

Available in white, silver, or black color
Videos
How to Connect and Network BZBGEAR PTZ Camera, Video Switcher and Joystick Controller
Command and Control Various BZBGEAR PTZ Cameras via Newly Updated BG-PTZ-Control App (Full Overview)
How to Connect BZBGEAR BG-Commander Joystick Controller to Multiple PTZ Cameras
How To Network a PTZ Camera for Live Streaming Using Mac - BZBGEAR BG-UPTZ
BZBGEAR BG-UPTZ Series Universal Live Streaming PTZ Cameras
How to Facebook Live Stream with an IP PTZ Camera
How to Live Stream on YouTube with an IP PTZ Camera
How to Choose the Ideal IP PTZ Camera System for Any Live Event
Tech Specifications
BG-UPTZ-12XHSU
BG-UPTZ-20XHSU
BG-UPTZ-30XHSU
Lens
12X Optical zoom
20X Optical zoom
30X Optical zoom
Horizontal View Angle
72.5°(W)~6.3°(T)
54.7°(W)~3.3°(T)
65.1°(W)~2.34°(T)
Image Sensor
1/2.8" Progressive CMOS
Effective Pixels
2.07 Megapixels (16:9)
Resolution
1080p@60/50, 1080i@60/50, 1080p@30/25, 720p@60/50
Interface
USB 3.0, HDMI, 3G-SDI, LAN(POE), RS232/485, LINE IN
Pan Rotation
340°(max. speed: 80°/s)
Tilt Rotation
-30° to +90° (max. speed: 60°/s)
Focus System
Auto/Manual
S/N Ratio
≥50db
Preset Position
9 preset positions by IR remote controller, 255 preset positions by Keyboard or PC
Minimum Illumination
0.5 Lux (F1.8, AGC ON)
Exposure Control
Auto/Manual/Priority AE/Exposure Compensation/Bright
Shutter Speed
1/1~1/10,000s
Gain
Auto/Manual
White Balance
Auto/Manual/ATW/One-click/Indoor/Outdoor
Image Effect
Full color/black and white/Electronic flip
Video Output HD
HDMI, 3G-SDI, IP, USB 3.0
Control Protocol
RTSP, RTMP, ONVIF, GB/T28181
Power
12V DC
Power Consumption
Max. 30W (DC 12V)
Operating Temperature
32°F ~ 104°F / 0°C ~ +40°C
Storage Temperature
-4°F ~ 140°F / -20°C ~ +60°C
Camera Dimensions
(L)7 x (W)4.5 x (H)5.9in [(L)178 x (W)115.5 x (H)150.9mm]
Weight
3 lbs [1.38KG]
Color
Black, Silver, White
Working Environment
Indoor Only
PACKAGE CONTENTS
1x BZBGEAR BG-UPTZ Camera
1x 12V/1.5A Power supply
1x RS232 control cable
1x IR Remote Control
1x User Manual
Interfaces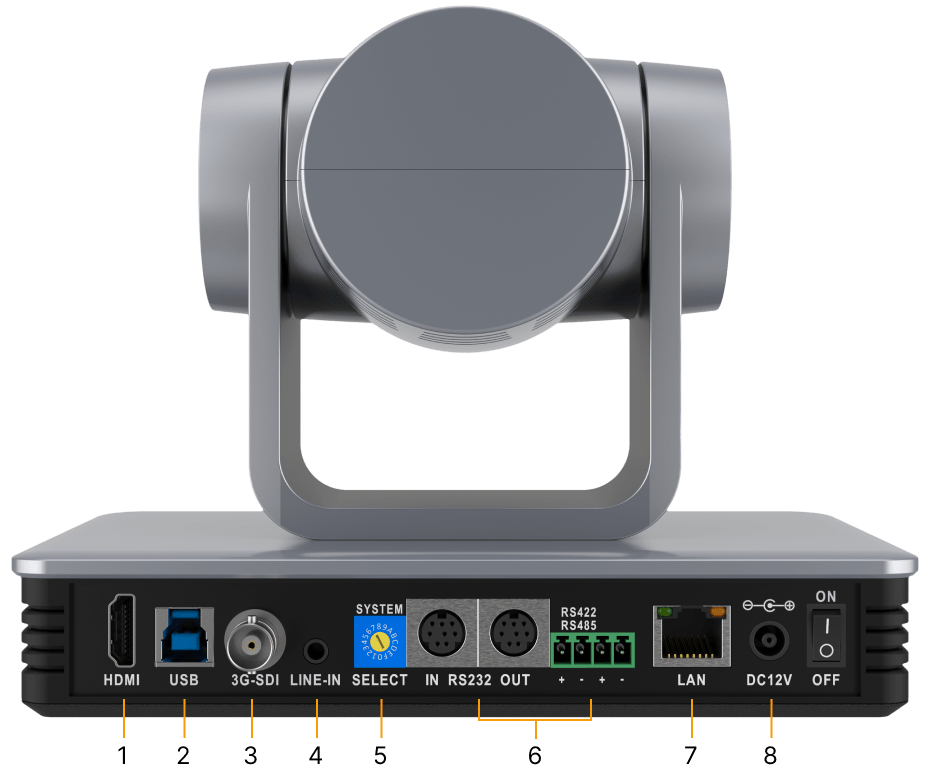 HDMI:

Connect to an HDMI device such as a video production switcher or a video display up to 1080@60Hz.

USB:

Connect USB3.0 type B cable to a PC for plug & play connectivity for any conferencing service like Skype or Zoom, supporting resolution up to 1080@60Hz.

SDI:

Connect to an SDI device up to 330ft such as a video production switcher or a video display at resolutions up to 3G (1080@60Hz) over SDI cabling.

Line-In:

Stereo audio input for connecting mics and embedding local audio into all video output interfaces.

System Select:

Turn this dial to set desired output resolution. See manual for resolution options.

RS-232, RS-422/485:

Connect cascading RS-232 or RS-422/485 to control the camera(s) with a joystick controller or control software.

LAN:

Connect to a network switch via category cable to supply power (PoE), control (TCP/IP or webGUI) and stream.

Power:

 Connect supplied 12V power adapter.