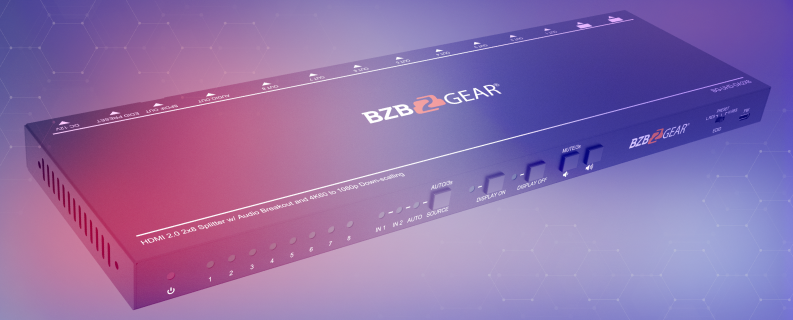 Overview
The BG-UHD-DA2X8 is an 8-way 4K HDMI splitter with two inputs. With a maximum resolution of 4K@60Hz, this unit makes it easy for users to share two 4K sources with up to 8 displays. This device is a simple, cost-effective solution for restaurants, bars, and retail spaces.
CONNECTIVITY & FEATURES
The BG-UHD-DA2X8 supports resolutions up to 4K@60Hz (4:4:4). This device is also compliant with HDCP 2.2 and HDMI 2.0. With the automatic 4K to 1080P downscaling feature, legacy displays can easily be integrated with no extra setup required. The integrated equalizer ensures stable signal is sent to all outputs, while the EDID management provides stable HDMI connections to all displays.
Audio Extraction is provided via the stereo RCA and Toslink connections, allowing the BG-UHD-DA2X8 to be connected to an external audio system. CEC control allows the splitter to turn compatible displays on, off, and adjust volume levels for easy centralized control.
Features
4K Support

Supports resolutions up to 4K@60Hz with 4:4:4 Chroma sampling

Video Scaling

Supports 4K to 1080p down-scaling

Customizable EDID

Eliminates HDMI connection issues

Volume Control

Easily adjust audio output signal levels

Dual Input

Easily toggle between sources

Audio De-Embedding

Features RCA Stereo and Toslink outputs
HDMI inputs support HDCP 2.2 and the outputs support HDCP 1.4

18Gbps high bandwidth

Built-in equalizer for signal enhancement to avoid signal attenuation in transmission

Supports CEC control to turn on/off displays and adjust their volume

Provides LEDs to indicate the current operating status and to assist troubleshooting and installation

Firmware upgrade by Micro-USB port
Videos
BZBGEAR 4K HDMI Splitter Auto Downscales to 1080p | BG-UHD-DA2x8
Dual Input HDMI Splitter Supports 4K@60fps Up to Eight Displays - BZBGEAR BG-UHD-DA2x8
Tech Specifications
Video Input
Input
2x HDMI
Input Connector
2x Female type-A HDMI
HDMI Input Resolution
Up to 4Kx2K@60Hz 4:4:4 8bit
HDMI Standard
2.0
HDCP Version
2.2
CEC
Supported
Video Output
Output
8x HDMI
Output Connector
8x Female type-A HDMI
HDMI Output Resolution
Up to 4Kx2K@60Hz 4:4:4 8bit
HDMI Standard
2.0
CEC
Supported
Audio
De-embedded Output
1x AUDIO OUT, 1x SPDIF OUT
Output Connector
1x RCA (L/R) jack, 1x Toslink connector
HDMI Audio Format
LPCM 7.1 audio, Dolby Atmos®, Dolby® TrueHD, Dolby Digital® Plus, DTS:X, and DTS-HD® Master Audio pass-through
Stereo Analog L/R Audio Format
PCM
Toslink Digital Audio Format
PCM, Dolby Digital, DTS, DTS-HD
Frequency Response
20Hz - 20KHz, ±3dB
Max Output Level
2.0Vrms ± 0.5dB. 2V = 16dB headroom above -10dBV (316mV) 

nominal consumer line level signal

THD+N
<0.05% (-80 dB), 20Hz - 20KHz bandwidth, 1KHz sine at 0dBFS level (or max level)
SNR
>80dB, 20Hz ~ 20KHz bandwidth
Crosstalk Isolation
>70dB, 10KHz sine at 0dBFS level (or max level before clipping)
L-R Level Deviation
< 0.3dB, 1KHz sine at 0dBFS level (or max level before clipping)
Frequency Response Deviation
<± 0.5 dB 20Hz ~ 20KHz
Output Load Capability
1Kohm and higher (supports 10x paralleled 10k ohm loads)
Stereo Channel Separation
>70dB@1kHz
Control
Control Part
5x Control buttons, 1x EDID 3-pin DIP switch;

1x EDID 4-pin DIP switch, 1x Micro-USB port

General
Bandwidth
18Gbps
Operation Temperature
14°F ~ 131°F / -10°C ~ +55°C
Storage Temperature
-13°F ~ 158°F / -25°C ~ +70°C
Relative Humility
10%-90%
Power Supply
Input:100V~240V AC; Output: 12V DC 1A
Power Consumption
12W(Max)
Dimension (W*H*D)
12.6" x 0.8" x 3.9" [324mm x 20mm x 100mm]
Net Weight
About 2lbs [900g]
PACKAGE CONTENTS
1x HDMI 2.0 2x8 Splitter
2x Mounting Ears with 4 Screws
4x Plastic Cushions
1x Power Adapter (12V DC 1A)
1x User Manual
Interfaces
POWER LED:

The LED illuminates red when power is supplied.
OUTPUT LEDs: The LED illuminates green when there is HDMI output on the corresponding channel.
SOURCE Button and LED: Press the button to switch to the next source device, and then the corresponding input LED will illuminate green.
DISPLAY ON Button and LED: Press the button to turn on displays. The LED blinks green when pressed and will send a control signal.
DISPLAY OFF Button and LED: Press the button to turn off displays. The LED blinks green when you press this button and sends a control signal.
VOLUME DOWN/MUTE Button: Press the button to decrease the volume of displays. Press and hold this button at least three seconds to mute the displays.
VOLUME UP Button: Press the button to increase the volume of displays or exit mute mode if the displays is already in the mute mode.
EDID: 3-pin DIP Switch used to select lowest resolution, highest resolution, or preset which uses the dip switch panel on the rear.
FW: Micro-USB port for firmware upgrade.
INPUTS: Two type-A female HDMI input ports to connect HDMI sources.
OUTPUTS: Eight type-A female HDMI output ports to connect HDMI displays.
AUDIO OUT: RCA jack for stereo analog audio output.
SPDIF OUT: Toslink connector for digital audio output.
EDID: 4-pin DIP switch for EDID setting. Please refer to manual section 5 'EDID Management' for more details.
DC 12V: DC port to connect an AC power adapter.