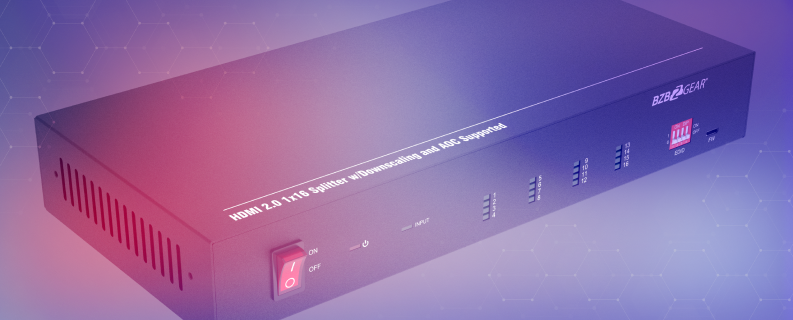 Overview
The BG-UHD-DA1X16 is a sixteen port 4K HDMI splitter. Providing connectivity for up to sixteen 4K displays, this device is perfect for large restaurants, bars, and retail spaces with multiple displays sharing a common video feed.
Connectivity & Features
The BG-UHD-DA1X16 supports a maximum input resolution of 4K@60Hz 4:4:4. It is HDCP 2.2 compliant and supports enhanced video formats including HDR 10 and Dolby Vision. With active optical cable (AOC) HDMI support, this device can be used with long-distance AOC HDMI cable runs of up to 165 feet.
The auto-downscaling function of the BG-UHD-DA1X16 provides compatibility with legacy 1080P displays. This helps eliminate compatibility issues and helps the device play nice with lower resolution screens. The device is also HDCP 2.2 compliant. When used with compatible displays, the HDMI CEC control function of the BG-UHD-DA1X16 can control power on and off for connected displays.
A set of DIP switches provide EDID management to stabilize the signal for connected devices. An analog RCA output provides audio extraction for connection to an external audio system. Essential system commands including EDID, HDCP, scaler settings, and reboot can be performed remotely via the RS232 input.
Features
Crystal Clear Images

Images with resolutions up to 4K@60Hz

Multiple Outputs

Route once source to as many as 16 HDMI outputs

Downscaling

Automatic downscaling to 1080p for legacy displays

Durable

Sturdy metal structure built to withstand years of operation

HDCP 2.2

High-Bandwidth Digital Content Protection Supported

Audio De-embedding

De-embed audio from HDMI and output via Stereo RCA
Supports 4:4:4 8bit, HDR 10, Dolby Vision

Smart EDID management

AOC HDMI supported for cable runs up to 165ft
Videos
BZBGEAR 4K HDMI Splitter Auto Downscales to 1080p | BG-UHD-DA2x8
Tech Specifications
Video
Input
1x HDMI
Input Connector
1x Type-A female HDMI
Input Video Resolution
Up to 4K@60Hz 4:4:4 8bit, HDR10, Dolby Vision
Output
16x HDMI
Output Connector
16x Type-A female HDMI
Output Video Resolution
Up to 4K@60Hz 4:4:4 8bit, HDR10, Dolby Vision, supports 4K to 1080p down-scaling.
HDMI Output
Supports up to 5V100mA power for AOC cable.
HDMI Standard
V2.0
HDCP Version
2.2
HDMI Audio Signal
LPCM 7.1 audio, Dolby Atmos®, Dolby® TrueHD, Dolby Digital® Plus, DTS:X™, and DTS-HD® Master Audio™ pass-through.
Analog Audio Output
Output
1x AUDIO
Output Connector
1x RCA (L+R)
Frequency Response
20Hz~20kHz, ±1dB
Max output level
2.0Vrms ± 0.5dB. 2V=16dB headroom above-10dBV (316mV) nominal consumer line level signal
THD+N
< 0.05%, 20Hz~20kHz bandwidth, 1kHz sine at 0dBFS level (or max level)
SNR
> 80dB, 20Hz~20kHz bandwidth
Crosstalk isolation
< -80dB, 10kHz sine at 0dBFS level (or max level before clipping)
L-R level deviation
< 0.05dB, 1kHz sine at 0dBFS level (or max level before clipping)
Output load capability
1Kohm and higher (supports 10x paralleled 10Kohm loads)
Noise Level
- 80dB
Control Part
Control Port
1x EDID Switch, 1x FW, 1x RS232
Control Connector
1x 4-pin DIP switch, 1x Micro-USB, 1x Female DB9
General
Bandwidth
18Gbps
Operation Temperature
23°F ~ 131°F / -5°C ~ +55°C
Storage Temperature
-13°F ~ 158°F / -25°C ~ +70°C
Relative Humidity
10%-90%
External Power Supply
Input: AC 100~240V, 50/60Hz; Output: 24V DC 1.25A
Power Consumption
26W (Max)
Dimension (W*H*D)
10.5" x 1.6" x 4.9" [268mm x 40mm x 125mm]
Net Weight
2.5lbs [1.14Kg]
PACKAGE CONTENTS
1x 16 Splitter
2x Mounting Ears with 4 Screws
4x Plastic Cushions
1x RS232 Cable (Female DB9 to Male DB9)
1x Power Adapter (24V DC, 1.25A)
1x User manual
Interfaces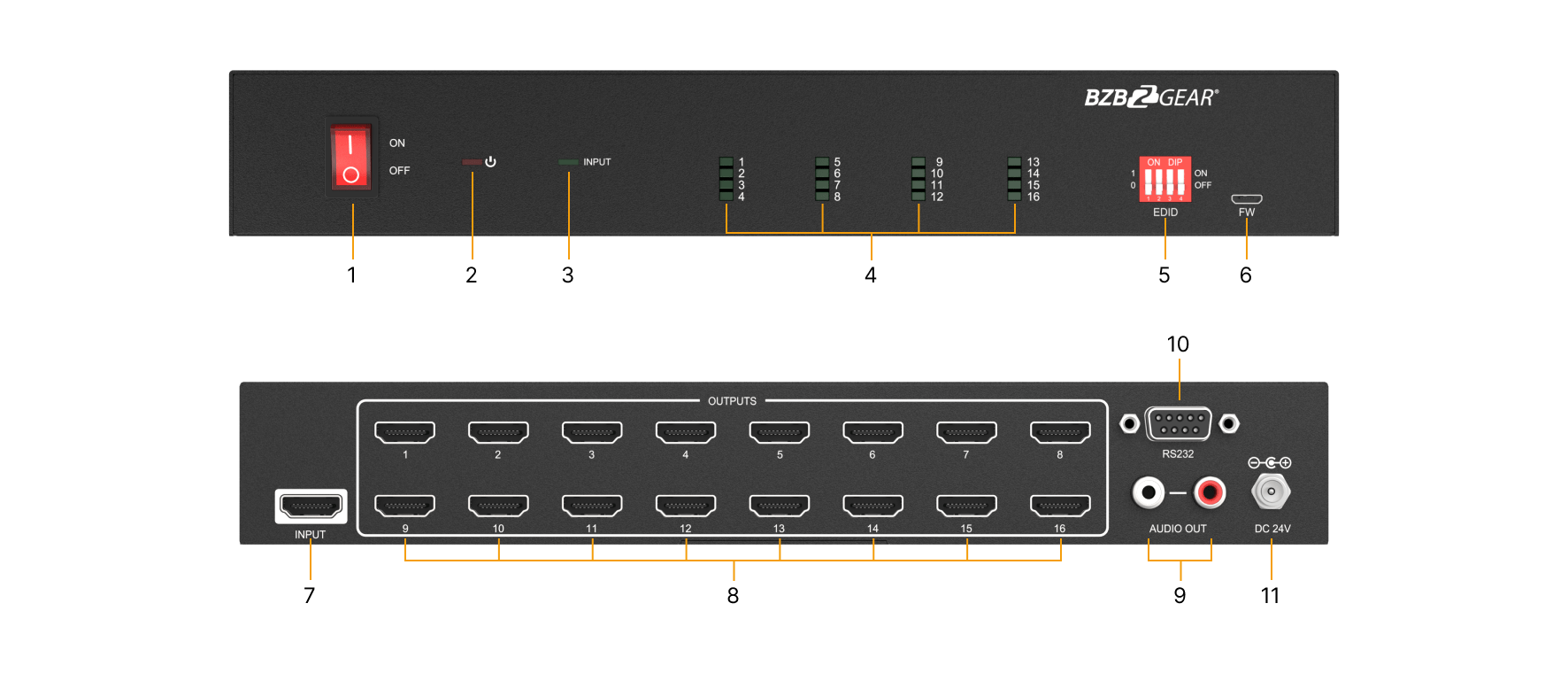 POWER SWITCH:

Power on/off the splitter.
POWER LED: Illuminates red when the device is powered on.
INPUT LED: Illuminates green when there is HDMI input.
OUTPUT LEDs (1-16): Illuminates green when there is HDMI output on the corresponding channel.
EDID: 4-pin DIP switch for EDID setting and HDCP mode selection.
FW: Micro-USB port for firmware upgrade.
INPUT: Connect HDMI source.
OUTPUTS: Total sixteen HDMI outputs to connect HDMI displays.
AUDIO OUT: Connect audio device (e.g. amplifier) for audio de-embedding from HDMI input.
RS232: Connect a control device (e.g. PC) to control the splitter by sending RS232 commands.
DC 24V: DC connector for the power adapter connection.