Overview
The BG-EPTZ-UH4K is a powerful webcam in the hands of educators, students, remote employees, and other home broadcasters. This compact webcam offers users an extending degree of flexibility with simultaneous USB 3.0 and HDMI outputs while capturing images in up to 4k@30Hz resolution with 4x digital zoom.
With electronic pan/tilt/zoom (ePTZ), the BG-EPTZ-UH4K is a great option for presenters who need to zoom and shift the image to focus on different subjects in a field of view of 130°. Equipped with an omnidirectional microphone, this camera has the ability to clearly pick up voices from up to 8 meters away.
Its USB 3.0 connectivity isn't just for high-speed data transmission. It also provides power to the device, making for easy setup and reducing the number of cables required to operate the webcam. With a universal mounting solution, the small BG-EPTZ-UH4K will fit perfectly in any situation, whether it be at home or in the studio on a desktop, monitor, tripod, or bracket.
Camera & Audio Recording
The BG-EPTZ-UH4K owes its stellar image quality to a Sony 1/2.5" CMOS sensor which allows it to provide up to 4k@30Hz resolution. The camera has a 130° field of view as well which is one of the widest FOV configurations on the market. The zoom and super wide angle support this camera's ePTZ functions, enabling presenters to zoom in and focus on a particular part of the frame when necessary.
The omnidirectional microphone on this camera is great for many situations as it can pick up sound up to 8 meters away. This opens up the possibility for this device to capture small meetings for streaming and recording.
Control & Connectivity
To control this camera's ePTZ functions, users can take advantage of an IR remote. This gives presenters the power to change the focus of their presentation at will. With power and data over USB 3.0, you don't need to worry about extra power cables. Not only can you output video via USB, but you can output video over HDMI at the same time. The BG-EPTZ-UH4K can be mounted to various surfaces such as desktops, monitors, tripods, and brackets as well for any situation. The camera is also small enough to be portable, enabling users to pack it away when traveling. This makes it especially handy for remote employees.
Ready to Go
The BG-EPTZ-UH4K is ready to use right out of the box, thanks to the included 1x IR Remote Controller and 1x USB 3.0 Cable. Simply plug the camera into your device via USB 3.0 and use the IR remote to achieve the perfect angle!
Features
4K Ultra HD

Crystal clear image in any application

USB 3.0

High speed data transmission and power supply in one cable

Integrated Microphone

Omni-directional pickup up to 8 meters

Wide Angle

One of the widest FOV on the market - 130°!

Integrated Mount

Mount to desktop, monitor, tripod, or bracket

HDMI Output

Ideal for capture cards or extra monitors
Sony 1/2.5" CMOS

H.265 / H.264 / MJPEG encoding

Small enough to take with you

0.02Lux @ F1.8

Voice pickup up to 8 meters

1/30s ~ 1/10000s shutter speed

Auto, indoor, outdoor, one push, and manual WB

4X ePTZ digital zoom @1080p

Control with IR remote
Videos
Bring Your Own Device (BYOD) Solutions for Offices & Video Conferencing using BZBGEAR Equipment!
BZBGEAR 4K ePTZ Webcam Perfect for Podcasts, Hobbyists, & Video Conferencing
BZBGEAR 4K Webcam Optimizes Remote Learning and Working from Home Anywhere
Tech Specifications
Camera

Video System

Sony 1/2.5" CMOS

Min Illumination

0.02Lux @ F1.8, AGC ON

Effective Pixel

4K@3820*2160

Digital Noise Reduce

2D, 3D
Zoom
4X Digital Zoom @ 1080p
Shutter
1/30s ~ 1/10000s
Lens
F=2.8mm FOV 130°
Auto Focus
Support

White Balance

Auto / Indoor /Outdoor/ ONE PUSH, Manual
USB Function

Video Output

4K@30Hz/25; 1080p@30Hz/25; 1080i@60Hz/50/30/25; 720p@60Hz/50Hz

Encoding
H.265 / H.264 / MJPEG

UVC Protocol

Support
Video
UVC1.0 - UVC1.5
Audio Function
Built-in
YES
Audio
USB 3.0

Voice Pickup Range

8 Meters
HDMI Interface

Video Output

4K@30Hz/25; 1080p@30Hz/25; 1080i@60Hz/50/30/25; 720p@60Hz/50

Encoding
H.265 / H.264 / MJPEG

Audio Output

N/A
ePTZ
Support, 4X Digital Zoom @ 1080p

Interface: USB 3.0 Type B Female

Compatible with all interfaces below USB 3.0, support video, control, power supply, audio input and output

Interface: HDMI 2.0

Compatible with HDMI 2.0, 1.4, 1.3A, 1.3 and other interfaces, only supports video transmission

Dome Parameter

Input Voltage

5V (USB 3.0)

Operation Temperature

14°F ~ 122°F / -10°C ~ +50°C

Storage Temperature

-40°F ~ 140°F / -40°C ~ 60°C
MTBF
50000 hours

Camera Brackets

Brackets with Damper, Support±30° adjustment

Dimensions (LxWxH)

2.8 x 2.8 x 2.2in [70 x 70 x 56mm] (Bracket not included)
Working Environment
Indoor Only
PACKAGE CONTENTS
1x ePTZ Camera
1x IR Remote Controller
1x USB 3.0 Cable
1x User Manual
Interfaces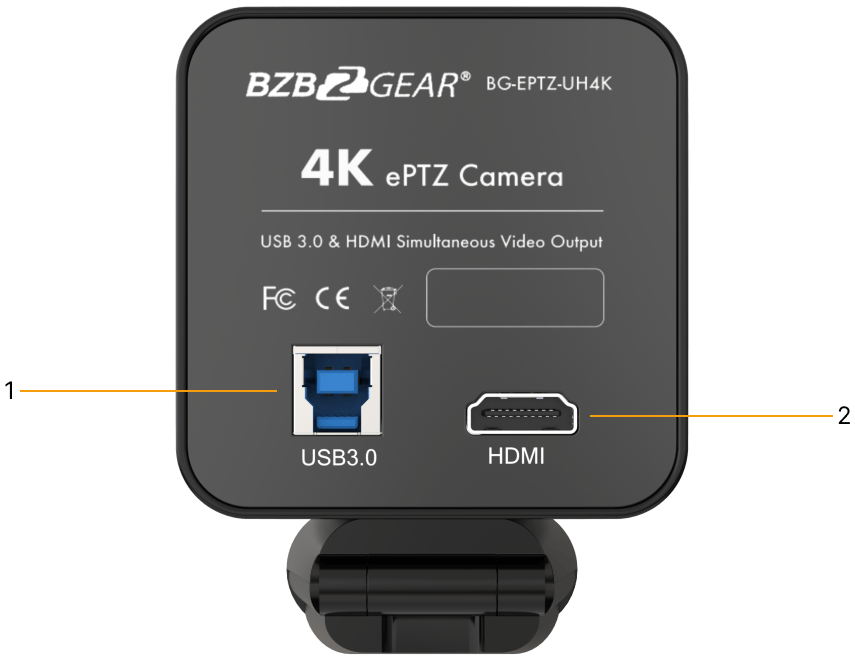 USB:

Connect USB3.0 type B cable to a PC for plug & play connectivity for any conferencing service like Skype or Zoom.

HDMI:

 Connect to an HDMI device such as a video production switcher or a video display up to 4K@30Hz.