4K UHD 12G-SDI 1x2 Splitter/Distribution Amplifier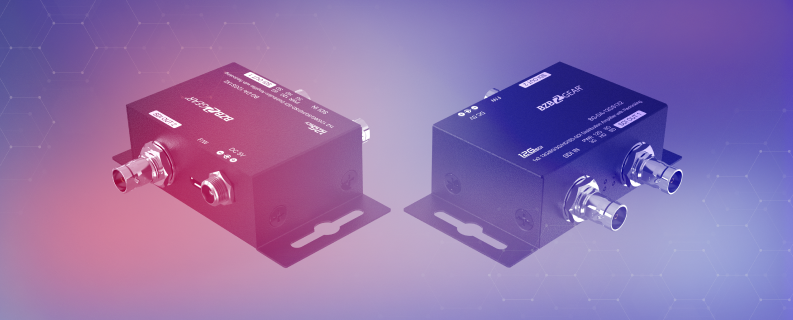 The BG-DA-12GS1X2 is a 1x2 12G-SDI splitter. This device can split an SD, HD, 3G, 6G, or 12G-SDI video source to two SDI outputs simultaneously. For any situation where range, quality, consistency, and reliability are all factors, this unit is the correct choice. Whether you need to connect additional displays for video feed monitoring, distribute a 4K signal over a long distance, or daisy chain and cascade multiple units to build a large scale video distribution solution - the BG-DA-12GS1X2 will help you get the job done.
Connectivity and Features
Each output from the BG-DA-12GS1X2 is buffered independently and re-clocked eliminating signal disruption and making it possible to extend signal transmission to greater distances. With automatic input cable equalization, 12G-SDI signal can be transmitted up to 70m (230 ft), 6G up to 100m (330 ft), and up to 180m (594 ft) for 3G connections.
The device has a maximum SDI bandwidth of 11.88 Gbps to support high quality video transmission with low latency when splitting video to multiple outputs. Installers can also utilize the device's LED indicators that show the status of signal lock and current video rate to reduce the amount of time system configuration is needed.
The device's design is built around quality and durability. With an inter-locking power supply and SDI connectors as well as a metal housing with mounting brackets, this device is built to last while maintaining reliable video transmission.
 TAA COMPLIANT PRODUCT.
 This product meets the standards of the Trade Agreement Act (TAA).
 You can find all BZBGEAR TAA Compliant Products on
this page
.
Features
Multiple Outputs

Split a single SDI source up to 2 different SDI displays or devices

Buffered and Re-clocked Outputs

Eliminate jitter and increase transmission distance

Split and Amplify

Split and extend a 4K signal up to 230ft (12G)

LED Indicators

Signal lock and video rate at a glance

Interlocked Power Supply

Ensures power stays connected

Rugged Design

Durable metal structure built to withstand years of operation
Locking Connectors – Ensure your video cables do not accidentally come unplugged with locking SDI connectors

Long Distance – Send a 3G-SDI signal up to 594ft

Portable – Great for use in the field when you need multiple displays in different locations
Videos
SDI Explained in Less Than Five Minutes, Should You Care About 12G?
Bridge Pro AV & Broadcast Solutions with BZBGEAR – NAB Show 2022
How to Split A 12G-SDI / 6G-SDI / 3G-SDI Signal - BZBGEAR BG-DA-12GS1x2
BZBGEAR Pro-rated SDI Splitters Support 3G, 6G, and 12G-SDI Signal Delivery
Tech Specifications
Technical
SDI standard
SD/HD/3G/6G/12G-SDI
Multi-Rate Support
Auto detection of SD, HD, 3G, 6G or 12G Signals
SDI Compliance
SMPTE 424M, SMPTE 292M, SMPTE 344M, SMPTE 259M, DVB-ASI, ST-
2081(6G), ST2082(12G)
SDI Data rates
1.485 / 2.97 / 5.94 / 11.88 Gbps
Video bandwidth
11.88Gpbs & 11.88/1.001Gbps
Output impedance
75Ω
Reclocking
Yes
Cable equalization
[12G] up to 70m (230ft)
[6G] up to 100m (330ft)
[3G] up to 180m (594ft)
Audio support
Yes
RP-198 pathological patterns
Immune
PCB stack-up
4-layer board [impedance control — differential 100Ω; single 75Ω]
Input
1x BNC [SDI]
Output
2x BNC [SDI]
BNC connector
75Ω inter-locked socket
Eye pattern characteristics[12G]
Amplitude: Within 800mV (<10%) Rise/Fall time: Less than 35ps
Timing jitter: <1.0 UI (10Hz to 1188MHz)
Alignment jitter: <0.3 (100KHz to 1188MHz)
Mechanical
Housing
Metal enclosure
Dimensions [L x W x H]
Model: 3" x 1.7" x 1.1" [77 x 42 x 28 mm]
Package: 6.4" x 4.4" x 1.7" [165 x 111 x 42mm]
Weight
Model: 3.1 oz [89g]
Package: 0.7 lbs [316g]
Fixedness
Wall-mounting case
Power supply
5V 2A DC
Power consumption
2.5 Watts [max]
Operation temperature
32~104°F / 0~40°C
Storage temperature
-4~140°F / -20~60°C
Relative humidity
20~90% RH [no condensation]
PACKAGE CONTENTS
1x BG-DA-12GS1X2
1x 5V Power Adapter
1x User Manual
Interfaces

12G/6G/3G/HD/SD-SDI Output 2:

Connect to an SDI display.
Micro-USB: For updating firmware.
5V DC power jack: Connect to provided power supply.
12G/6G/3G/HD/SD-SDI input: Connect to an SDI source.
Power LED indicator: Illuminates when connected to power.
12G Signal LED indicator: Illuminates when connected to a 12G source.
6G Signal LED indicator: Illuminates when connected to a 6G source.
3G Signal LED indicator: Illuminates when connected to a 3G source.
HD Signal LED indicator: Illuminates when connected to a HD source.
SD Signal LED indicator: Illuminates when connected to a SD source.
12G/6G/3G/HD/SD-SDI Output 1: Connect to an SDI display.