Overview
The BG-PSC8X2HDB is an 18Gbps 8x2 seamless 4K presentation switcher. Equipped with 8 video inputs including 6 HDMI ports, 1 Display Port, and 1 VGA port, this HDMI 2.0, HDCP 2.2 and DP 1.2 compliant unit supports multi-format signal processing for seamless switching between all sources. It features automatic input scaling at resolutions up to 4K@60Hz 4:4:4.
Video output is available via simultaneous HDMI and HDBaseT ports. The HDBaseT output extends signal up to 70 meters at 1080P, or 45 meters at 4K.
Third-party control is supported with bi-directional IR and RS-232 connections and the equipped EDID management helps eliminate video compatibility issues.
Easily embed audio with any of the 8 stereo inputs. The integrated microphone mixer supports adjustable trim and 48V phantom power. Extract audio from the balanced output or power 2 speakers with the 20W stereo output.
Features
Crystal Clear Images

Stunning image quality in 4K@60 4:4:4

Integrated Microphone Mixer

Features adjustable trim and 48V Phantom Power

HDBaseT Output

Extend signal up to 70 meters at 1080P, or 45 meters at 4K

Integrated Audio Amplifier

Power 2 speakers via 20W stereo outputs

EDID Management

Eliminates video compatibility issues

Multiple Control Options

Bi-Directional IR, RS232, and IP Control
HDMI 2.0, HDCP 2.2 and DP 1.2 compliant

Support seamless switching

Support 18 Gbps video bandwidth

8 video inputs: 6 HDMI ports, 1 DP port, 1 VGA port

Mirrored output with HDMI and HDBaseT output ports

9 audio source selections (LR1 to LR8 and embedded audio) for HDMI/DP input
Tech Specifications
Technical
HDMI Compliance
HDMI 2.0
HDCP Compliance
HDCP 2.2
DP Version
DP 1.2
Video Bandwidth
18Gbps
Video Resolution
Input Video Resolution
800x600@60Hz, 1024x768@60Hz, 1280x768@60Hz,
1280x800@60Hz, 1280x1024@60Hz, 1360x768@60Hz,
1366x768@60Hz, 1400x1050@60Hz, 1440x900@60Hz,
1600x1200@60Hz, 1680x1050@60Hz, 1920x1200@60Hz.
480p,576p,720p, 1920x1080i, 1920x1080p, 3840x2160@
24Hz/25Hz/30Hz/50Hz/60Hz, 4096x2160@24Hz/25Hz/
30Hz/50Hz/60Hz.
Note: This device does not support 4:2:0 color space
Output Video Resolution
Auto, 3840x2160@60Hz, 3840x2160@50Hz, 3840x2160@30Hz,
1920x1080@60Hz, 1920x1080@50Hz, 1280x720@60Hz,
1024x768@60Hz, 1360x768@60Hz, 1600x1200@60Hz,
1920x1200@60Hz.
EDID Option
Auto, Manual, 3840x2160@60, 3840x2160@30,
1920x1080@60, 1280x720@60, 1920x1200@60
HDMI Amplitude
T.M.D.S +/- 0.4Vpp
Differential Impedance
100±15ohm
ESD Protection
Human-body Model:
±8kV (Air-gap discharge), ±4kV (Contact discharge)
RS232/Ethernet Control
Baud rate and Protocol
Baud rate: 9600, data bit: 8 Stop bit: 1, no parity checking
Ethernet
IE10.0+, HTML5
Mechanical
Housing
Metal Enclosure
Color
Black
Dimensions
16.9"(W) x 8.7"(D) x 1.7"(H) [430mm(W) x 220mm(D) x 44mm(H)]
Weight
7lbs [3.2Kg]
Power Supply
AC 110 - 240V
Power Consumption
60W (Max)
Operating Temperature
32°F ~ 104°F / 0°C ~ 40°C
Storage Temperature
-4°F ~ 158°F / -20°C ~ 70°C
Relative Humidity
10%~50% RH (non-condensing)
PACKAGE CONTENTS
1x 8x2 Seamless UHD Presentation Switcher
1x HDBaseT Receiver
1x AC Power Cord
1x User Manual
2x Mounting Ear & 2x Handle
12x 3-pin Phoenix Connector
1x 4-pin Phoenix Connector
1x 5-pin Phoenix Connector
1x IR Blaster Cable (1.5 meters)
1x IR Receiver Cable (1.5 meters)
Interfaces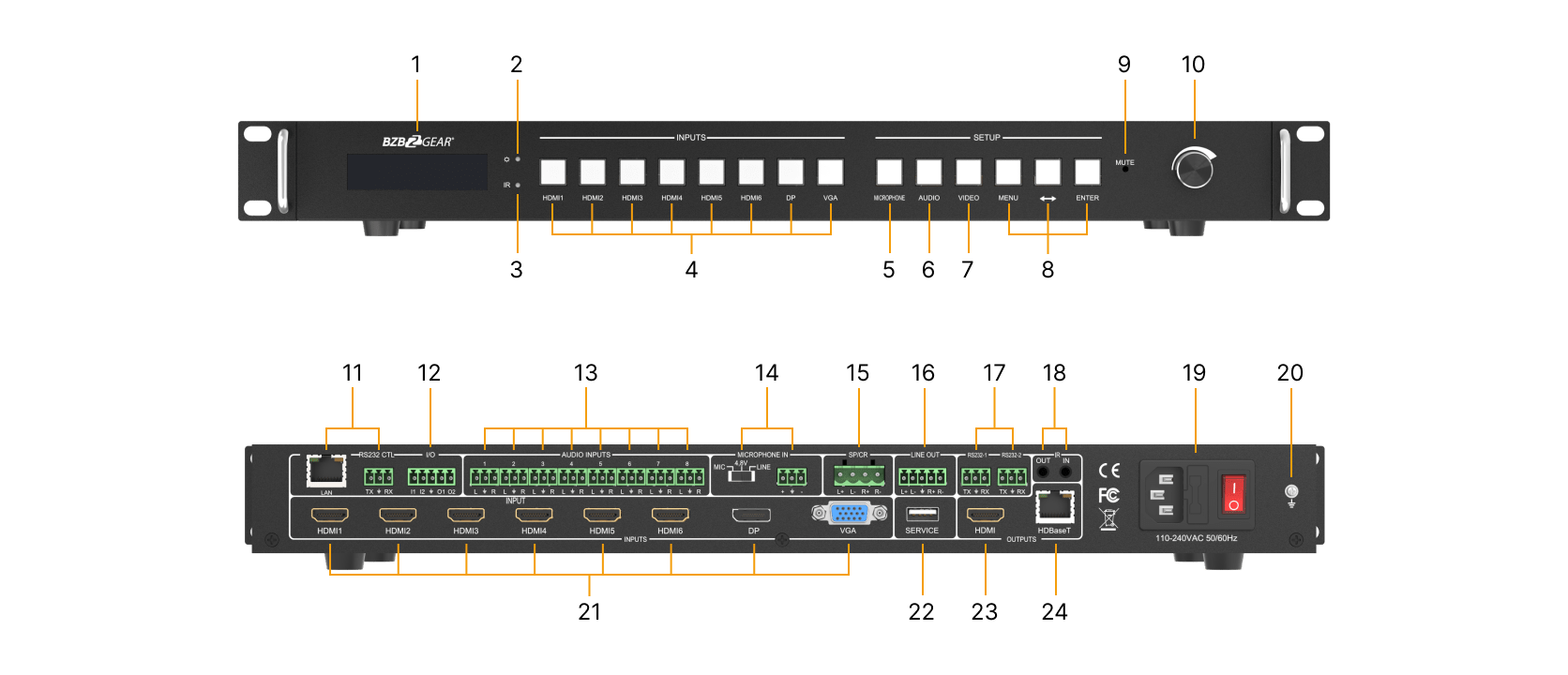 LCM screen:

Display EDID, output resolution, audio configuration and other information.
Power LED: When the product is powered on, the red LED will illuminate.
IR: IR LED.
Input buttons: Press these buttons to switch the corresponding HDMI/DP/VGA input source.
Microphone button: Short press the button to switch on/off MIC input. Long press the button the LCM screen will display the MIC volume control interface.
Audio button: Press the button to switch on/off the current audio source except MIC.
Video button: Press the button to switch on/off video input.
MENU, ↔, ENTER button: These three buttons are combination buttons, which can be used to adjust output resolution/EDID management/ audio source selection for each input port/output HDCP mode.
Mute LED: When the speaker is muted, the LED will illuminate.
Volume knob & button: Rotate the knob to adjust speaker volume (range 0~50), press the knob to mute/unmute the speaker. This knob can also be used to control MIC volume.
PC control: LAN port: Connect to a router.
RS-232 CTL: Connect to a PC or control system.
I/O port: I1 & I2 are for input level detecting and O1 & O2 are for output level setting.
Audio Inputs: Audio input ports. Connect to an external audio source device.
Microphone In: Dip switch: Used to switch 48V (Phantom Power)/MIC/LINE microphone modes. Phoenix connector: Used to connect microphone devices.
SPKR port: Audio output port, connect to audio output device such as speaker.
Line Out port: Balanced audio output port. Connect to a speaker.
RS-232 ports: RS-232: Reserved port.
RS-232 BP: Used to transmit a separate RS-232 signal superimposed on HDBaseT transmission.
IR Out/In: Connect to IR receiver/blaster cable.
Power switch & port: Power switch: Switch on / off the power supply.
Power port: Connect to 100~240V AC 50/60Hz power cord.
GND: Ground the product housing.
Input ports: 6 HDMI ports, 1 DP port, 1 VGA port. Connect to source devices.
Service port: Firmware update port.
HDMI port: HDMI output port. Connect to an HDMI display device such as a TV or monitor with an HDMI cable.
HDBaseT port: HDBaseT output port. Connect to the HDBaseT Receiver via a CAT cable.