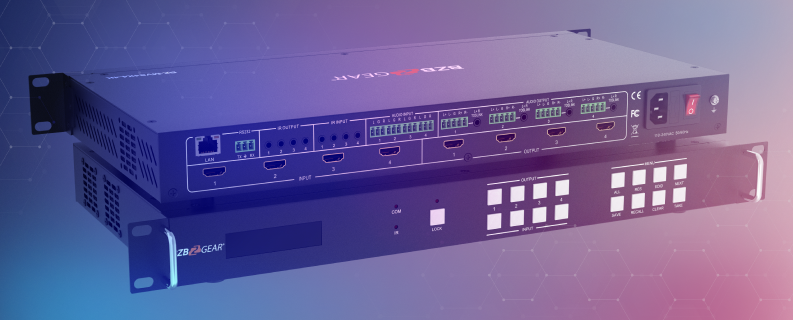 Overview
The BZBGEAR BZ-MVS4X4-4K is a matrix video wall controller that seamlessly switches signals from any of the four HDMI sources to any of the four connected HDMI displays. The four outputs can be configured to create a variety of video wall displays such as a 2x2, 1x4, 1x2, 2x1, and 4x1 video wall. Ideal for integrators, professional broadcasters, restaurant owners, and home theater enthusiasts seeking to create high-end video walls, or control multiple video sources and displays with one device.
Connectivity
The four HDMI ports support video bandwidths of 18Gbps and resolutions up to 4K@60Hz (4:4:4). The HDMI ports are HDMI 2.0 and HDCP 2.2 compliant. Each HDMI input features stereo audio embedding via the phoenix connectors on the back panel. The device is equipped with four stereo audio outputs and four TOSLINK S/PDIF ports for analog and digital audio de-embedding.
Control
The BZ-MVS4X4-4K can be configured and controlled using the PC Tool software via the LAN or RS-232 connections. Smart EDID management via the front panel buttons or web interface eliminate HDMI handshake issues for fast and reliable input switching. The HDMI CEC provides power and volume control of compatible monitors. Access basic control of the matrix switcher and network settings with the conveniently built-in WebGUI interface.
Complete with front panel buttons for quick and handy operation, the BZ-MVS4X4-4K's flexible features make it an exceptional choice for designing outstanding video walls with flexible display control and connectivity.
Features
Video Wall Processor

Spread a Source Across Multiple Displays

Video Matrix

View Any Source on Any Display

Crystal Clear Images

Supports resolutions up to 4K@60Hz 4:4:4

Multiple Control Options

Front Panel, TCP/IP, RS-232, IR remote, PC Software

HDCP 2.2

High-Bandwidth Digital Content Protection Supported

Audio

Embedding and De-Embedding Supported
Seamless matrix switching and video wall processing functions(2x2)

Supports audio matrix and IR matrix functions

EDID & CEC management
Videos
How to Use The NEW BZBGEAR Switcher Control App for AVoIP, Matrix, & Video Wall
BZBGEAR Switcher Control App: Streamlined Matrix, Video Wall, Multiviewer & AVoIP Manager
The Best Video Wall Processors for Any TV 2022
This 4K HDMI Matrix Switcher Doubles as a Video Wall Processor! BZ-MVS4X4-4K
INFOCOMM 2022 | BZBGEAR 4K Video Wall Processors & Matrixes
Tech Specifications
Technical
HDMI Compliance
HDMI 2.0
HDCP Compliance
HDCP 2.2
Video Bandwidth
18Gbps
Video Resolution
Up to 4K@60Hz 4:4:4
Color Space
RGB, YCbCr 4:4:4/4:2:2
HDMI Amplitude
T.M.D.S +/- 0.4Vpp
Differential Impedance
100±15ohm
ESD Protection
Human-body Model:
±8kV (Air-gap discharge) , ±4kV (Contact discharge)
RS232/Ethernet Control
Baud rate and Protocol
Baud rate: 9600, data bit: 8
Stop bit: 1, no parity checking
Ethernet
IE10.0+, HTML5
Mechanical
Housing
Metal Enclosure
Color
Black
Dimensions
17" (W) x 8.7" (D) x 1.7" (H) [430mm (W) x 220mm (D) x 44mm (H)]
Weight
11 lbs [5kg]
Power Supply
AC 110 - 240V
Power Consumption
60W (Max)
Operating Temperature
32°F ~ 104°F / 0°C ~ 40°C
Storage Temperature
-4°F ~ 158°F / -20°C ~ 70°C
Relative Humidity
10%~50% RH (non-condensing)
PACKAGE CONTENTS
1 x BZ-MVS4X4-4K unit
1 x AC Power Cord
1 x Matrix IR Remote
4 x IR Receiver cable (1.5 meters)
4 x IR Blaster cable (1.5 meters)
1 x 3-pin Phoenix Connector
1 x CAT6 cable
1 x USB to RS232 Cable
1 x User Manual
Interfaces

LAN:

LAN (10Mbps/100Mbps).
RS232: Use RS232 for PC control.
IR Output: IR OUT routing follows the video matrix routing, no need to separately control IR matrix.
IR Input: IR IN routing follows the video matrix routing, no need to separately control IR matrix.
Audio Input: 4x 3-pin Phoenix connectors to input external analog LR audio, users can select this audio to replace the corresponding embedded HDMI audio.
Audio Output: 4x 5-pin Phoenix connectors to output balanced LR audio, and 4 mini Toslink jackets to output analog LR audio and digital Spdif audio. The 4 sets of Audio output (LR and Toslink) channels can be independent of video and switched by PC Tool or commands.
110-240VAC: 110-240V AC power input port.
GND: Ground the product housing.
HDMI Inputs 1-4: HDMI inputs connect HDMI source devices such as a DVD player or gaming console with an HDMI cable.
HDMI Outputs 1-4: Connect to the monitor to display the video of the signal source.
LCD Panel: Displays the current video selections.
COM: Power LED (also indicates control commands).
IR: IR LED.
LOCK: Front panel lock/unlock. Press button LOCK, to lock or unlock front buttons. When locked, the Lock LED will be solid.
INPUT: Input selection buttons 1-4.
OUTPUT: Output selection buttons 1-4.
ALL: Set all outputs to the next input selection.
SAVE: Save the current matrix setting as a preset.
RES: Set the output scaler resolution.
RECALL: Set the matrix setting from a saved preset.
EDID: Set the EDID options for the next input selection.
CLEAR: Cancel the current command function.
NEXT: Select the next available option.
TAKE: Set the displayed option.