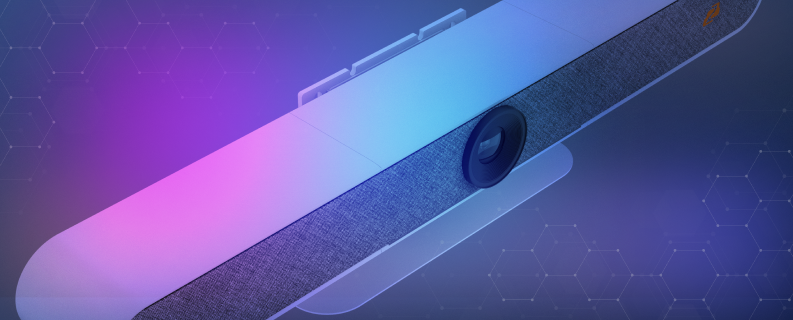 Overview
The BG-Cyclops-4K's all-in-one design consolidates several devices into one streamlined, user-oriented video conferencing solution.
With a powerful 4K UHD camera and high-end 0.8M CMOS sensor, the BG-Cyclops-4K captures pristine lifelike images. The advanced auto-tracking functionality is bolstered by facial recognition software. The distortion-less 120° wide angle lens automatically tailors the image size based on the number of participants in the frame, eliminating the need to manually adjust the camera before each meeting.
The BG-Cyclops-4K's built-in dual 10W studio speaker ensures every participant can hear and be heard clearly. The sophisticated 6 MEMS microphone array features voice localization and tracking that detects the presenter's position in real time and locks in for a focused shot, removing any confusion as to who is currently speaking.
Complete with a privacy cover, the BG-Cyclops-4K automatically shields the lens when no output device or software is detected for and security and comfort.
By simplifying video conferences with its hands-free operation and professional grade image and sound quality, the BG-Cyclops-4K allows meeting members to present topics and focus on the task at hand.
Features
Crystal Clear Images

Stunning image quality at 4K2K

Automatic Privacy Cover

Camera lens cover automatically closes when there is no output stream detected

Wide Angle Lens

120° wide angle lens ensures every participant is captured in frame

6 Microphones

Multiple microphones enable the current speaker to be tracked in real time up to 6 meters

Auto Framing

Face detection algorithm automatically detects participants to provide the optimal shot

Compatible

Works with Windows, Mac OS, and major conferencing software such as Zoom, Skype, etc.
Bluetooth enabled and can be used as a Bluetooth speaker and microphone

Low noise CMOS ensures high snr of images

Brackets for desktop or wall mounting included
Videos
BZBGEAR Webinar Episode 10: Overview of BZBGEAR Conference Room Solutions.
Take Advantage of 4K Conference Room Solutions With Auto Framing | NAB 2023
Wireless Video Conference Meeting Room Solutions by BZBGEAR
Plug and Play All-in-One Conference Room Video Bar - BG-CYCLOPS-4K
IBC2022 | BG-CYCLOPS-4K Auto-Tracking Auto-Framing All in One Conference Solution
Tech Specifications
Camera
Lens
FOV
120°(D) / 106°(H) / 72°(V)
Iris
F2.0
Focal Length
1.89mm
Sensor
High quality CMOS sensor, effective pixel 8 million, 16:9
Image
Minimum Illumination
0.5Lux
DNR
2D & 3D
Focus
Auto/Manual
BLC
On/Off
Exposure
Parameter can be adjusted, and AE (Auto Exposure) is available
Video Adjustment
Brightness, sharpness, saturation, contrast, white balance, gain, anti-flicker, low brightness compensation and other parameters can be adjusted
SNR
≥50dB
Video Format
HDMI: 4KP30,1080P60 compatible downward
USB: 4KP30,1080P60 compatible downward
Video Compression Format
MJPEG, YUY2, H.264, H.265, NV12
Privacy Cover
Automatic privacy cover will close when no image output and open when there are image output.
Audio
Microphone
Microphone
6 X MEMS Microphones
Pickup Distance
6 meters
Frequency Response
120 Hz - 16 kHz
Speaker
Speaker
Built in dual speaker
Voltage
2x10W
Output Voice Pressure
80±3 dB 1.0M/1.0W
Frequency Response
100 Hz - 20 KHz
Audio Processing
AEC, AGC, ANS
AI Function
Group Framing
Automatically adjust the screen size according to the number of participants to present the best framing
Speaker Tracking
Track each speaker in real time, and ensure that the speaker is in the center of the screen.
Remote Control
Remote Control
Infrared remote control
Physical Interfaces
USB
USB3.0 audio video output interface, Type C
Support UVC1.1, UAC1.0 and higher
HDMI
HDMI video output interface
HDMI also compatible with HDMI2.0 standard
LINE IN
3.5mm audio line input interface (when an external pickup is connected, the audio input is automatically switched to the external pickup)
LINE OUT
3.5mm line output, can be connected to external speakers (when connecting to external speakers, the audio output will automatically switch to external speakers)
Expansion Mic Interface
RJ45 interface, able to connect to expansion microphone.
Power Interface
HEC3800 power socket (DC12V), input AC110V-AC220V output DC12V/2.5A
Indicator
Bar-shaped Indicator
While displaying the working status, it can also be lit where the speaker's voice comes from.
Bluetooth
Bluetooth 5.0
Can be connected to a mobile phone or other device via Bluetooth as a Bluetooth microphone and speaker
Compatibility
Available System
Windows 7, Windows 8, Windows 10, Mac OS X, Linux, Android
Power Supply Method
Supply power through power adapter
Working Condition
Storage Temperature
14°F~158°F / -10°C~+70°C
Storage Humidity
20%~95%
Working Temperature
14°F~122°F / -10°C~+50°C
Working Humidity
20%~80%
Environment
Indoor
Installation Method
Walling Mount
Comes with walling mount bracket. While mounting, the camera need to be as close to the wall as possible.
Desktop
Comes with desktop mounting bracket
Installed on monitor
Bracket for monitor installation (optional)
PACKAGE CONTENTS
1x BG-CYCLOPS-4K Video Bar
1x USB Cable
1x Remote Control
1x Power Adapter
1x User Manual
Interfaces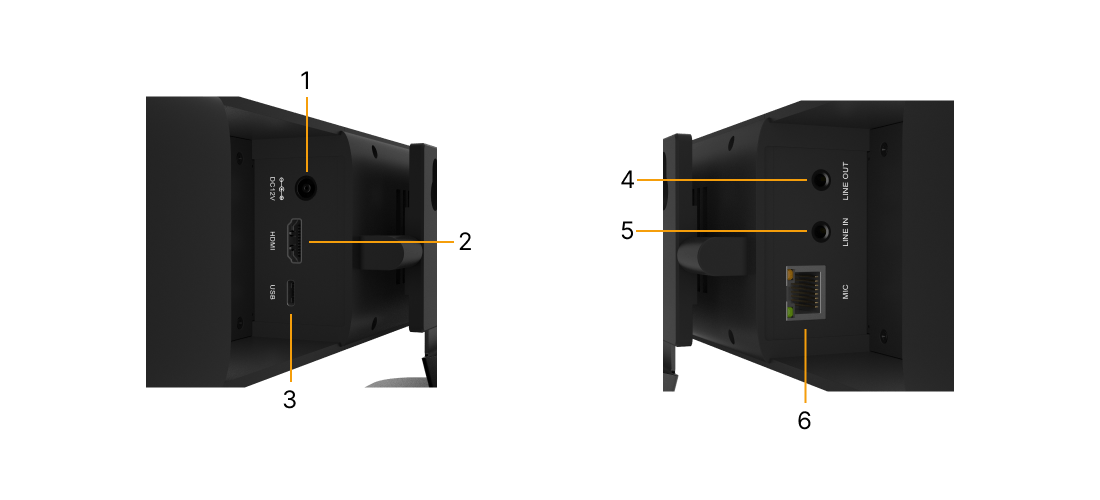 Power:

Connect supplied 12V power adapter.

HDMI:

Connect to an HDMI device such as a video display or a presentation switcher. Supports resolutions up to 4K@30Hz.

USB:

Connect USB Type-C cable to a PC for plug & play connectivity for any conferencing service like Skype or Zoom. Supports resolutions up to 4K@30Hz.

Line Out:

Use a 3.5mm cable to connect to an external speaker or an audio amplifier to extract the audio signal.

Line In:

Use a 3.5mm cable to connect an external microphone or another source of audio.

Mic:

 Connect RJ45 to optional microphone extension cable.