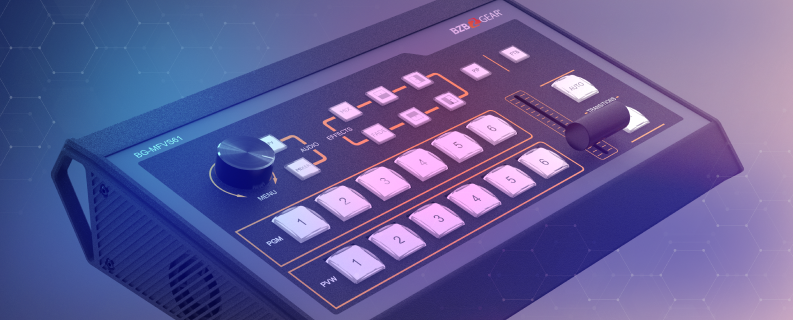 Overview
The BG-MFVS61-G2 is a 3G-SDI/HDMI video switcher with four 3G-SDI inputs, two HDMI inputs, four 3G-SDI outputs, two HDMI outputs, and one USB-C output. Durable and easy to use, this switcher is ideally suited for both mobile and fixed production environments.
Connectivity
The BG-MFVS61-G2 supports resolutions up to 1080p@60Hz. The integrated scaler provides compatibility with a large number of display resolutions. Featuring two multiview outputs (3G-SDI & HDMI) three program outputs (2 x 3G-SDI, HDMI), and one assignable 3G-SDI output this unit fits seamlessly in almost any production environment. The USB-C output allows a connected PC to be used to record or livestream the program output. The tally port (DB-15) provides support for compatible systems.
Audio can be de-embedded from all inputs and mixed with the 3.5mm and RCA analog inputs. Mixed audio can be output from the 3.5mm and RCA analog outputs, or embedded to the program output.
Control
The T-bar slider, auto, and cut buttons provide control for transitions using the BG-MFVS61-G2's various wipe, mix, and fade effects. Picture in Picture (PIP) mode allows userse to easily resize and reposition the PIP window. The easy to use control layout allows even novice users to acheive professional quality results.
Features
Integrated Audio Mixer

3.5mm, RCA, HDMI Audio

Picture in Picture Mode

Adjustable size and position

Compact

Lightweight and portable

Multiple Transition Options

T-Bar, Auto, and Cut controls for Mix, Wipe, and Fade effects

Multiview Outputs

1x SDI, 1x HDMI

Crystal Clear Images

Supports resolutions up to 1080p@60Hz
6 Input Channels - 4x SDI and 2x HDMI

Multiple Outputs - 2x SDI PGM, 1x HDMI PGM, 1x SDI AUX, 1x USB Type-C

Integrated capture card
Videos
Command Any PTZ Camera with Precision Control for IP & Serial - InfoComm 2022
HDMI & SDI Video Production Switchers & Audio Mixers by BZBGEAR for Live Streaming | NAB Show 2022
BZBGEAR BG-MFVS61-G2 3G-SDI and HDMI Video Mixer with Integrated Capture Perfect for Live Events
Portable 6-Input 3G-SDI and HDMI Video Mixer Switcher from BZBGEAR is ideal for Mobile Events
Tech Specifications
Inputs:
Video Inputs
P4×3G/HD/SD-SDI, 2×HDMI
SDI Input Format
1080p 60/59.94/50/30/29.97/25/24/23.98

1080psF 30/29.97/25/24/23.98

1080i 60/59.94/50

720p 60/59.94/50/30/29.97/25/24/23.98

HDMI Input Format
1080p 60/59.94/50/30/29.97/25/24/23.98/23.976

1080i 50/59.94/60

720p 60/59.94/50/30/29.97/25/24/23.98

576i 50, 576p 50

SDI Video Rate
Auto detection, SD/HD/3G-SDI
SDI Compliance
SMPTE 259M/ SMPTE 292M/ SMPTE 424M
Color Space and Precision
SDI: YUV 4:2:2, 10-bit;

HDMI: RGB 444 8/10/12bit; YUV 444 8/10/12bit;

YUV 422 8/10/12bit

Outputs:
PGM Output Format
1080p 60/50/30/25/24; 1080i 50/60
Multiview Output
1×3G-SDI; 1×HDMI Type A
Multiview Output Format
1080p@60
Audio:
Audio Input
1×3.5mm Stereo audio; 1×RCA(L/R)
Audio Output
1×3.5mm Stereo audio; 1×RCA(L/R)
Others:
GPIO
Tally
LAN
RJ45
Power
DC 12V, 1.8A
Consumption
≤ 22W
Operation Temperature
-4°F ~ 140°F / -20°C ~ 60°C
Storage Temperature
-22°F ~ 158°F / -30°C ~ 70°C
Operation Humidity
20%~70%RH
Dimension
13 x 9.6 x 2.64in [330 x 244 x 67mm]
Weight
2.2 lbs [1.0kg]
PACKAGE CONTENTS
1x BG-MFVS61-G2
1x Power Supply (DC12V 2A)
1x 3' USB-C to USB-A cable
1x Padded Carrying Case
1x User Manual
Interfaces

LAN:

For firmware updates.
AUDIO IN/ OUT: 3.5mm stereo mini.
AUDIO OUT: L+R RCA analog audio output.

AUDIO IN:

L+R RCA analog audio input.
HDMI PGM OUT: Displays the selected PGM video out (1-6).
HDMI & SDI MULTIVEW OUT: Display all 6 inputs, a Preview, Program out, and menu options all on 1 screen.
SDI PGM OUT: Displays selected PGM image (1-6).
SDI IN: Input SDI source devices (1-4).
HDMI IN: Input HDMI source devices (5-6).
DC 12V: Connect to provided power supply.
Power Switch: O (device off) / - (device on).
SDI AUX OUT (for PVW/PGM): Display either OVW or PGM image over SDI.
USB OUT: Connect to a computer for live streaming.
GPIO (for tally): Connects to a tally light control system (not included).