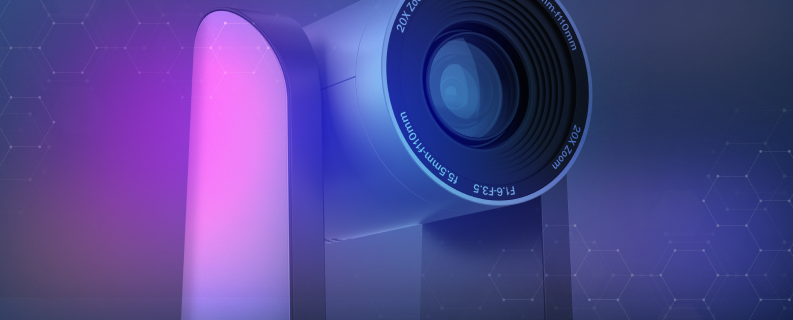 Overview
This super wide-angle Pan, Tilt, and fixed zoom camera has a field of view of 138° with no video distortion. With an eight-megapixel full glass fixed lens, the BG-CAM-USB4K can achieve resolutions up to 4K@30Hz. With superior imaging and simple controls, the BG-CAM-USB4K offers a great deal of performance. With its outstanding viewing angle this camera is able to capture an entire meeting space in crystal clear 4K detail. Flexible control options make this device a great choice for any installation.
Connectivity & Performance
The BG-CAM-USB4K has USB 3.0 plug and play connectivity, making it a great choice for use with video conferencing apps like Skype, Zoom, Google Meet, and more. To achieve its high-quality resolution of 4K@30Hz at fixed focus, this camera utilizes a 1/2.1" HD Color 8.29MP CMOS sensor. This camera utilizes a step drive motor mechanism and precision motor drive controller to ensure that PTZ functions work smoothly and quietly to avoid being disruptive. H.264, H.265, and MJPEG video compression options are also supported by this camera.
Control
There are several control options available for the BG-CAM-USB4K, including the IR remote, RS-232, and RS-485 (VISCA, Pelco-D/P) serial control. There are 255 preset positions available with the camera, nine of which are available to operators when using the IR remote control. Plug and play connectivity makes this camera easy to use with a laptop, desktop, or other device on Windows, MacOS and Linux for use with video conferencing software.
The BG-CAM-USB4K can be mounted to a ceiling, tripod, or on a flat surface, providing multiple installation options.
Features
Control

IR and cascadable RS232/485 (VICSA/Pelco) + 255 preset positions

Superb Auto Focus

Latest auto focusing algorithms resulting in quick, accurate, and stable focus

Crystal Clear Image

4K30Hz max resolution

Versatile

Can be mounted to wall, ceiling, or tripod

USB Output

Fast and Simple setup

Extremely Quiet PT

Step drive motor mechanism and precision motor drive controller ensure PT works smoothly with no noise
Fixed focus pan & tilt camera

2D / 3D noise reduction switch

Plug & play USB connectivity

Full glass lens

9 presets via IR remote (255 via RS232)

Smooth and silent PT movement

138° wide FOV with no video distortion

1/2.1" high quality, 8.29MP CMOS

Supports ceiling, wall, and tripod mounts
Tech Specifications
Image Sensor
1/2.1" HD Color CMOS
Effective pixel
8.29MP (16:9)
Horizontal Resolution
4K (3840x2160), 2k (2560x1080), 1080p (1920x1080)
Signal standard
NTSC/PAL
Zoom
Fixed focus
Minimum luminance
0.5Lux at F2.0
Focal length
F=2.1mm
Horizontal Angle
138°
Gain control
Auto
Focus
Auto
White balance
Auto
SNR ratio
≥50dB
Shutter speed
8 to 1/10000s (auto)
Preset position
IR remote control supports 9 presets, PELCO Protocol supports 256 presets
Pan/Tilt movement range
Pan: ±175° (max speed 100° /S), Tilt: -35° ~﹢55° (max speed 80° /S)
Control terminal
USB, RS-232, RS485
Control Protocol
VISCA, PELCO-D, PELCO-P (RS-232, RS485)
Video output
USB 3.0
Video Compression Format
YUV, MJPG, H.264
Noise Reduction
2D/3D
Work temperature
14°F ~ 122°F / -10°C ~ 50°C
Storage temperature
-4°F ~ 140°F / -20°C ~ 60°C
Baud rate
38400/9600bps
Decoder
Built-in
Address set
1~256
Installation
Support desktop, Tripod, Wall mount and Ceiling mount
Power supply
DC12V/2A
Power consumption
12 W
Net weight/Gross weight
3.3lbs / 6.3lbs [1.5kg / 2.85kg]
Dimension (LxWxH)
10.2 x 6.9 x 7.1in / 12 x 10 x 8.6in
260 x 175 x 180mm / 296 x 255 x 218mm (before / after packing)
Working Environment
Indoor Only
PACKAGE CONTENTS
1x BG-CAM-USB4K Camera
1x DC 12V Power Adaptor
1x IR Remote Control
1x USB 3.0 Cable
1x User Manual
Interfaces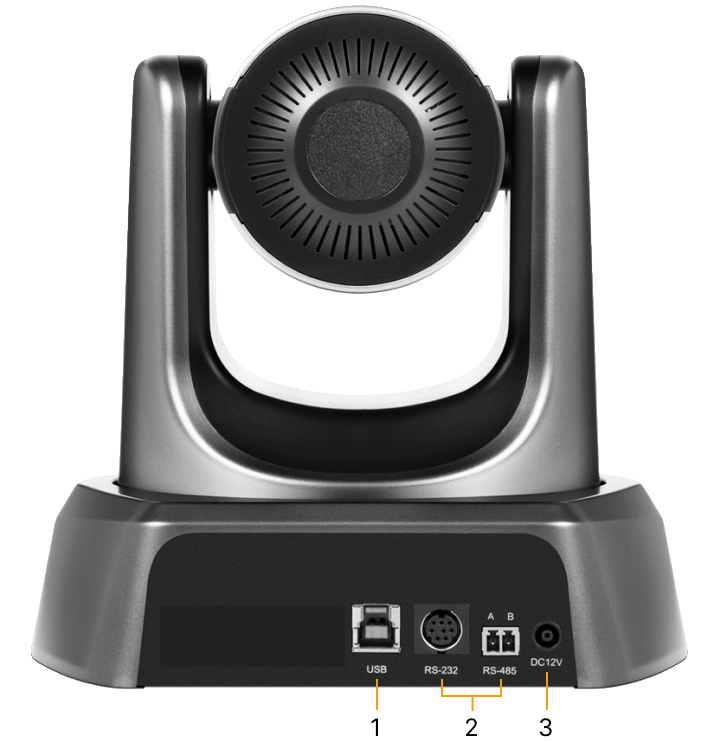 USB:

Connect USB2.0 type A cable to a PC for plug & play connectivity for any conferencing service like Skype or Zoom, supporting resolution up to 1080@30Hz.
RS-232, RS-485: Connect RS-232 or RS-485 to control the camera with a joystick controller or control software.
Power: Connect supplied 12V power adapter.