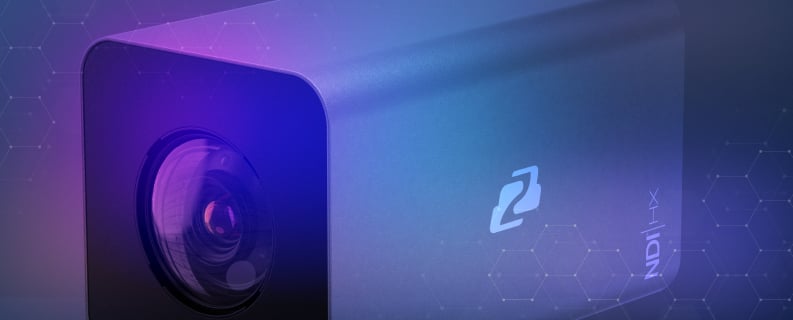 Overview
The BG-B20SHAN/BG-B30SHAN 20X/30X optical zoom IP-streaming camera utilizes a high-quality CMOS sensor to deliver crisp HD video signals. Its compact design provides versatile placement options and ease-of-use in a sleek low-profile housing. This camera is well-suited for a wide variety of broadcast and professional A/V applications including lecture streaming, education, room monitoring, studios, and more.
With a 1/2.8" Sony CMOS sensor, the BG-BSHAN series provides crystal clear imaging at resolutions up to 1080p@60Hz. The 20X/30X optical zoom lens allows the camera to capture tight close-ups, even at a distance.
The BG-BSHAN series features simultaneous 3G-SDI, HDMI, and IP streaming outputs. By utilizing the 3.5mm audio input, audio can be embedded into your livestreams and recordings with ease.
WHAT IS NDI AND NDI|HX2?
Network Device Interface (NDI) is a high performance AV over IP standard that allows anyone to use real time, ultra low latency video on existing IP video networks. The NDI open protocol enables professionals to share video through a local area network (LAN) with video-compatible devices. With a single ethernet cable connection, professionals can merge all stages of production from start to finish. That way, all production tasks and processes will be united, so accomplishing a creative vision will be simple. With the NDI 5.5 tool-kit, users will also be able to connect any audio device as an NDI source with NDI's Audio Direct tool. This adds audio over IP to NDI's revolution.
NDI|HX2 is an updated version of NDI|HX1. NDI|HX2 also compresses the bandwidth, but is more efficient than NDI|HX1. With compressed bandwidth, users can have more devices on their LAN without running into latency issues. NDI|HX2 provides good quality output, low bandwidth, and medium latency. The main difference compared to NDI|HX1 is that HX2 is truly a native NDI stream - all the way from the source device to the destination. This means it is a 'cleaner' implementation than HX1 and can potentially be more reliable, provide lower latency, and give a more flexible connection that shares all the usual features of NDI. 
NDI Toolkit
The NDI toolkit provides a collection of tools and plugins for NDI (Network Device Interface) video and audio streams. It includes tools for monitoring and displaying NDI video sources, sending test patterns for connectivity and calibration, analyzing network performance, routing NDI sources, integrating audio through plugins, facilitating secure remote connections, extending NDI streams beyond local networks, and offering a comprehensive suite for setup, testing, and management of NDI streams in diverse workflows.
Connectivity and Control
The BG-BSHAN series boasts support for a range of streaming protocols and compression formats, including ONVIF, RTSP, RTMP, and SRT. This empowers users with the capability to seamlessly stream content to platforms such as Facebook and YouTube. This array of outputs adds a remarkable level of versatility, making the BG-BSHAN series exceptionally adaptable for integration into diverse workflows.
Tailored for deployment in remote settings, the BG-BSHAN series offers operational control through both serial (RS485) and Ethernet interfaces. Accompanied by a user-friendly web interface, a comprehensive suite of image adjustment functionalities is at your fingertips. Compatibility is further enhanced through support for PELCO-D, PELCO-P, VISCA, and IP-VISCA protocols, ensuring seamless integration with compatible joystick controllers.
Enhanced Positioning Flexibility
With its compact design and an array of versatile mounting choices, the BG-BSHAN offers increased flexibility when it comes to configuring and positioning your setup. This guarantees optimal shot capture and seamless adaptation to various streaming scenarios.
Features
Crystal Clear Images

Full HD outputs delivers up to 1080p@60Hz video

NDI

Power, stream, and control all from 1 CAT 5e/6/7 cable

Zoom

20X/30X Optical Zoom Lens

External Audio Input

Add a microphone or other audio source

Versatile

Set the perfect shooting angle in Lecture halls, studios, surveillance and more

Multiple Control Protocols

Supports ONVIF, PELCO-D, PELCO-P, VISCA
Multiple output resolutions available

RS-485 & RS-232 serial control options

On screen display menu

PoE capable for single cable installations

2D / 3D noise reduction

H.265/H.264 encoding

Newly developed digital signal processor

Small form factor for tight installations

Auto white balance, iris, and focus options
Videos
BZBGEAR Equipment for Small to Medium Size Conference Rooms for Skype/Zoom
How to Livestream on YouTube with BZBGEAR BG-B20SHA 20X Zoom Box Camera - Full Overview and Setup!
BZBGEAR BG-B20SHA Full HD Live Video Streaming Camera via HDMI/3G-SDI/IP and Audio Support
Tech Specifications
BG-B20SHAN
BG-B30SHAN
Camera Specs
Sensor
1/2.8″ Exmor CMOS Sensor, 2.38MP
Zoom
20X Optical, 12X Digital Zoom
30X Optical, 12X Digital Zoom
Focus
f=4.7mm-94.0mm
f=5.2mm-148.4mm
Aperture
F=1.6(W)-3.5(T)
F=1.3(W)-4.8(T)
Horizontal Field of View
2.9°(T)-60.2°(W)
2.9°(T)-65°(W)
Frame Rate
1080p@60Hz/50/30/25, 1080i@60Hz/50/30/25, 720p@60Hz/50
Zoom Control
VISCA, PELCO D/P
Input/Output Interface
Video Output
3G-SDI / HDMI / IP Streaming / NDI丨HX
Audio Input
3.5mm Stereo Mini
Power On
JEITA type (DC IN 12V)
Communication interface
RS485 / RS232
Generic
Dimensions (W x H x L)
2.8 x 2.8 x 4.8in [70 x 70 x 122mm]
Weight
0.44 lbs [0.2kg]
Operating Temperature
-10°C ~ 50°C
Max Comsunption
12W  DC12V @1A
Working Environment
Indoor Only
PACKAGE CONTENTS
1x BG-BSHAN Camera
1x User Manual
1x 12V/ 2.0 A DC Power Adapter
1x Power Cable
Interfaces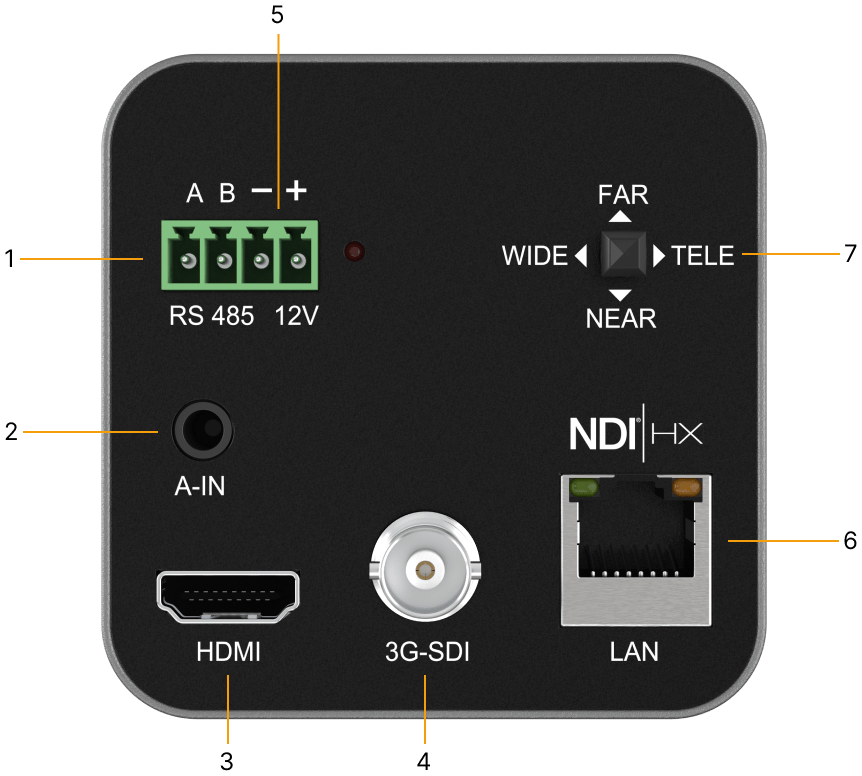 RS-485:

Connect RS-485 to control the camera with a joystick controller or control software.

Audio In:

Connect external audio sources such as a microphone or small audio mixer to embed the sound into all video output interfaces.

HDMI:

Connect to an HDMI device such as a video production switcher or a video display up to 1080p@60Hz.

SDI:

Connect to an SDI device up to 330ft such as a video production switcher or a video display at resolutions up to 3G (1080p@60Hz) over SDI cabling.

Power:

Connect supplied 12V power adapter.

NDI|HX:

Connect to a network switch via category cable to supply power (PoE), control (TCP/IP or webGUI) and stream (NDI|HX).

Button:

 Push this button towards Wide or Tele to zoom in or zoom out. Push towards Far or Near to adjust manual focus.