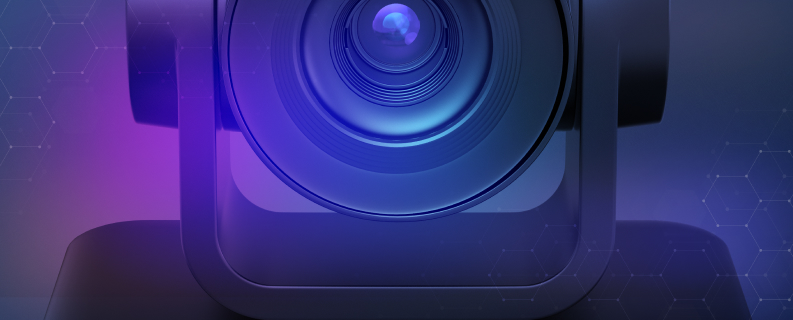 Overview
Introducing the BG-BPTZ-XU, a high-quality pan tilt zoom (PTZ) USB camera that offers excellent performance and versatility. With two configurations available - the 3x optical zoom and the 10x optical zoom variant - this camera is ideal for a range of applications, from smaller spaces to larger rooms where individual subjects are located further away but still need to fill the frame.
Both options of the BG-BPTZ-XU camera support resolutions up to 1080p@30Hz, producing high-quality imagery from its 1/2.8" high-quality CMOS sensor. The 3x optical zoom option has a field of view of up to 85°, while the 10x - up to 66°, ensures that users can choose the best option to suit their specific needs.
The BG-BPTZ-XU offers quick and easy plug and play connectivity with USB 2.0 type A, making it compatible with any video conferencing software on your laptop or desktop PC, such as Skype, Zoom, Microsoft Teams, and Google Meet. A step drive motor mechanism and precision motor drive controller ensure that the PTZ operation of the camera is smooth and quiet, avoiding any disruptions during your video conferencing calls.
This camera supports several video compression formats, including H.264, H.265, and MJPEG, providing greater flexibility and compatibility with a range of devices and applications.
The BG-BPTZ-XU has several control options available, including IR remote, RS-232, RS-485, and UVC (USB). Up to 255 preset positions are available, with 10 accessible via the IR remote. This camera can be mounted to a ceiling, wall, or tripod, increasing the potential for installation in many environments.
Overall, the BG-BPTZ-XU is a high-quality, versatile, and reliable PTZ USB camera that offers a range of advanced features to cater to all your video conferencing needs. Whether you're in the education industry or require video conferencing for remote work or huddle space, the BG-BPTZ-XU is the perfect choice.
Features
Zoom

Available in 3x/10x Optical zoom

Control

Cascadable RS232/485 (VISCA/Pelco) + 255 preset positions

USB2.0 (type A) Output

Fast and Simple setup

Full HD Image

1/2.8" high quality CMOS sensor with resolutions up to 1080p@30Hz

Superb Auto Focus

Latest auto focusing algorithms resulting in quick, accurate, and stable focus

Extremely Quiet PTZ

Step drive motor mechanism and precision motor drive controller ensure PTZ works smoothly with no noise
1/2.8" high quality CMOS sensor

Up to 255 presets (10 presets for IR remote control)

Works with Win7-10, Mac osx, and Linux

Superb high-definition image

Perfect for a multitude of applications

MJPG/H264/H265 video compression formats

Easy for anyone to operate

Advanced 2D/3D noise reduction technology

Auto/manual/one push white balance
Videos
A PTZ Camera for Any Meeting Space Video Conference - BZBGEAR BG-BPTZ
Tech Specifications
Model Number
BG-BPTZ-3XU
BG-BPTZ-10XU
View Angle
34.1° ~ 85°
8.8° ~ 66°
F Value
f=3.35mm ~ 10.05mm
f=4.34mm ~ 41.66mm
AV
F1.7 ~ 3.0
F1.85 – F2.43
Optical Zoom
3X
10X
Camera Parameters
Image Sensor
1/2.9 Inch High Quality CMOS Sensor
Effective Pixels
2.07MP, 16:9
Video Format
1920×1080P@30 fps/25fps; 1280×720P@30fps/25fps; 1024×576P@30fps/25fps; 960×540P@30fps/25fps; 800×448P@30fps/25fps; 640×360P@30fps/25fps; 320×176P@30fps/25fps
Low Illumination
0.5Lux (F1.8, AGC ON)
DNR
2D&3DDNR
White Balance
Auto/Manual/One Push/3000K/3500K/4000K/4500K/5000K/5500K/6000K/6500K/7000K
Focus
Auto/Manual/One Push
Electronic Shutter
Auto/Manual
BLC
On/Off
WDR
OFF/Dynamic Level Adjustment
Video Adjustment
Brightness, Color, Saturation, Contrast, Sharpness, B/W mode, Gamma curve
SNR
>55dB
Interface and Protocol
Video Output
USB2.0. Type A
Video Compression
H.265, H.264, MJPG
Control Port
RS232 in & out, RS485
Control Protocol
VISCA/Pelco-D/Pelco-P
Power Supply
HEC3800 Outlet (DC12V)
USB characteristics
Support operating system
Windows 7, Windows8, Windows10, Mac OS, Linux
Video Compression
H.265, H.264, MJPG
USB communication protocol
UVC
PTZ Parameter
Pan/Tile Rotation
-170° ~ +170° / -30° ~ +30°
Pan/Tile Controller Speed
0.1 ~ 60°/Second, 0.1 ~ 30°/Second
Preset Speed
Pan: 60°/Second, Tilt: 30°/Second
Preset Numbers
255 Presets (10 presets on IR Remote)
Other Parameter
Working Voltage
12V
Working current
0.25A(max)
Power Consumption
2.5W(max)
Storage Temperature
14°F ~ 140°F / -10°C ~ +60°C, 20% ~ 95%
Working Temperature
14°F ~ 122°F / -10°C ~ +50°C, 20% ~ 80%
Dimension
6.2in x 4.4in x 5.5in [156.8mm x 112.6mm x 139.5mm]
Weight
2.2 lbs [1kg]
Working Environment
Indoor Only
PACKAGE CONTENTS
1x Camera
1x 12V/1.5A Power supply
1x Remote Control
1x USB2.0 Cable
1x User Manual
Interfaces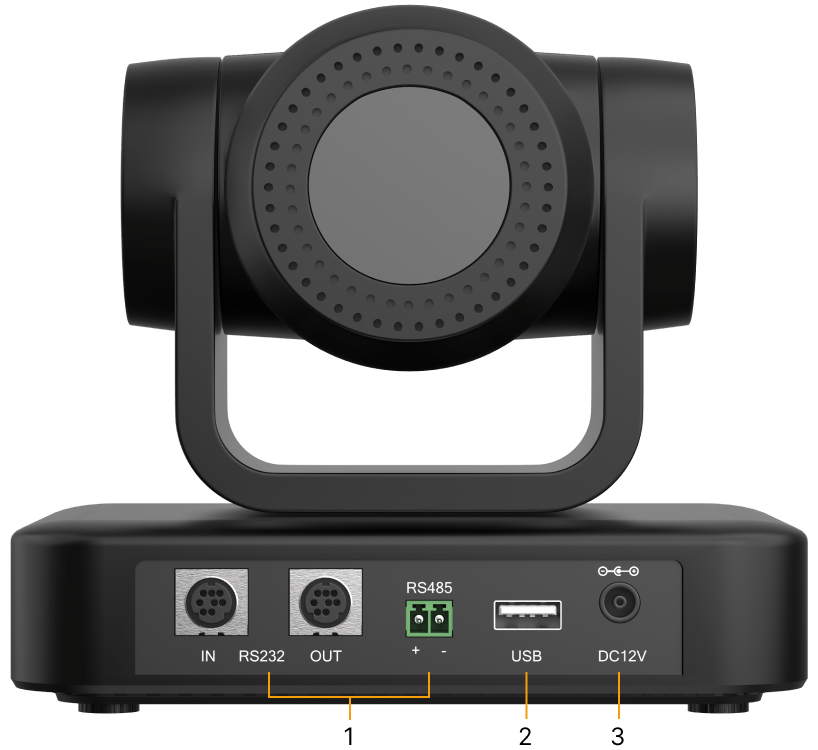 RS-232, RS-485:

Connect cascading RS-232 or RS-485 to control the camera(s) with a joystick controller or control software.

USB:

Connect USB2.0 type A cable to a PC for plug & play connectivity for any conferencing service like Skype or Zoom, supporting resolution up to 1080@30Hz.

Power:

 Connect supplied 12V power adapter.