1080P FHD/4K UHD 12G-SDI Video Test Pattern Generator (Support 12G/6G/3G/HD/SD-SDI)

Overview
Introducing the BG-SDITPG-G2 12G/6G/3G/HD/SD-SDI Pattern Generator, the ultimate tool for SDI pattern generation and testing. This state-of-the-art device offers multi-format support for 12G/6G/3G/HD/SD and a wide range of test patterns, making it an essential tool for professionals in broadcasting, professional AV, and related industries.
The BG-SDITPG-G2 features a comprehensive set of video test patterns, including still and moving patterns, as well as audio support (SMPTE-291M) with up to 8 channels of AES-compliant audio at a 48KHz sample rate. With this generator, you can calibrate and test SDI-enabled video devices and displays with ease and precision.
Designed for intuitive operation, the BG-SDITPG-G2 comes equipped with four buttons, a rotary switch, and an LCD screen, ensuring effortless control and management. Its user-friendly interface allows for quick access to various features, making it a cost-effective solution for all your SDI pattern generation needs.
Whether you're working with NTSC, PAL, 720p, 1080i, 1080p, or even 4K2K resolutions, the BG-SDITPG-G2 supports a wide range of output resolutions and bit rates. It delivers reliable performance and supports 10-bit color space, ensuring accurate and high-quality signal testing.
How to Control and Manage this Unit:
Intuitive LCD Screen and Control Panel: The BG-SDITPG-G2 is equipped with an LCD screen and a user-friendly control panel, featuring four responsive buttons and a convenient rotary switch. Effortlessly navigate through the diverse settings and options using this intuitive interface.
Instant Memory Recall for Settings: Simplify your workflow by effortlessly saving your preferred settings and configurations into the device's memory. This feature ensures swift and convenient access to your chosen configurations whenever needed.
Remote Control via LCM (Local Control Module): Experience centralized control capabilities by remotely managing the BG-SDITPG-G2 using the LCM (Local Control Module). This advanced functionality provides a seamless and efficient way to control the generator from a distance.
Enhanced Reliability
Furthermore, the protocols, including SMPTE 259M (270Mbps), SMPTE 292M (1.485 Gbps), SMPTE 424/425M (2.97 Gbps), SMPTE ST-2081 (5.94 Gbps), and SMPTE ST-2082 (11.88 Gbps), are crucial as they establish the standards for transmitting digital video signals across various resolutions and frame rates.
These standards ensure compatibility and reliability in broadcasting and video production by allowing the generator to produce test patterns aligned with different video formats, from standard-definition to ultra-high-definition, facilitating accurate testing and calibration of video equipment and systems in diverse professional settings.
Features
Multi-format support

12G/6G/3G/HD/SD-SDI

Multi-pattern functionality

Still and moving video test patterns

Audio support

Up to 8 channels of AES-compliant audio at 48KHz sample rate (SMPTE-291M)

Intuitive controls

Four buttons, rotary switch, and LCD screen

Easy saving

Save settings to memory

Preset Support

Supports preset modes for added convenience
Wide range of output resolutions: NTSC, PAL, 720p, 1080i, 1080p, 4K2K

Multiple bit rates: 2.97 Gbps, 2.967 Gbps, 1.485 Gbps, 1.4835 Gbps, 5.94Gbps, 5.934Gbps, 11.88Gbps, 11.868Gbps, 270 Mbps

10-bit color space for accurate and high-quality testing

SDI output: SDI, HD-SDI, 3G-SDI, 6G-SDI, 12G-SDI

Cost-effective: Calibrate and test SDI-enabled video devices and displays
Videos
Mastering Video Testing with The Ultimate SDI Pattern Generator - BG-SDITPG-G2
InfoComm 2023 Pass Every AV Inspection w/ an SDI Test Pattern Generator
Tech Specifications
Technical Specifications
Role of Usage
Pattern generator
SDI Standards
12G/6G/3G/HD/SD-SDI
Auto SDI Rate Detection
Yes
Supported Protocols
SMPTE 259M (270Mbps / 360Mpbs)
SMPTE 292M / HDTV (1.485 & 1.485/1.001Gbps)
SMPTE 424/425M (2.97 & 2.97/1.001Gbps)
SMPTE ST-2081 (5.94&5.94/1.001Gbps)
SMPTE ST-2082 (11.88&11.88/1.001Gbps)
Video Bandwidth
11.88Gpbs
Data Rates
270 / 1483 / 1485 / 2967 / 2970 / 5934 / 5940 / 11868 / 11880 Mbps
Video Support
[12G] 4K2K@50/59.94/60
[6G] [email protected]/24, 25, 30
[3G] 1080p@50/59.94/60 (4:2:2)
[HD] 720p50/59.94/60, 1080p24/30, 1035i50/59.94/60, 1080i50/59.94/60
[SD] [email protected], PAL@50Hz
SDI Signal Type
SMPTE-292M / 259M / 424M / ST-2081 / ST-2082
Output Impedance
75W
Cable (Belden 1694A) Equalization / Transmission
[12G-SDI] up to 50m (165ft) / [6G-SDI] up to 100m (330ft) / [3G-SDI] up to 200m (660ft)
Audio Support
Yes
PCB Stack-up
6-layer board [impedance control — differential 100W; single 75W]
Output
4x BNC [SDI]
BNC Connector
75W interlocking socket
[HD] Eye Pattern Characteristics
Amplitude: Within 800mV <10% Long time jitter <1.0 UI
Rise overshoot: Less than 2% Timing jitter <1.0 UI
Fall overshoot: Less than 2% Alignment jitter <0.2 UI
Mechanical
Housing
Metal Enclosure
Dimensions
[L x W x H]
Model
6.5" x 4.4" x 0.9" [167 x 112 x 24mm]
Package
12.7" x 7.7" x 3.6" [325 x 196 x 92mm]
Weight
Model
0.6 lbs [303g]
Package
1.1 lbs [533g]
Power Supply
12VDC
Power Consumption
5 Watts [max]
Operation Temperature
32~104°F / 0~40°C
Storage Temperature
-4~140°F / -20~60°C
Relative Humidity
20~90% RH [no condensation]
PACKAGE CONTENTS
1x BG-SDITPG-G2
1x 12V power supply unit
1x User Manual
Interfaces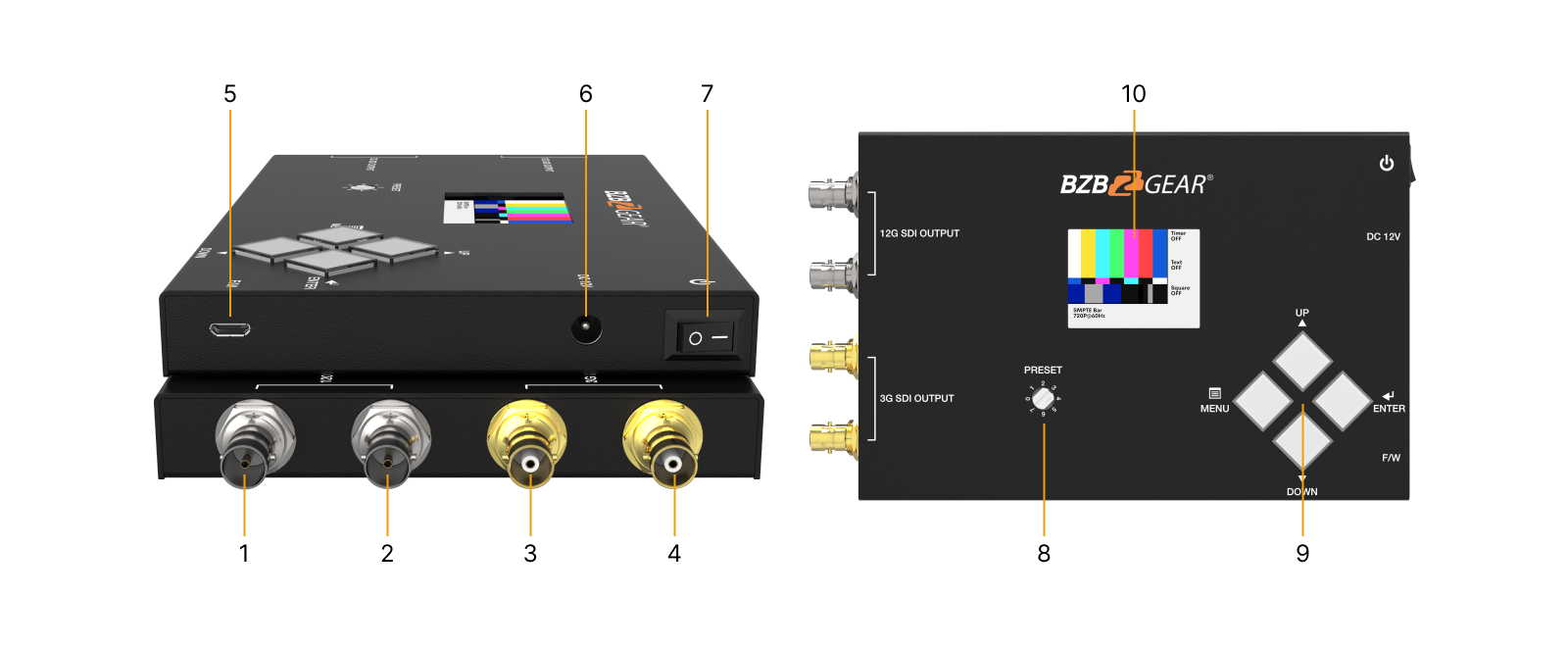 SDI OUT1: 12G/6G/3G/HD/SD-SDI output.
SDI OUT2: 12G/6G/3G/HD/SD-SDI output.
SDI OUT3: 3G/HD/SD-SDI output.
SDI OUT4: 3G/HD/SD-SDI output.
Micro USB: Micro-USB port for F/W update.
+12V DC: 12V DC power jack.
Power Switch: Power ON/OFF.
Rotary Switch: for 0-7 preset mode.
PUSH BUTTONS:
Menu: Trigger the menu operation
Enter: Enter the menu item
Up: Choose the last menu item
Down: Choose the next menu item.
LCD: 2.0" LCD monitor.