4-Port 4K UHD Video Wall Processor with Scaler, Audio and 1x3/1x4/2x2/4x1 Layout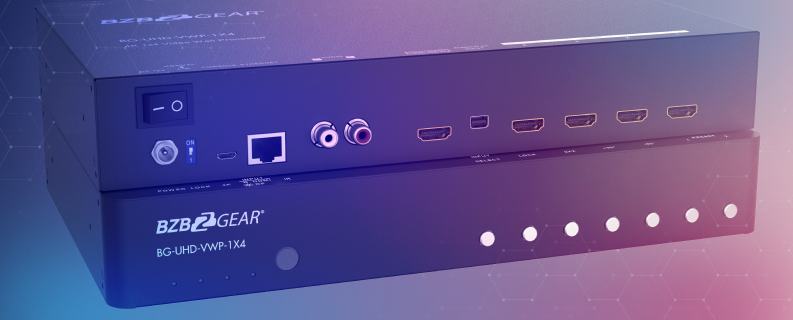 OVERVIEW
The BG-UHD-VWP-1X4 4K 1x4 Video Wall Processor is a high-quality video processor that is perfect for multiple flat panel displays or projectors. It is is designed to support HDMI/DisplayPort signals up to 4K2K@60Hz 4:4:4, providing you with crisp, clear images that are ideal for digital signage, broadcasting, education, and surveillance systems. The embedded scaler technology ensures that video signals are converted to match the native resolution of monitors, flat panel displays, and projectors, while user-selectable output settings up to WUXGA (1920x1200) allow for customized display options.
BG-UHD-VWP-1X4 unit is extremely versatile and can be controlled via USB, push buttons, Ethernet, webGUI, and IR remote control. With the image parameters saved in flash memory, you can easily recall your preferred settings without the hassle of reconfiguring the unit every time. It is HDCP 2.2 compliant, ensuring that it is compatible with the latest content protection standards.
With the ability to modify layouts to fit various applications, the BG-UHD-VWP-1X4 is an excellent choice for anyone looking for a powerful, cost-effective, and flexible video processor. Whether you're in the digital signage business or looking to upgrade your entertainment setup, this video wall processor is sure to exceed your expectations.
 TAA COMPLIANT PRODUCT.
 This product meets the standards of the Trade Agreement Act (TAA).
 You can find all BZBGEAR TAA Compliant Products on
this page
.
Features
Accepts High Resolution Inputs

HDMI And Display Port Inputs Up To 4K2K@60Hz 4:4:4

Easy To Control

Options Include Front Panel, LAN, IR, And USB Virtual Com

HDCP

High-Bandwidth Digital Content Protection Supported

Remote Access

Control using IntriCloud Service (www.intri.cloud)

Compliant Ports

HDMI 2.0a And DisplayPort 1.2a Inputs

SCALABILITY

Resize, Position, and Zoom Each Individual HDMI Output
Sturdy metal construction

Great solution for digital signage

Five embedded default EDIDs

Upgradable firmware for new features and technology enhancements

Save image parameters and layouts in the flash memory for easy recall

Supports independent input rotation at resolutions up to 1080p@60Hz

Ablility to adjust propagation delay on each display

4K2K@60Hz inputs can be divided onto four 1080p@60Hz displays (2x2 only)
Videos
BZBGEAR Webinar Episode 10: Overview of BZBGEAR Conference Room Solutions.
The Best Video Wall Processors for Any TV 2022
BZBGEAR Video Wall System Enhances Atmosphere | BG-UHD-VWP-1x4
Tech Specifications
Technical
Role of usage
Video Wall Processor
HDCP compliance
Yes
Video bandwidth
Input – Single link 600MHz [18Gbps] Output –Single-link 225MHz [6.75Gbps]
Video support
Input – 4K2K@60 (4:2:2 8bits) / 4K2K@60 (4:4:4 8bits) Output – 1920x1080@60 / 1920x1200@60
Video Format Support
HDMI / DisplayPort
Audio support
Yes
ESD protection
Human body model — ±15kV [air-gap discharge] & ±8kV [contact discharge]
Input
1x HDMI + 1x DisplayPort + 1x USB + 1x RJ45
Output
4x HDMI + 1x Stereo
Control
IR remote control / Ethernet / USB (virtual) / Front Panel / Cloud Control
Input TMDS signal
1.2 Volts [peak-to-peak]
HDMI connector
Type A [19-pin female]
Mini-USB connector
Type A
RJ-45 connector
WE/SS 8P8C
Enclosure
Metal case
Dimensions (L x W x H)
Model
11.4" x 7" x l.7" [290 x 180 x 44mm]
Package
l'2" x 9.4" x  4.4"[376 x 240 x 112mm]
Weight
Model
3.2 lbs [1427g]
Package
4.6 lbs [2077g]
Fixedness
1U rack-mount with ears and Wall hanging holes
Power supply
12V DC
Power Consumption
12W
Operation temperature
32~104°F / 0~40°C
Storage temperature
-4~140°F / -20~60°C
Relative humidity
20-90% RH [no condensation]
PACKAGE CONTENTS
1x BG-UHD-VWP-1X4
1x User Manual
1x 1U rack-mounting ear set
1x 12V power supply
1x Installation software CD
1x IR Remote control (15 keys)
Interfaces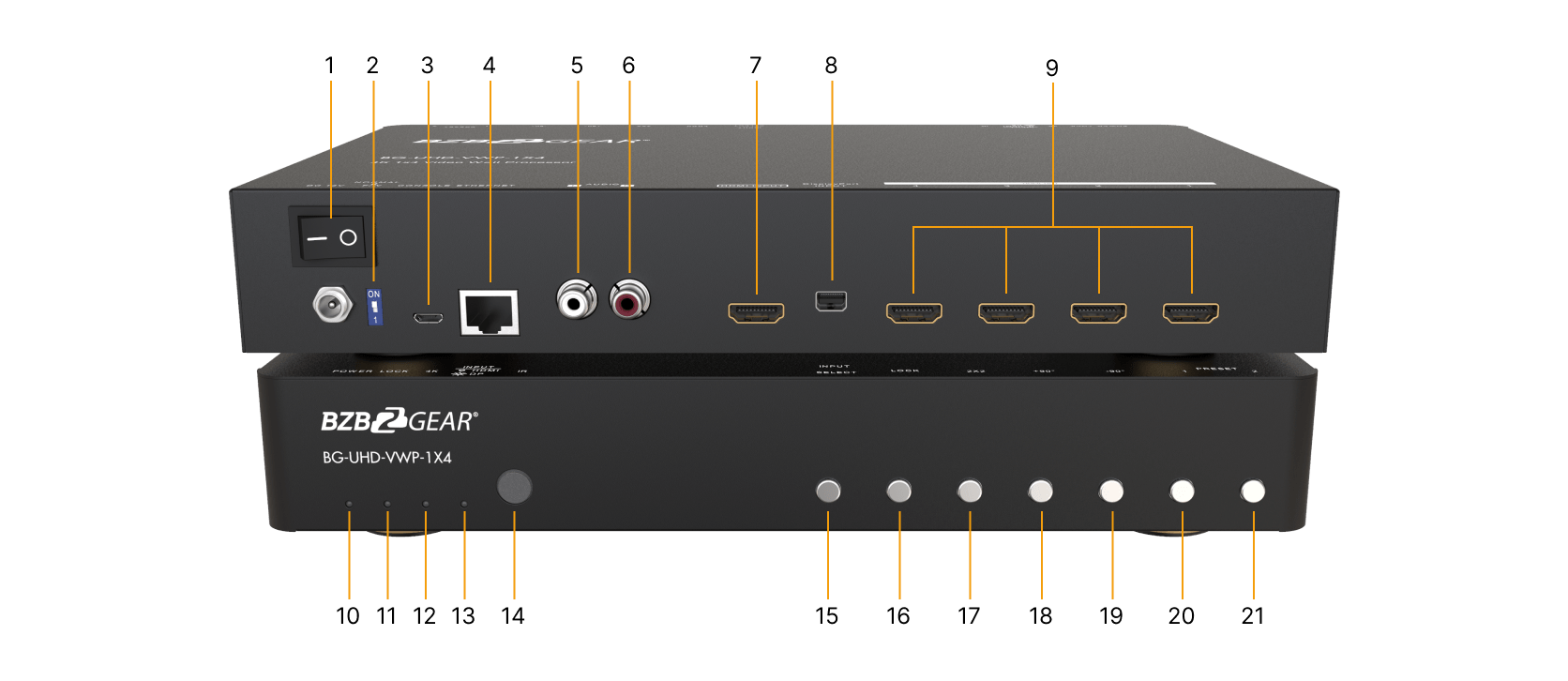 Power Switch:

Power ON/OFF.
D

ip Switch:

For firmware update (Default mode: on).

USB:

Virtual COM.

Ethernet:

Ethernet control port.

Audio L:

Stereo audio output – L.

Audio R:

Stereo audio output – R.

HDMI Input:

Connects to an HDMI source with an HDMI cable. Supports resolutions up to 4K2K@60Hz.

DisplayPort Input:

Connects to an DisplayPort source with an DisplayPort cable. Supports resolutions up to 4K2K@60Hz.

HDMI Output 1-4:

HDMI outputs.

PWR LED Indicator:

Power On/Off indicator.

LOCK LED Indicator:

When device status is locked, the indicator is solid.

4K LED Indicator:

If the source resolution is 4K, the LED indicator is solid.

Source LED Indicator:

If the source is from HDMI, the LED indicator is solid. If the source is from DisplayPort, the LED indicator will blink.

IR Sensor:

IR sensor for receiving the IR commands from IR remote.

Button 1 (Source):

Source setting (HDMI or DisplayPort).

Button 2 (LOCK):

Press button for 3 seconds will enable/disable device lock.

Button 3 (2x2):

Fast switch to 1x1 and 2x2.

Button 4 (+90°):

Fast switch to 3x1 90° and 4x1 90°.

Button 5 (-90°):

Fast switch to 3x1 -90° and 4x1 -90°.

Button 6:

Preset 1.

Button 7:

 Preset 2.