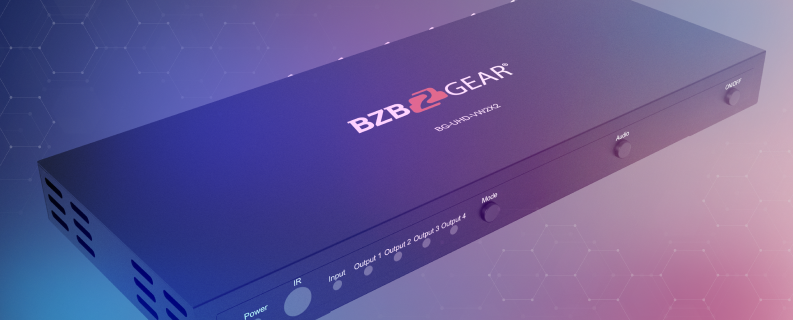 OVERVIEW
Video walls shouldn't be difficult to create. That's why the BG-UHD-VW2X2 video wall processor requires almost no configuration. All users need to do is plug in their devices, select the layout, and adjust for bezel correction with three simple button presses. If needed, 180° output rotation is an option available for inverted displays to help with bezel obstructions.
These features combine to make this video wall processor a great industry-compliant device with no-fuss setup. With its ease of use, this video wall processor is a great and affordable choice for any application that would benefit from an eye-catching video wall display.
Connectivity
Simplicity is one of the BG-UHD-VW2X2's greatest strengths. This video processor supports high resolution 4K@60Hz 4:4:4 input resolutions. The four HDMI outputs have a maximum resolution of 1080p@60Hz. This video processor is compliant with both HDCP 2.2 and HDMI 2.0. The device also supports loop out up to 4K@60Hz 4:4:4 for additional local display connectivity. For audio extraction, RCA and TOSLINK audio outputs are available.
Control
Operators have access to multiple control options for the BG-UHD-VW2X2, including an IR remote control, front panel buttons, and RS-232. On the IR remote, five preset bezel adjustments are available. Operators can also rotate the display 180° for inverted displays if needed. These configurations work for both commercial displays and for consumer-based TVs.
Features
High Input Resolution

Input Up To 4K@60Hz 4:4:4

Video Wall Processor

Spread a Source Across Multiple Displays

HDMI Loop-Out

Additional Local Display Connectivity

Audio De-Embedding

1 x RCA, 1 x TOSLINK

Alternate Layouts

Choose From a Variety Of Video Wall Configurations

Multiple Control Options

Front panel, IR Remote, RS232
Compatible with HDCP2.2

Mirror mode available (2x2 only)

Edge shielding functions

Sturdy metal housing

Plug and play unit

Supports AUX and Spdif audio extraction

180° output rotation for installations with inverted displays

Output up to 1080p@60Hz on each display

Configure for 1x1, 2x2, 1x2 (H), 1x3 (H), 1x4 (H), 2x1 (V), 3x1 (V), 4x1 (V) layouts
Videos
The Best Video Wall Processors for Any TV 2022
BZBGEAR HDMI Matrix Video Wall Combo for Sports Bar, Home Cinema, & eSports Environments
How to Set Up a Video Wall for Home, Business, Sports Bars, and Live Events using BZBGEAR Equipment!
How to Create a 2x2 Video Wall Mirror, Flip, Rotate with Any TV Bezel using BZBGEAR BG-UHD-VW2x2
Tech Specifications
HDMI resolution
Input: Up to 4k@60Hz 4:4:4
Loop Out: Up to 4k@60Hz 4:4:4
Video Wall Output: Up to 1080p@60Hz
HDMI version
HDMI2.0, HDCP2.2
Support video color format
36-bit Deep Color all channels maximum
Audio output
HDMI: PCM 2CH
L\R: Stereo audio
Toslink: PCM 2CH
Max bandwidth per channel
600MHz
Max baud rate per display
18Gbps (Input)
Input/Output TMDS signal
0.5~1.5V p-p (TTL)
Input/Output DDC signal
5V p-p (TTL)
Input cable distance
≤16ft/ 5m 24 AWG HDMI high speed Cable at 1080P@60Hz
Output cable distance
≤50ft/15m 24 AWG HDMI high speed Cable at 1080P@60Hz
Operating Temperature range
5°F to 131°F / -15°C to 55°C
Operating Humidity range
5% to 90% RH (No Condensation)
Max working current
1A
External Power Supply
DC12V/2A
Dimensions
10 5/8" (L) x 4 3/8" (W) x 1 1/4" (H)
Weight
1 lb 11oz [765g]
PACKAGE CONTENTS
1x Main unit
1x DC Power Supply
1x Remote control
1x User's Manual
1x Phoenix plugs for RS232 cable termination
Interfaces

RS232:

RS232 control Port.

HDMI Input:

Connect to the HDMI output of your source equipment such as DVD player or PC.

HDMI Loopout:

Connect to a local monitor to display the full signal of the signal source.

HDMI Output 1-4:

Connect to the monitor to display the splitted signal of the signal source.

AUX and TOSLINK audio output:

Connect to the amplifier.

Power:

Connect to the 12V DC.

Power LED indicator:

Power On/Off indicator.

IR:

Remote control sensor.

Input LED Indicator:

HDMI input LED indicator.

Output 1 - Output 4:

HDMI output LED indicators.

Mode switch:

Press the "Mode" button to switch the Layout mode.

Audio switch:

Press the "Audio" button to switch the audio output from L\R or Optical.

ON/OFF:

 Power ON/OFF button.