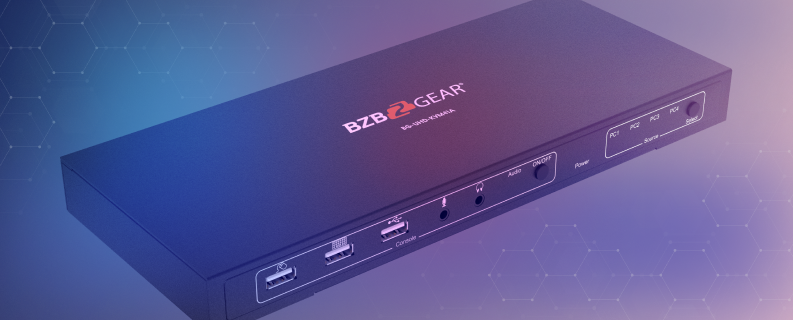 The BG-UHD-KVM41A is a 4K HDMI USB 2.0 KVM switch. With support for resolutions up to 4K@30Hz, this device allows users to control four computers and share USB peripherals from a single workstation. Perfect for offices, software programmers, and technical support desks, users can easily switch between multiple operating systems without leaving their seat.
Connectivity and Features
The rear panel of the BG-UHD-KVM41A is equipped with four PC connections, each including one USB 2.0 type-B host port and one HDMI 1.4 input. There is also one HDMI 1.4 output for connection to a monitor. On the front panel, there are three USB 2.0 ports for a keyboard, mouse, and a spare port for additional devices. The BG-UHD-KVM41A also provides 3.5mm audio connections for a microphone and headphones/speakers.
Control
The BG-UHD-KVM41A is simple to operate using the front panel buttons. The source select button toggles between the four connected computers, switching the HDMI and peripheral connections. It can also be operated using hotkeys. There is also an audio toggle which enables/disables the audio in/out connections.
Features
4K

Supports resolutions up to 4K@60Hz

KVM

Remotely control 4 computers from a single screen

4x HDMI Inputs 1x HDMI Output

All HDMI ports support HDMI 2.0, HDCP 2.2, HDR 10, and Dolby Vision

USB 2.0

Conveniently share 3 x USB 2.0 peripherals

Stereo 3.5mm Input/Output

Share headphones and microphone between two computers

Compatible

Works with Mac OS, Windows, and Linux
Share an HDTV or display, USB keyboard & mouse, headphones, and microphone between 4 USB/HDMI computers

Provides an additional USB 2.0 sharing port with over-current detection and protection

Switch between devices via the front push buttons or hotkey commands

Supports all digital audio modes

Video bandwidth: up to 18Gb/s

Metal housing for better RF shielding
Videos
Increase Efficiency with BZBGEAR BG-UHD-KVM21A BG-UHD-KVM41A USB HDMI KVM Switcher
Tech Specifications
Supports resolutions
up to 4K@60Hz
Input Ports
4 HDMI, 4 USB 2.0 Host, 3 USB 2.0 Peripheral, 1 analog audio
Output Ports
1 HDMI, 1 Analog Audio
Control
Panel Buttons
Power Supply
AC 100 - 240V 50/60Hz
Weight
1lbs 12oz [793g]
Dimensions
10.7"(W) x 4.5"(D) x 1.25"(H)
272mm (W) x 114mm (D) x 32mm (H)
Housing
Metal Enclosure
PACKAGE CONTENTS
1x BG-UHD-KVM41A
1x Power Adapter
1x User Manual
Interfaces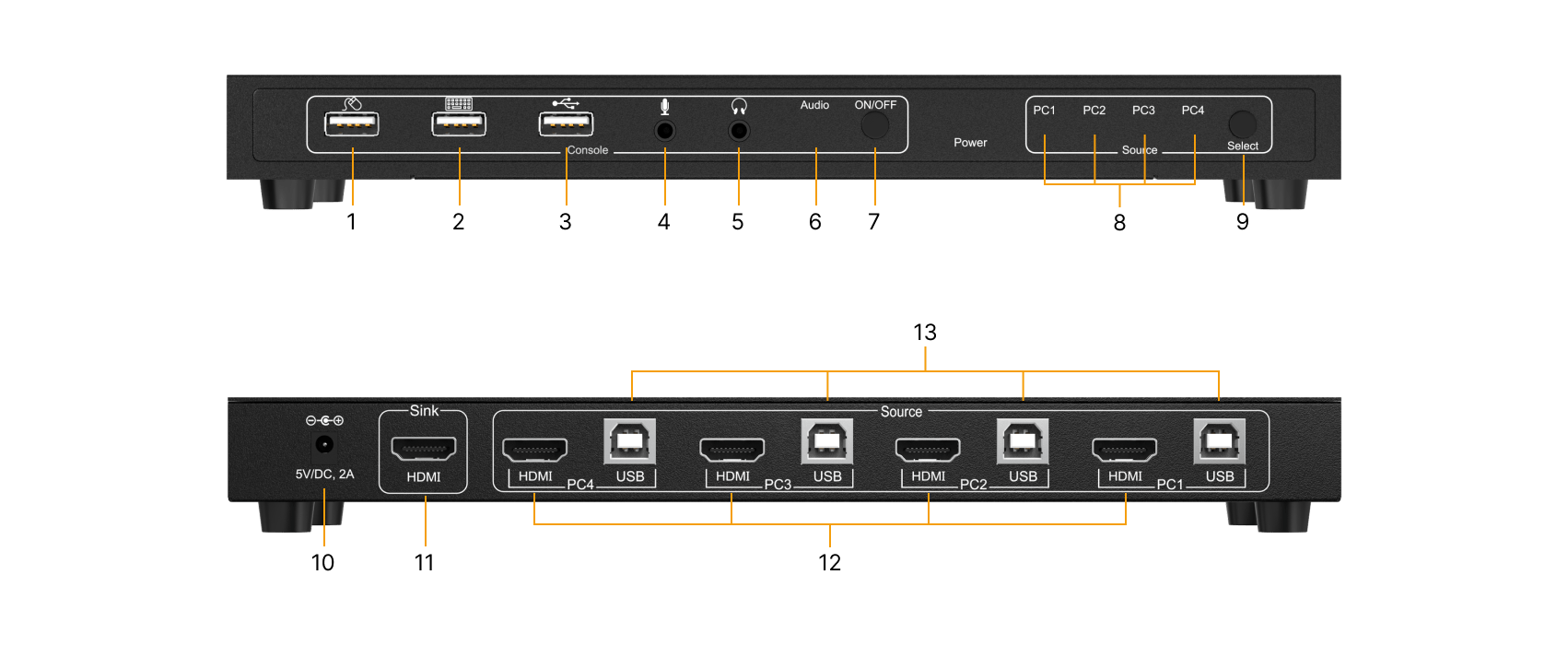 USB Mouse Port:

Connect to a USB mouse.
USB Keyboard Port: Connect to a USB keyboard.
USB Port: Connect to other USB devices.
MIC: Connect to a microphone.
Audio out: Connect to earphones.
Audio LED: Audio ON/OFF Indication.
Audio Switch: Switch to enable/disable the MIC/Audio out function.
Port LED: Indicate which HDMI source is selected.
Port Select: Switch between the HDMI sources.
Power Jack: Connect to the included power adapter.
HDMI Sink: Connect to local HDMI Display.
PC1-4 HDMI Inputs: Connect to the source/remote device's HDMI output.
PC1-4 USB Type-B Port: Connect to the source/remote PC's USB port for USB control.