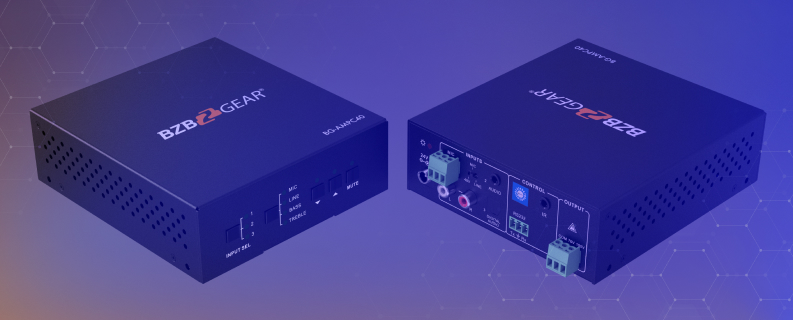 Overview
The BG-AMPC40 is a 40-Watt digital stereo amplifier (Class-D) with switchable output of 70V or 100V. Inputs include 2 stereo inputs (1x3.5mm port for line in, 2xRCA for L&R), 1 TOSLINK input, and 1 balanced MIC input. The 3-pin MIC input has selectable 48V phantom power, supports balanced or unbalanced signals, and features external noise suppression.
Integrated functions include ducking, EQ control, and MIC mixer. The rotary knob allows users to choose from 16 IR ID codes for easy control of multiple amplifiers. The front panel has controls for input selection, volume level for MIC and Line inputs, and bass/treble adjustment. This amplifier can be controlled with RS232 commands in addition to the front panel buttons and IR commands.
Features
Microphone Input

3-level Mic input with mixer function

Amplify Your Sound

Outputs 40Watts at either 70V or 100V

Compact

Small form factor ideal where full-sized amplifiers will not fit

Multiple Control Options

Take control using RS232, IR, or push buttons

Durable

Metal enclosure designed to last for years

Bass, Treble, & Volume

Control bass, treble and volume levels conveniently using integrated push buttons
Ducking function

Fast switching speed for good performance

16 ID codes for controlling between different amplifiers

Convection cooler, fan is not needed

MIC port can support balance/unbalance signal, suppress the external noise effectively

LED indicator, for power and working status
Videos
Amplify Your Stereo or Mono Audio Setup With the BG-AMPC40
Tech Specifications
Audio Input
Input
2x Stereo Audio, 1x MIC, 1x Digital Fiber Audio
Input Connector
2x RCA, 1x 3.5mm Jack, 1x 3-pole 3.81mm Captive Screw Connector, 1x SPF Fiber Connector
Input Impedance
>10KΩ
Audio Output
Output
1x Mono Amplifier
Output Connector
1x 3-pole 3.81mm Captive Screw Connector
Output Type
Constant voltage 70V or 100V
Audio General
Frequency Response
120Hz ~ 20KHz
CMRR
>70dB@20Hz ~ 20KHz
SNR
80dB (Max)
Bandwidth
120Hz ~ 20KHz
Rated Power Output
40Watt
THD + Noise
1%@1KHz, 0.3%@20KHz at nominal level
Voltage Gain
26dB
Control Function
RS232 Control
1x 3-pole 3.81mm Captive Screw Connector
Front Panel Control
Buttons
ID Code Control
16 ID Codes for control
Optional
IR Remote & TCP/IP controlled by programmable interface
General
Temperature
14 ~ 104°F / -10 ~ +40°C
Humidity
10% ~ 90%
Power Supply
DC 24V 2.71A Power Adapter
Standby Power Consumption
5W
Case Dimension (WxHxD)
5.1 x 1.7 x 5.7in [130 x 44 x 144mm] (1U high)
Product Weight
1.9 lbs [860g]
PACKAGE CONTENTS
1x 40 Watt Power Amplifier
2x Mounting ears with 4 Screws
4x Plastic Cushions
2x Pluggable Terminal Blocks
1x RS232 Cable
1x Power Adapter (DC 24V 2.71A)
1x User manual
Interfaces
Audio Input Selection:

 Press the INPUT SEL button to select an input audio source, After choosing an audio source, the corresponding LED indicator will illuminate.
No.1 is for dual mono audio input (2 RCA connectors for L&R), No.2 is for stereo audio input (3.5mm mini jack), and No.3 is for digital fiber audio input.
Audio Control: Select the MIC, Line, Bass, or Treble with this button to then be able to control their volume levels.
Volume Adjustment: To turn up, down, or mute the selected audio.
▽: Turn down the volume
△: Turn up the volume
MUTE: Mute the output.
Power Indicator: Illuminates red when power is connected.
Microphone input port: 3-pin phoenix connector for microphone input. The switch on the right side is used to select the input type: 48V (for condenser microphone), MIC (for dynamic microphone), and LINE (for line audio).
Audio Inputs: 3.5mm mini jack for stereo audio input. It can be connected with audio source devices (e.g., DVD player).
ID Code: Turn the dial to select 1 of 16 codes which range from 0 to F (hexadecimal). It is used to manage multiple units with PC control software.
IR: To connect with the IR receiver. Increases the range of the IR remote if the main unit is out of line of sight.
Power Port: Connect with the power adapter (DC24V).
L+R RCA: Dual-mono audio input.
Digital Audio Input: Fiber connector for digital audio input (PCM format only).
RS-232: 3-phoenix connector for serial control. It can be connected with a PC to control the amplifier.
Audio Output: To connect with audio output devices such as speakers (to select 70V or 100V depends on the input voltage of the speakers). COM is for grounding (GND).