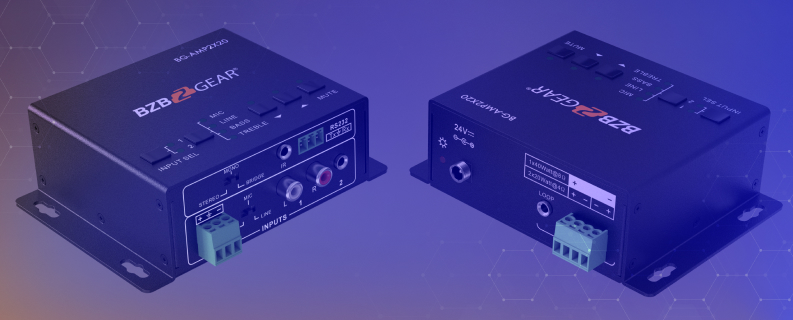 Overview
The BG-AMP2X20 is a versatile and compact bridgeable digital stereo amplifier (Class-D). Perfect for installations with limited space, it can be operated in three different configurations. In stereo configuration the amplifier outputs 2x20 watts at 4 Ohms. The selector switch also allows for dual-mono operation for distributed audio applications. In bridge-mono configuration it can double the output to 40 watts at 8 Ohms.
Inputs include 1 x stereo RCA, 1 x 3.5mm, and a microphone input with switchable 48v phantom power. Bass, Treble, volume level, and input selection are all controllable via the integrated buttons on the bottom panel, IR remote control, or RS-232.
The features and performance combined with its compact form factor make this amplifier the perfect solution for situations that don't allow a full-sized amplifier.
Features
Microphone Input

3-level Mic input with mixer function

Amplify Your Sound

Outputs Stereo 20Watt@4 Ohms or bridged mono 40Watt@8 Ohms

Compact

Small form factor ideal where full-sized amplifiers will not fit

Multiple Control Options

Take control using RS232, IR, or push buttons

Durable

Metal enclosure designed to last for years

Bass, Treble, & Volume

Control bass, treble and volume levels conveniently using integrated push buttons
2 switchable analog audio inputs

Loop output to cascade to another PA2B

Locking power adaptor
Videos
BZBGEAR BG-AMP2X20 Bridgeable Mini Digital Stereo Amplifier Perfect for Limited Space Installs
Tech Specifications
Audio Input
Input
2x stereo audio, 1x MIC
Input Connector
2x RCA, 1x 3.5mm jack, 1x pluggable terminal block (3P, 3.81mm)
Input Impedance
>10KΩ
Audio Output
Output
1x amplifier, 1x stereo audio
Output Connector
1x 3.5mm jack, 1x pluggable terminal block (4P, 5.08mm)
Output Impedance
50Ω/stereo, 4~8Ω/Amplifier
Audio General
Frequency Response
20Hz ~ 20KHz
SNR
80dB at maximum output
Stereo Channel Separation
>75dB@20Hz to 20KHz
Voltage Gain
32dB
CMRR
>70dB@20Hz ~ 20KHz
Bandwidth
20Hz ~ 25KHz
THD + Noise
1%@1KHz, 0.3%@20KHz at nominal level
Power Output
2x20 Watts (4 Ohms)
Control Function
RS232 Control
3-hole phoenix connector
IR Remote
Optional IR remote
Panel Control
Optional button control
PACKAGE CONTENTS
1x Mini Digital Amplifier (the mounting ears and Mini Digital Amplifier are as a whole)
2x Pluggable Terminal Blocks
1x RS232 Cable
1x Power Adapter
1x Power Cord
4x Plastic Cushions
1x User Manual
Interfaces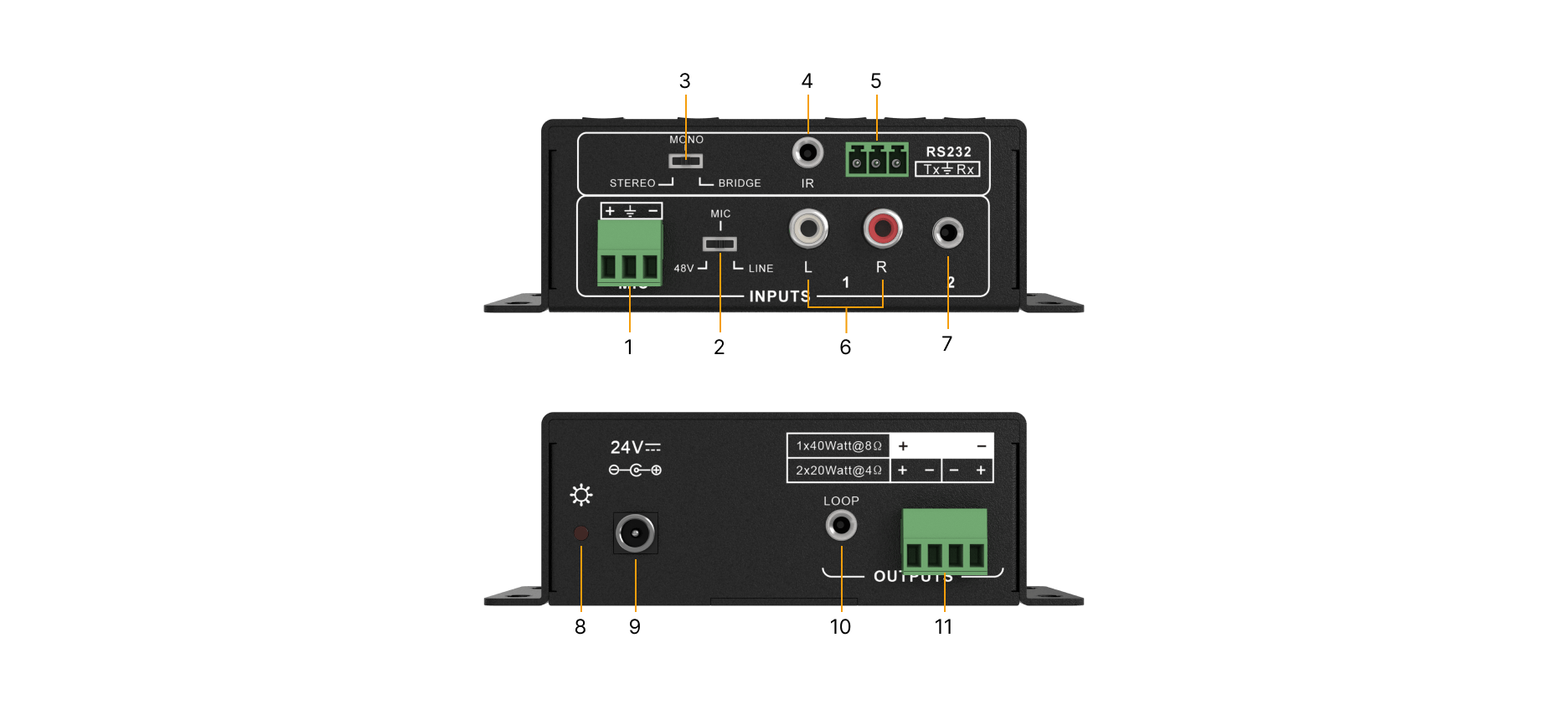 Mic:

Balanced Mic In.

48V/Mic/Line:

Input mode 48V/Mic/Line.

Stereo/Mono/Bridge:

Output mode Stereo/Mono/Bridge.

IR:

IR Receiver.
RS232.

Input 1 L/R:

L/R Audio RCA Line In 1.

Input 2 L/R:

L/R Audio 3.5mm Line In 2.
Power LED.
Power DC 24V.

Loop Out:

Line audio output at 3.5mm jack, with volume controllable.

Out:

 2x20 Watt @ 4 Ohm / 1x40 Watt @ 8 Ohm Out.