4x4 4K UHD HDMI Video Wall Processor and Seamless Matrix Switcher

Overview
The BG-MVS4X4-4KL 4K60 4:4:4 HDMI matrix is a versatile high-speed matrix switcher and video wall processor with multiple applications. This system can be configured for two different output modes, serving as a 4x4 seamless matrix switcher or as a 2x2, 4x1, or 1x4 video wall solution, among other possibilities.
Additionally, it is equipped with a web browser interface module for convenient control and configuration when used either as a standalone device or in conjunction with a third-party control system. Control options include front-panel push buttons, an IR remote control, RS-232 interface, and TCP/IP connectivity.
Features
Compliant

HDMI 2.0b, HDCP 2.2 and HDCP 1.4

2 Operational Modes

4x4 Matrix (seamless switch), Video wall (2x2, 4x1 or 1x4 etc configuration)

Audio Formats

Support LPCM, DD, DD+, DTS, Dolby TrueHD, DTS HD-master pass-through

Advanced EDID management

Seamless communication between sources and displays

Web Interface Module

For control and configuration of Matrix

Control Options

Control via front panel, IR, RS-232, and TCP/IP
Seamless video switching

Video inputs support all industry standard video resolutions including VGA-WUXGA (up to 1920 x 1200 @60Hz) and 480i-4K (3840 x 2160 @60Hz 4:4:4, 4096 x 2160 @60Hz 4:4:4)

HDMI outputs support upscale or downscale to any resolution, up to 4096 x 2160@60Hz 4:4:4

3rd Party drivers are available for all major home control brands
Tech Specifications
Technical
HDMI Compliance
HDMI 2.0b
HDCP Compliance
HDCP 2.2/1.4
Video Bandwidth
594MHz/18Gbps
Video Resolutions
Input: VGA-WUXGA (up to 1920x1200@60Hz), 480i-4K (3840x2160@60Hz 4:4:4, 4096x2160@60Hz 4:4:4)
Output: 4096x2160p60, 4096x2160p50, 3840x2160p60, 3840x2160p50, 3840x2160p30, 1920x1080p60, 1920x1080p50, 1920x1080i60, 1920x1080i50, 1920x1200p60rb, 1360x768p60, 1280x800p60, 1280x720p60, 1280x720p50, 1024x768p60, auto
Color Space
RGB, YCbCr 4:4:4/4:2:2, YUV 4:2:0
Color Depth
8/10/12-bit
IR Level
12Vp-p
IR Frequency
38KHz
HDMI Audio Formats
LPCM, Dolby Digital/Plus/EX, Dolby True HD, DTS, DTS-EX, DTS-96/24, DTS High Res, DTS-HD Master Audio
Connection
Inputs
4 x HDMI Type A [19-pin female]
Outputs
4 x HDMI Type A [19-pin female]
Control
1 x RS-232 [3pin-3.81mm phoenix connector]
1 x TCP/IP [RJ45]
1 x IR EXT [3.5mm Stereo Mini-jack]
Mechanical
Housing
Metal Enclosure
Color
Black
Dimensions
11in (W) x 6.5in (D) x 1.2in (H) [270mm (W) x 166mm (D) x 30mm (H)]
Weight
2.6 lbs [1165g]
Power Supply
Input: AC 100 - 240V 50/60Hz
Output: DC 12V/2.5A (US/EU standard, CE/FCC/UL certified)
Power Consumption
19.56W (Max)
Operating Temperature
32°F ~ 104°F / 0°C ~ 40°C
Storage Temperature
-4°F ~ 140°F / -20°C ~ 60°C
Relative Humidity
20~90% RH (non-condensing)
PACKAGE CONTENTS
1 x 18Gbps 4x4 Seamless Matrix
1 x Matrix IR Remote
1 x 3pin-3.81mm Phoenix Connector (male)
1 x 20-60KHz IR Wideband Receiver Cable (1.5 meters)
2 x Mounting Ears
4 x Machine Screws (KM3*4)
1 x 12V/2.5A Locking Power Adapter
1 x User Manual
Interfaces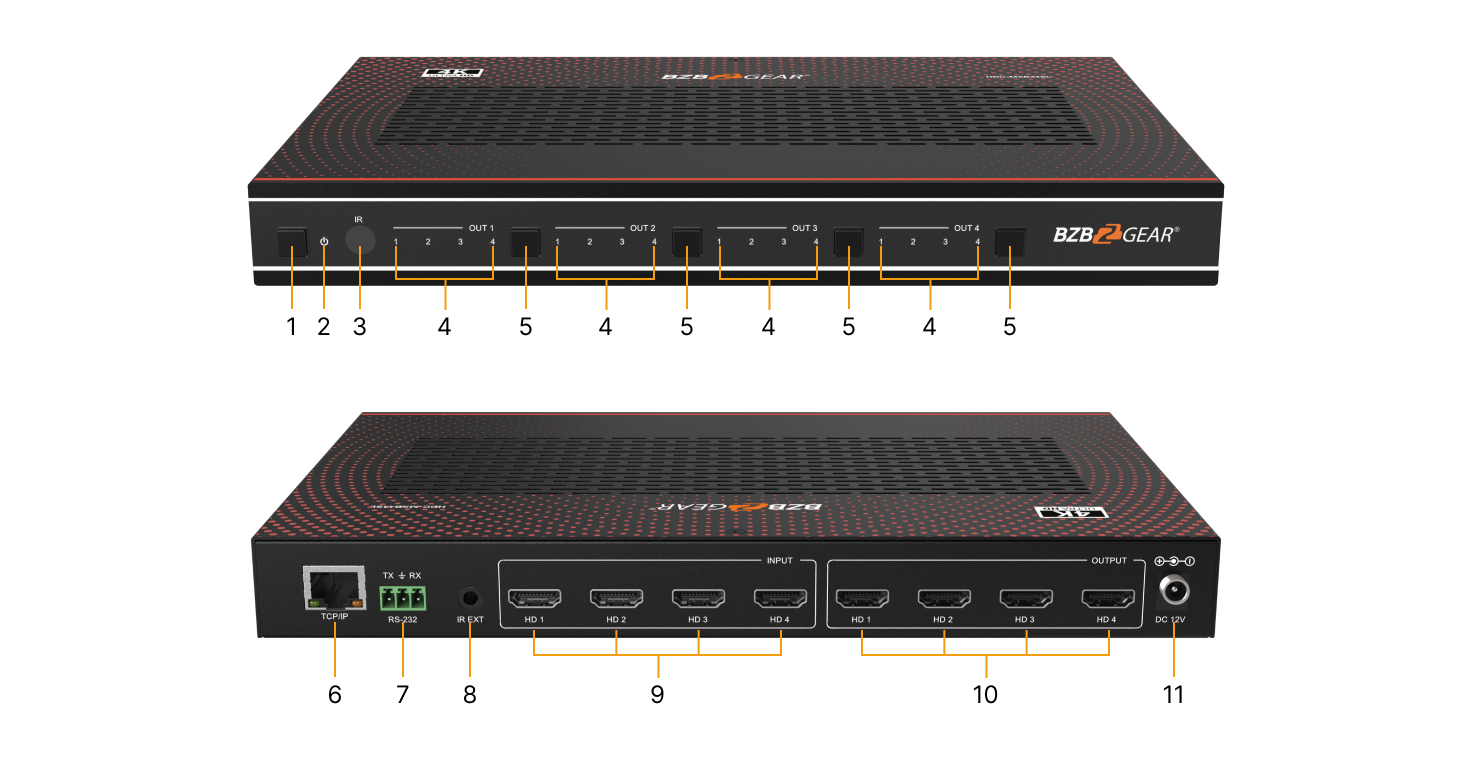 Power button: Short press this button to power on the device.
Press this button for 1 seconds to enter the standby mode.
Power LED: The LED will illuminate in green when the product is working normally, and red when the product is on standby.
IR Window: IR receiver window, it only receives the IR remote signal from this product.
Signal source LED: Signal source indicator for the OUT 1 - OUT 4 port.
Input source switching button: Input source switching button for the OUT 1- OUT 4 port.
TCP/IP: The link port for TCP/IP control, connected to an active Ethernet link with an RJ45 cable to control the Matrix via Web.
RS-232: RS-232 serial command control port, connected to a PC or control system to control the Matrix.
IR EXT: If the IR receiver window of the unit is blocked or the unit is installed in a closed area out of infrared line of sight, the IR receiver cable can be inserted to the "IR EXT" port to receive the IR remote signal.
HDMI INPUT: HDMI signal input port, connected to signal source device.
HDMI OUTPUT: HDMI signal output port, connected to HDMI display device.
DC 12V: DC 12V/2.5A power input port.