Overview
BG-Connexio is a revolutionary wireless conference product that was specifically designed to meet the needs of today's hybrid workforce. It allows for seamless local presentations as well as collaborations with remote participants by connecting the room camera, microphone, speakers, and display with the attendees' own laptops wirelessly. This eliminates the need for cumbersome cables and setup, and makes it easy for people to take advantage of the room's audio/video (A/V) system to collaborate with both in-room and remote meeting participants.
This powerful device supports wireless connectivity standards such as Miracast, Chromecast and Airplay, so you can connect to any device you prefer, whether it's a laptop, smartphone or tablet. The device also supports multiple simultaneous connections, so multiple participants can share their screens in the same meeting.
With BG-Connexio, you can control the room A/V system from your personal device, allowing you to adjust the volume, change the source, or even control the camera and microphone as needed. This flexibility means that you can create an immersive and collaborative meeting experience for all attendees, whether they are physically present or participating remotely.
Moreover, BG-Connexio also features advanced security features to ensure the privacy of your meetings, so you can feel confident that your data and conversations are safe and secure.
In a nutshell, BG-Connexio is a perfect fit for modern workplaces, that empowers you to connect and collaborate with your team seamlessly, without the limitations of cables and without compromising security.
Features
BYOD

No cables are required for participants

Wireless connection

Between your laptop and room USB peripherals like a camera, mic, and speakers for easy video conferencing

Data Security

Best-in-class data security with dual network and high-standard encryption

PoE

Provide power and a connection with a single-category cable

Interactive

Supports whiteboard and annotation

Centralized Management

Central management platform available
Customizable home screen page

Available 2x2 split screen view

Windows and Mac applications are available for wireless connection

Native wireless mirroring protocols like AirPlay, Miracast, and Chromecast are supported

Supports wireless touch back on an interactive whiteboard/touchscreen

Wireless content input up to 1080P, HDMI 2.0 output

OSD control with a preview function

Fully compatible with mainstream platforms such as Teams, Zoom, Webex, etc.
Videos
BZBGEAR Webinar Episode 10: Overview of BZBGEAR Conference Room Solutions.
Take Advantage of 4K Conference Room Solutions With Auto Framing | NAB 2023
Wireless Video Conference Meeting Room Solutions by BZBGEAR
Easy Set-up Wireless Collaboration & Conference System - BG-Connexio
Wireless Collaboration Device Simplifies BYOD Meetings & Conference - BG-CONNEXIO
Effective Video Conference Solutions Enhance Education
Transform Your Conference Room Setup | BG-CONNEXIO
Tech Specifications
HDMI output
1 x HDMI 19-pin female connector
Video Output Resolution
3840x2160@60Hz, 3840x2160@30Hz, 1920x1080@60Hz, 1280x720@60Hz
Format Compliance
HDMI 1.4 / HDMI 2.0
Video Capacity:
1080P @ <60Hz AirPlay for IOS devices
1080P @ <60Hz "WirelessMedia" Connexio application
1080P @ <60Hz for DG-mini dongle
HDCP
HDCP 1.4 / HDCP2.2
Analog Audio Output
1 x 3.5mm PC audio female connectors
LAN port
RJ45 x 2: 1000Mbps x 1, 100Mbps x 1
USB interface
USB 3.0 x 3: USB 2.0 x 1, Type-C x 2
Audio Input
AirPlay, Miracast, DLNA, Windows/MAC, WMH, USB/BT Speaker Phone
Control connectors
3.5mm Phoenix terminal / RS232 interface
Number of simultaneous window on screen
4 main windows + 14 thumbnail windows
Number of simultaneous connections
Up to 16
Data rate in wireless
Up to 1200Mbps
Video Playback Frame Rate
20-60 FPS
Latency
<100ms,Min 20ms
Wireless transmission protocol
Wi-Fi IEEE 802.11 a/g/n/ac
Frequency band
2.4 GHz & 5 GHz
Dimension (W x D x H)
8.66" x 4.72" x 1.6" (including antenna: 8.66" x 4.72" x 5.7")
[220mm x 120mm x 41mm (including antenna: 220mm x 120mm x 145mm)]
Weight
2.2 lbs [1.0kg]
Temperature
-4° ~ +140° F / -20° ~ +60° C
Humidity (Storage / Operating)
20%-90% (non-condensing)
DC Power
12V / PoE
PoE standard
IEEE 802.3af
Power Consumption
10W (MAX)
PACKAGE CONTENTS
1 x BG-Connexio
1 x 12V/3A Power Supply
3 x External Antennas
1 x Dual USB Wireless Dongle (optional)
1 x User Manual
Interfaces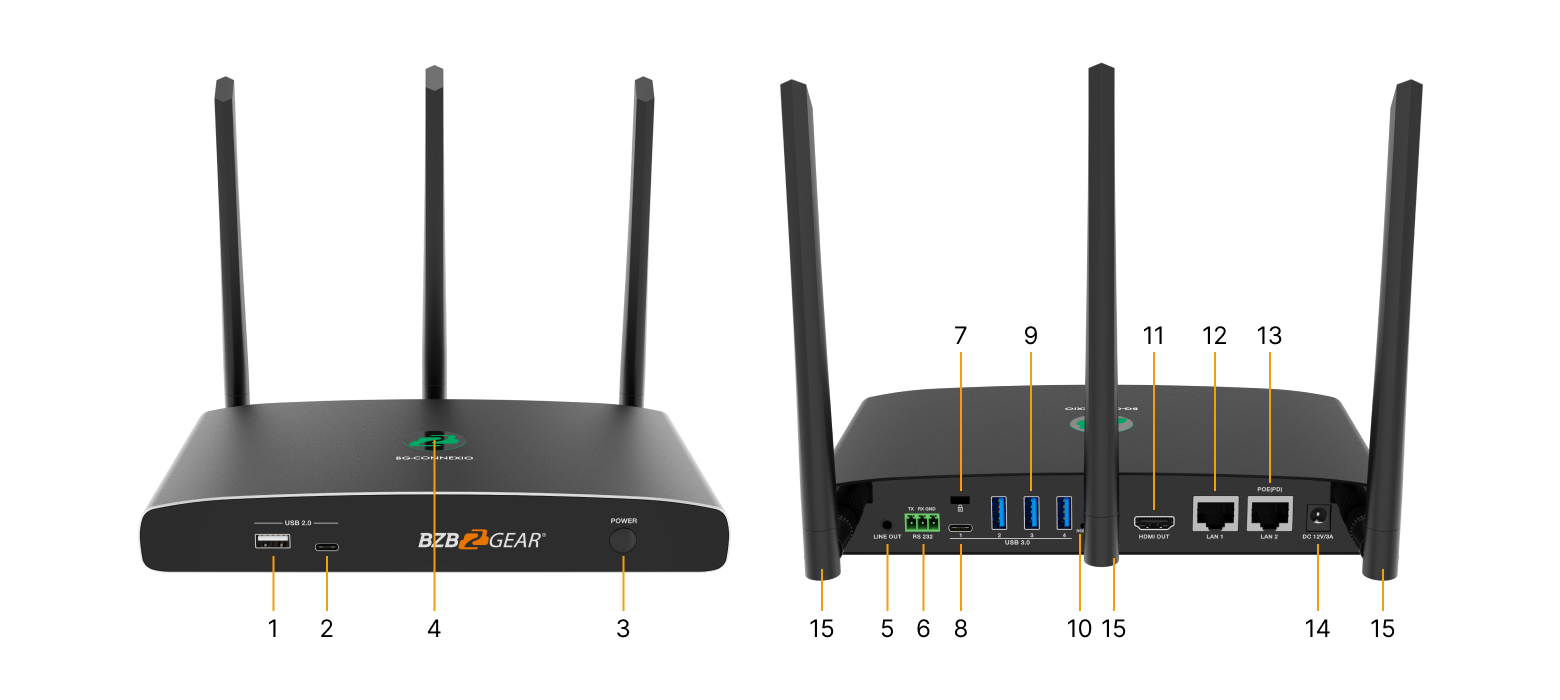 Front Type-A USB connector: For mouse control, USB touch screen etc.
Front Type-C USB connector: For dongle pairing (dongles not included).
Power Button: Turn on or off the device.
Back-lit LED indicator: Initializing it will flash RED, powered on and waiting is indicated by flashing GREEN, "Ready to share" is indicated by solid GREEN, "Sharing" is indicated by solid cyan.
Line audio output: 2 channel analog audio output, Connect a 3.5mm mini-jack to the line in jack of an audio system.
RS-232: Connect an RS-232 cable from this port to an RS-232 device.
Kensington Lock: One end is wrapped around a fixed object and one end is inserted into this port for physical security.
Rear Type-C connector: For Type-C dongle pairing.
Rear USB 3.0 connector: For mouse control, USB touch screen, and USB peripheral devices such as a USB camera or speaker.
Reset: Reset button to restore to the factory default settings.
HDMI output: Connect an HDMI cable from this port to an HD or 4K/HDMI 2.0 display.
LAN Ethernet port 1: 100Mbps, Connect an Ethernet cable between this jack and a LAN.
LAN Ethernet port 2: 1000Mbps, Connect an Ethernet cable between this jack and a LAN. Supports POE.
DC Power socket: Connect the included power adapter to this socket and connect the plug to an available electrical outlet.
Antenna fixture points: Screw in the three included antennas to these three ports.