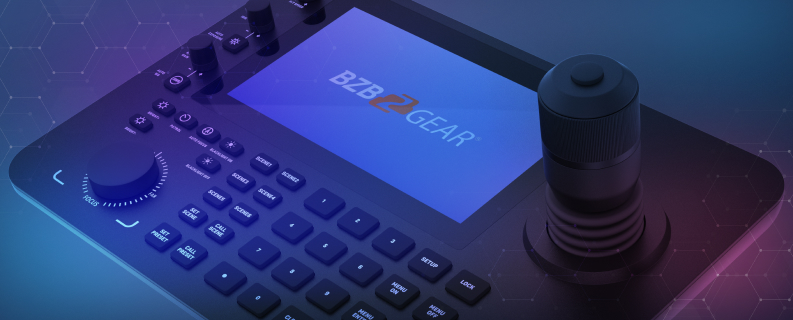 Demand perfection. Command with precision.
The BG-COMMANDER-PRO is a versatile PTZ camera joystick controller featuring a 7" touch screen, real-time video previews, and Android 11 OS. It supports simultaneous viewing of 4 RTSP streams or a single full-screen image. With H.265/H.264 decoding, it offers efficient video processing.
The BG-COMMANDER-PRO also facilitates HDMI projection and can output 4 additional RTSP streams to an external display for simplified monitoring. It provides seamless PTZ control for preset positions, focus, zoom, and exposure settings, and can even access a camera's web interface. Designed for BG-ADAMO cameras, the unit offers quick access to red/green tally lights control and auto tracking activation.
Highly Customizable and Easy to Manage
With HDMI projection and total PTZ control including presets, focus, zoom, and exposure, easily control your PTZ cameras for better broadcasting production. The Commander Pro is also customizable with single IP multi-channel acquisition and ONVIF protocol support, meaning you can add up to 2048 devices.
User-Friendly and Future Proof
The Commander Pro was designed to be user-friendly. It can be upgraded through a standard USB flash drive, utilize an external mouse/keyboard for easier interface control, and even record RTSP streams or take screenshots in the moment using the available Micro-SD expansion storage slot. It also features four RS422/RS485 and one RS-232 control port, making it ideal for large-scale video projects.
The Commander Pro's unique capabilities such as support for a 2x2 video wall with up to 4 camera inputs, can be controlled via mouse and keyboard, all with Power over Ethernet (PoE) make for a clean, easy setup.
This device is versatile and ideal for installing multi-network PTZ camera systems in various settings such as medium-to-large-scale events, schools, hospitals, hotels, residential areas, factories, and workshops. Its capabilities can quickly achieve unified LAN ONVIF control for seamless monitoring and management of the entire camera network. The Commander Pro provides a simple UI for users to access professional-grade controls, management, and editing tools.
BZBGEAR AWARDS
BZBGEAR has a number of award winning products from past tradeshow events. These award winning products were nominated and judged against other nominees. See what makes our award winning products so extraordinary!
Features
IP-Control

Easily control any compatible IP camera

PoE Enabled

Single cable installation

Simple to Use

Logical layout allows anyone to take control with minimal training

7" Touchscreen

The large touchscreen makes video viewing and management simple

Multiple Control Modes

RS232, RS422/485, ONVIF, IP VISCA, PELCO-P, PELCO-D, and NDI

HDMI Projection

Transmit audio and video signals from the controller to a larger display device, such as a projector or a TV
Support for H.265/H.264/decoding

Support for Onvif 2.8 protocol

Support for video recording and screen capture

Support for up to 2048 devices to add

Mouse and keyboard Controllable

Upgradable via U disk, external mouse, TF expansion storage

Support for PTZ control, setting and calling of preset points, focus, zoom, exposure, etc.

Auto-scans network for IP cameras
Videos
COMMAND Precision with BZBGEAR's PTZ Controller Lineup at IBC 2023!
Introducing the NOW Award Winning Professional PTZ Joystick Controller From BZBGEAR | IBC 2023
The Newest Feature Packed Joystick Controller from BZBGEAR, The BG-COMMANDER PRO | IBC 2023
Professional Grade PTZ Camera Joystick Controller Commands w/ Precision - Commander PRO
InfoComm 2023 - Commander Series Joystick Controllers Add Precision to PTZ Cameras
Brand New Professional Touch Screen Joystick Controller, BG-COMMANDER-PRO | NAB 2023
BZBGEAR Professional Joystick Controller Lineup | NAB 2023
BZBGEAR Commander Series PTZ Joystick Controllers
Professional Joystick Controller, BG-COMMANDER-PRO #NAB2023
Tech Specifications
Operating system
Android 11
Screen size
7-inch screen, resolution 1024x600 capacitive touchscreen
Display
Support HDMI 4K@30fps
Decoding ability
1. Supports H264/H265
2. Max support H264 4x1080p@30fps
3. Max support H264 16x720p@30fps
4. Max support H265 1x4K@60fps
Protocol
Support Onvif 2.8 version and other protocols can be customized
Function
1. Supports up to 2408 devices to add
2. Support PTZ Control
3. Support Preset
4. Support Patrol
5. Support Pattern
6. Support capture video
System setting
Support language setting; support password modification; support U disk upgrade
Power
Standard 5.5/2.1 power interface, DC 12V2A+/-10%
Interface port
1x RJ45 (Network)
4x RS485/RS422 (RJ45)
1x RS232 (RJ45)
1x HDMI output
1x HDMI input, 2.0 version
1x USB 2.0
1x TF card slot
1x standard 3.5mm headphone jack
Operation interface
Support 4-Axis joystick, support jog shuttle, support knob, support button
Power consumption
<1.5W
MTBF
>30000 hours
Working humidity
10%-90%RH(no frost)
Working temperature
14°F ~ 122°F / -10°C ~ 50°C
Storage temperature
-40°F ~ 140°F / -40°C ~ 60°C
Package dimension
14 x 9.6 x 6.1in [365 x 245 x 155mm]
Net weight
3.93lbs [1781g]
PACKAGE CONTENTS
1x BG-Commander-Pro
1x Power Supply
1x User Manual