4K UHD AV over IP Multicast Transceiver with Video Wall, KVM & PoE support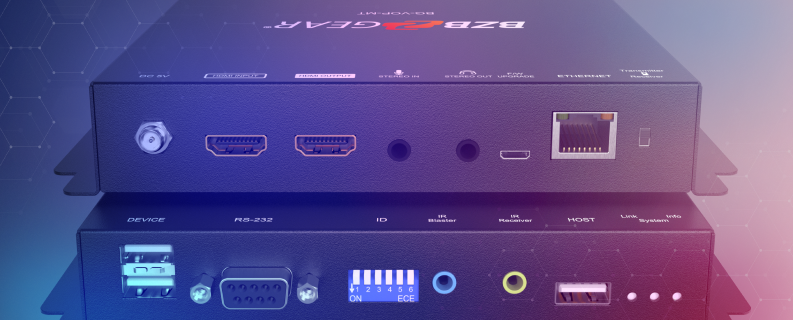 Overview
The BG-VOP-MT Transceiver performs both encoding and decoding for BZBGEAR's IPGEAR-4K system. The device offers outstanding 4K UHD HDMI video transmission over IP and has support for PoE. This device is a keystone in providing digital signage, video walls, and video distribution in commercial settings.
With the ability to function as a transmitter or receiver at the flip of the switch, this device is one of the easiest video over IP solutions to implement on the market. The BG-VOP-CB controller can auto-discover each BG-VOP-MT on the network, making for a painless setup process.
Unlike most other video over IP solutions from competing manufacturers, the BG-VOP-MT is TAA compliant, making this device an attractive choice for government use. It also provides a scalable solution so that you can easily add additional BG-VOP-MT units to your network at any time. This enables operators to create fully customized HDMI matrix switching over IP.
TAA COMPLIANT PRODUCT.
This product meets the standards of the Trade Agreement Act (TAA).
You can find all BZBGEAR TAA Compliant Products on this page.
Connectivity
In order to function, the BG-VOP-MT Transceiver requires the BG-VOP-CB Smart Controller. Please review our AVoIP Network Switch Requirements Guide to ensure that your system works correctly. This device makes it possible to extend UHD sources from any HDMI source to any location with a LAN connection. Audio embedding and de-embedding is also supported for external audio devices. This transceiver is HDCP 2.2 compliant and supports PoE, bi-directional IR extension, and RS-232 extension.
A USB 2.0 hub allows for KVM extension, enabling operators to expand the range at which they can use peripherals to interact with machines. This makes it possible to store computers in a separate area from where their users interact with them, improving workspace productivity, security, and data protection. It also can greatly improve the quality of presentations where the podium may be far from the operating computer.
The BG-VOP-MT is a complete UHD video broadcasting solution for digital signage. Point to Point, Point to Many, and Multicasting are supported broadcasting formats, meaning that one HDMI source can be broadcast to as many displays as necessary. This also enables operators to create custom video walls. All settings can be adjusted via an easy to use web interface, and control can be achieved via the web interface or using our free downloadable iOS control app - BG-AVOIP-CONTROL.
This transceiver is capable of being auto-addressed via the controller, or it can be addressed manually using its onboard DIP switches.
Storage and Ergonomics
This transceiver can fit well in many different environments, having dimensions of 180 x 142 x 28 mm (7" x 5.5" x 3.2" inches). It also supports custom rack mounts and features a wall-mountable chassis.
Features
PoE

Delivers power directly over an ethernet cable

Ultra HD

Output supports resolutions up to 4K2K@30Hz

HDCP 2.2

High-Bandwidth Digital Content Protection Supported

Bi-Directional IR

Control IR sources or display devices remotely with IR pass-through

Video Wall

Spread a source across multiple displays

Video Matrix

View any source on any display
TAA compliant product

Can be configured as a transmitter or receiver

Flexible and scalable UHD video broadcasting

Up to 1,023 groups multi-casting

180° and 270° clockwise image rotation

Latency: 1080p@60Hz: 23ms

Easy dip switch matching for multi-casting group configuration

Wall mountable housing for robust installations

1 to 1, 1 to many, and multi-casting broadcasting architecture
Videos
BZBGEAR Webinars Episode 8: TAA Compliant Solutions From BZBGEAR
BZBGEAR Webinar Episode 7: AVOIP Solutions From BZBGEAR
How to Use The NEW BZBGEAR Switcher Control App for AVoIP, Matrix, & Video Wall
BZBGEAR Switcher Control App: Streamlined Matrix, Video Wall, Multiviewer & AVoIP Manager
New BZBGEAR Switch Control App Simplifies Video Distribution & AVoIP - InfoComm 2023
Build A Secure Computer Lab With The TAA Compliant IPGEAR-4K #AVoIP System
Create Better Call Centers With The TAA Compliant IPGEAR-4K AVoIP System
Complete AV over IP System Setup - BZBGEAR IPGEAR-4K + Luxul Gigabit Managed Switch
BZBGEAR IPGEAR-4K - Effortless and Easy to Use/Maintain 4K/UHD AV over IP Solution!
AV over IP Video Distribution for Government & Military - TAA Compliant
BZBGEAR AV over IP Video System for Retail, Business, & Entertainment Venues
BZBGEAR AV over IP Transceivers with KVM Functionality
How to Set Up a Video Wall with BZBGEAR's AV over IP System – Part 3
Super Easy AV over IP Setup with Free iPad Control APP - Part 2
Cutting Edge BZBGEAR IPGEAR-4K 4K AV over IP System with Video Wall
BZBGEAR AV over IP Multicast 4K Solution for Video Walls, Sources, and Displays
Tech Specifications
Role of usage
Transceiver
HDMI compliance
HDMI
HDCP compliance
Yes
Input Video support
Up to 4K2K@60 (4:4:4 8bits)
Output Video support
Up to 4K2K@30 (RGB)
Latency
2 frames (33 ms) maximum
HDMI over UTP transmission [24-bit]
Ultra HD (4K2K@60) - 100m (328ft) [CAT.X]
Audio support
Surround sound (up to 7.1ch) or stereo digital audio
Input TMDS signal
1.2 Volts [peak-to-peak]
Input DDC signal
5 Volts [peak-to-peak, TTL]
ESD protection
Human body model — ±15kV [air-gap discharge] & ±8kV [contact discharge]
IR pass-thru
Full-duplex bi-directional
RS-232 support
Yes
I/O connector
2x HDMI + 4x 3.5mm + 3x USB + 1x RJ45 + 1x DIN9
HDMI source control
Controllable via IR pass-through from RX to TX and from TX to RX with IR extenders
IR remote control
Electro-optical characteristics: t = 25° / Carrier frequency: 20-60kHz
HDMI connector
Type A [19-pin female]
Min DIN connector
DIN-9
RJ45 connector
WE/SS 8P8C with 2 LED indicators
3.5mm connector
IR blaster & IR receiver
Mechanical
Housing
Metal enclosure
Dimensions [L x W x H]
Model
7" x 5.5" x 3.2" [180 x 142 x 28mm]
Package
10.3" x 6.7" x 3" [264 x 170 x 77mm]
Weight
Model
23 oz [664g]
Package
2 lbs [889g]
Fixedness
Wall-mounting case with screws
Power supply
5V 2A DC / 48V POE
Operation temperature
32~104°F / 0~40°C
Storage temperature
-4~140°F / -20~60°C
Relative humidity
20~90% RH [no condensation]
PACKAGE CONTENTS
1x BG-VOP-MT
1x IR Blaster Cable
1x IR Receiver Cable
1x User Manual
Interfaces

Power:

Connect to 5V DC power supply.
HDMI Input: Connects to an HDMI source with an HDMI cable.
HDMI Output: Connects to an HDMI display with an HDMI cable.
Stereo In: Connect to upstream audio output (device configured as TX).
Stereo Out: Connect to downstream headphone output (device configured as RX).
F/W Upgrade: Connect Micro USB to a PC to upgrade the firmware of your device.
Ethernet: RJ-45: Gigabit Ethernet port.
Transmitter / Receiver: Dip Switch: configures as a transmitter or receiver.
Device (USB 2.0 downstream port): Connect to a USB flash drive or other USB devices (device configured as RX).
RS-232: Connect to PC serial port with a DB-9 male-male cable.
ID (Dip Switch): Video channel selection.
IR Blaster: Infrared 3.5mm socket for plugging in the extension cable of IR blaster.
IR Receiver: Infrared 3.5mm socket for plugging in the extension cable of the IR receiver.
Host: Connect to upstream USB host (device configured as TX).

Link Indicator:

 [Blink] When the unit connects a Cat-5/5e/6 cable.
[Solid] When the transmitting unit connects to a HDMI source and is linked to the receiving unit.

System Indicator:

 [Blink] When the unit is connected with a power supply unit.
[Solid] Device is ready.

Info Indicator:

 When the user clicks the LED button in the software, the LED light will blink 30 seconds.