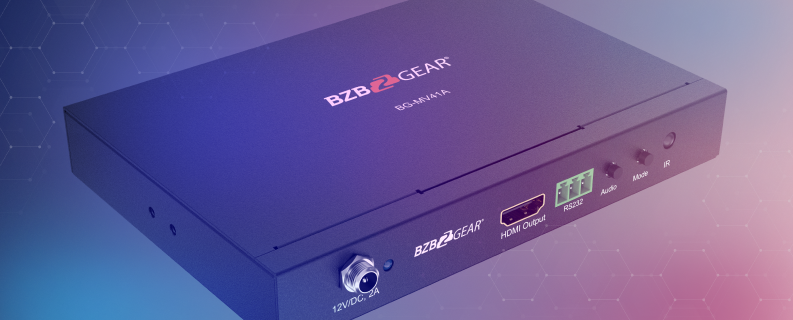 Overview
Introducing the BG-MV41A, a versatile 4x1 HDMI Switcher Scaler and Multiviewer with IR/RS232 capabilities. This device empowers users to connect up to four HDMI sources, offering simultaneous display or seamless full-screen switching, supporting resolutions up to 1080p@60Hz. It's ideal for various applications, including conference rooms, presentations, industrial workstations, and surveillance systems, providing customizable layouts, audio signal toggling, and multiple control options to enhance the viewing experience.
Connectivity & Picture
With four HDMI inputs and one HDMI output, users can display up to four devices on one screen. These sources can be shown simultaneously or can be seamlessly switched between while in full-screen mode. This device is compliant with HDMI 1.3a and HDCP 1.2.
The BG-MV41A supports image upscaling and downscaling. This minimizes conflict when using multiple sources with varying resolutions on a single screen. With supported resolutions reaching up to 1080p@60Hz, this switcher provides professional quality for viewers.
Control
When using multi-view, various layouts are available for users to customize the way they display video sources. There are five layouts to select from - including full screen mode for switching between HDMI sources. The device also features buttons on the front panel for easy operation. An audio push button can be used to toggle between the audio signals from each of the HDMI inputs. For remote control, IR remote and RS232 control options are available.
Thanks to the advanced control options, the BG-MV41A is a great choice for different applications due to its versatility. Security camera setups may work best with multi-view, while conference room presentations will likely favor full screen orientations. Whatever the application needed, the BG-MV41A is ready for the task.
Features
HDCP 1.2

High-Bandwidth Digital Content Protection Supported

High-Res Inputs

Resolutions up to 1080p@60Hz supported

Multifunctional

Use as a seamless switcher or multiviewer

Multiview

4x1 Quad Multiview (With Matching Resolutions)

Remote Adjustable Resolutions

Output Resolutions Can Be Adjusted Via The IR Remote

Scaling

Upscale 720p Into 1080p And Downscale 1080p To 720p
Control through multiple, easy options

5 different display modes

Low 10W max power consumption

Sturdy metal chassis

Quick, seamless switching

Easy to install and operate

RS232 signal passthrough

Selectable audio output

Lock in power supply
Videos
Reimagine Live Streams & Tutorials with a 4x1 Multiviewer Scaler - BZBGEAR BG-MV41A
Affordable Auto Scaling Multi-Format Quad Multiviewer for Presenting | BZBGEAR BG-MV41A
Tech Specifications
Signal Inputs/Output
Maximum Single Link Range
1920x1080@60
HDMI Input/Output Connector
Type A 19 pin
Operating Frequency
Vertical Frequency Range
50/60Hz
Video Amplifier Bandwidth
2.25Gbps
Resolutions
Input Resolution
480i@60Hz, 480p@60Hz, 576i@50Hz, 576p@50Hz, 720p@50/60Hz, 1080i@50/60Hz,
1080p@24/25/30/50/60Hz
Output Resolution
720p, 1080p
Mechanical Data
Dimensions
5.8"(W) X 4.0"(D) X 0.83"(H) [148.5mm(W) X 103mm (D) X 21.5mm(H)]
Weight
0.75lbs [342g]
Chassis Material
Metal
Color
Black
Environmental
Operating Temperature
32°F to 158°F / 0°C to +70°C
Operating Humidity
10% to 85% RH (no condensation)
Storage Temperature
14°F to176°F / -10°C to +80°C
Storage Humidity
5% to 90% RH (no condensation)
Power Requirement
External Power Supply
12V DC@2A
Power Consumption (max)
10W
Regulatory Approvals
Main Unit
FCC, CE
Power Supply
UL, CE, FC C, REACH, ROHS
PACKAGE CONTENTS
1x BG-MV41A
1x 12V/DC, 2A Power Supply
1x Remote control
1x User Manual
1x 3-Pin Phoenix Connector
Interfaces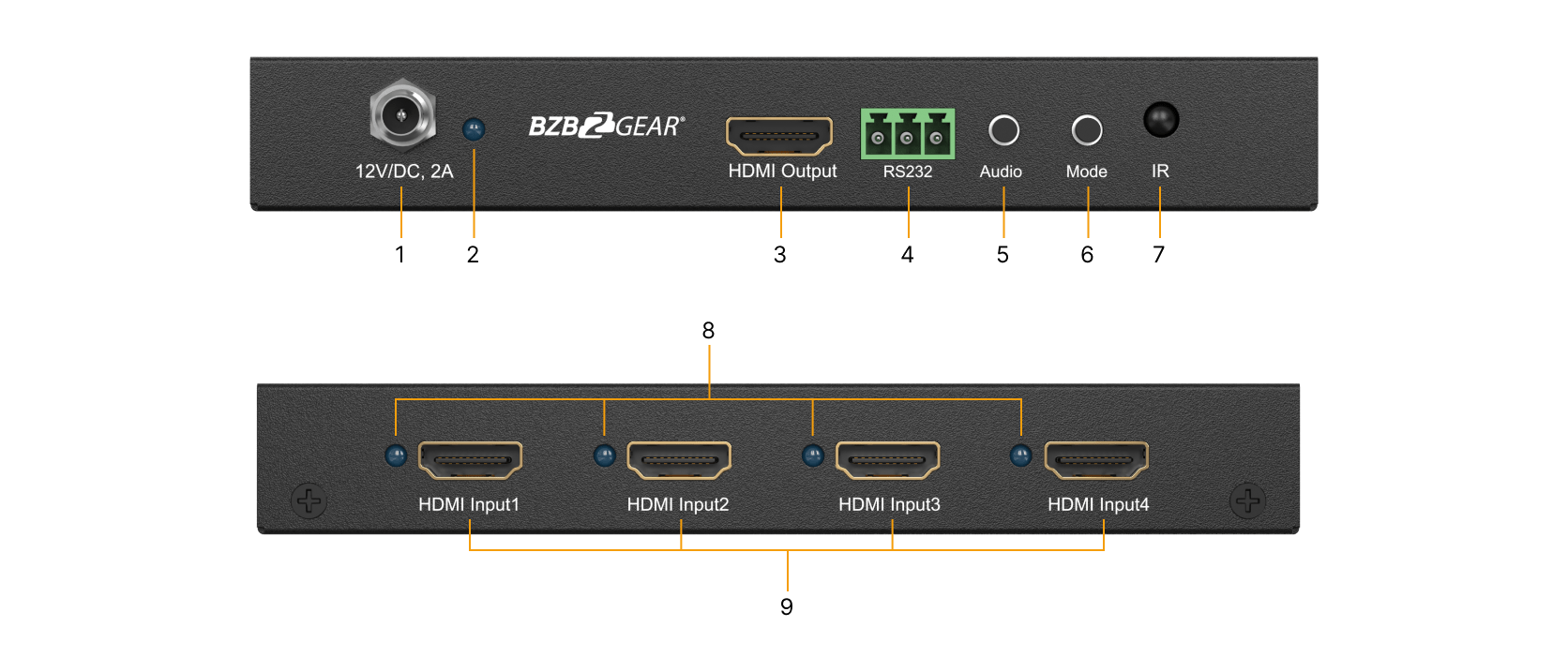 12V/DC:

Plug the 12V DC power supply into the unit and connect the adapter to the AC wall outlet.
Power LED: Indicates unit is receiving power when lit.
HDMI Output: Connect to a display to view the signal sources.
RS232: Connect the RS232 port to a computer by a RS232 Cable.
Audio Button: Press this button to select the audio from the input sources.
Mode Button: Press this button to select the multi-view display mode.
IR: Remote control receiver window.
HDMI Inputs 1-4 LEDs: Blue LEDs illuminate when the device is connected to sources.
HDMI Inputs 1-4: Connect up to 4 HDMI sources.