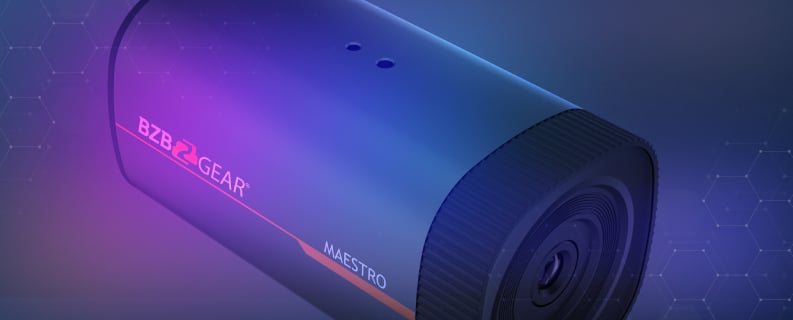 Overview
The BG-MAESTRO is a compact ePTZ auto-tracking camera that delivers extremely accurate tracking throughout its coverage area. Designed to be easily configurable, the Maestro requires no additional software to set the auto-tracking parameters which is completed through the web based interface. With electronic pan, tilt, and zoom (ePTZ) capabilities, tracking is accomplished with a fixed lens and maintains a very compact form factor. Power over ethernet (PoE) technology further simplifies installation, requiring only one cable for power and internet connectivity.
This camera supports SRT, enabling high-quality, low-latency video to be sent reliably over the internet.
Connectivity & Performance
The BG-MAESTRO can simultaneously output USB 3.0, 3G-SDI / HDMI, and IP streaming in resolutions up to 1080p@30Hz. The Maestro also utilizes a 1/2.8" high quality 4K CMOS sensor to provide low noise and a high SNR for the clearest image possible. The camera is capable of up to a 3x digital zoom and ePTZ controls automatically track subjects in its field of view. It can accomplish this task between distances of 15ft to 50ft from the camera.
With 5 simultaneous output streams the BG-Maestro allows multiple angles to be broadcast at once. This camera is ideally suited for educational purposes, lectures, fitness instructors, and hobbyists. The Maestro has smooth tracking that is not affected by minor movements of subjects and it is also resistant to acquisition of interfering subjects.
This camera is further equipped with a 3.5mm stereo input for the connection of an external microphone. It also supports several protocols such as ONVIF, RTSP, and RTMP which enable operators to stream video directly from the camera to streaming and video service platforms like YouTube, Facebook, and Twitch. H.264 and H.265 video compression options are also available helping to reduce bandwidth.
Control
The intuitive web interface enables users to optimize the camera's auto tracking abilities as well as video parameters for particular situations and environments. The BG-MAESTRO further supports control through RS232 and RS485. The camera can also be mounted to a ceiling, wall, or tripod for additional flexibility in installation.
BZBGEAR AWARDS
BZBGEAR has a number of award winning products from past tradeshow events. These award winning products were nominated and judged against other nominees. See what makes our award winning products so extraordinary!
Features
Crystal Clear Images

Broadcast in 1080p@30Hz

Auto-Tracking

Setup auto-tracking easily from the web interface

Power over Ethernet

Only one cable needed to power and stream from the camera

Audio Embedding

Connect your microphone to the 3.5mm mini jack to embed audio

Stream Ready

Stream directly from the camera to platforms such as YouTube, Facebook and Twitch

Multiple Outputs

Connect and stream via USB 3.0, HDMI/SDI (depending on model), or over IP
3x digital zoom and ePTZ control

5 simultaneous streams

Versatile mounting options
Videos
BG-Maestro Auto-Tracking Camera is Perfect for Education, Lectures, Fitness & Hobbyists
Tech & Learning Magazine Awards BZBGEAR MAESTRO Auto-Tracking ePTZ Camera Best of Show
InfoComm 2022: BZBGEAR Talks About the BG-MAESTRO 4K Auto-Tracking Camera for Education Environments
INFOCOMM 2022 | BZBGEAR BG-MAESTRO EPTZ Auto Tracking Camera
BZBGEAR MAESTRO Auto Tracking Camera Makes a One-Man Production Easy and Effortless!
How To Set Up BZBGEAR BG-Maestro Auto Tracking Camera (Full Overview Guide)
Auto Tracking ePTZ Camera Simplifies Instruction with BZBGEAR BG-Maestro
How to Set Up the BZBGEAR BG-Maestro Auto-Tracking Camera
BZBGEAR Auto Tracking Camera for Live Streaming - BG-Maestro
Tech Specifications
Camera/ Lens Parameters
Image Sensor
1/2.8" High Quality 4K CMOS Sensor
Effective pixels
8.28 Megapixel, 16:9
Video Format
SDI /HDMI output: 1080p@30Hz/25Hz; 720p@60Hz/50Hz/30Hz/25Hz;
U3 output: 1920x1080p@30Hz /25Hz; 1280x720p@60Hz /50Hz /30Hz /25Hz; 960x540p@30Hz; 800x600p@30Hz; 640x360p@30Hz; 640x480p@30Hz; 352x288p@30Hz;
USB3.0 can be compatible with USB 2.0 output
View Angle
57.2° (D) /47° (H) /36° (V)
Focus
f=7.23mm
Aperture
F2.4+ 5%
Digital Zoom
3X
Minimum Illumination
0.5Lux (F1.8, AGC ON)
DNR
2D & 3D DNR
White Balance
Auto / Manual/ One Push/ Specified color temperature (2400K-7100K, step length is 100)
Focus
Manual
Exposure
Fixed
BLC
ON/ OFF
DNR
>50dB
Input/Output Interface
Video Interfaces
1xSDI / HDMI interface
1xUSB interface
1xLAN interface: 10M/100M adaptive Ethernet port (support POE)
Video Compression Format
H.264, H.265, MJPEG, YUY2, NV12
Audio Input Interface
Double track 3.5mm linear Input
Audio Compression Format
AAC, MP3, G.711A
Network protocol
RTSP, RTMP, ONVIF, GB/T28181
Control Interface
RS232, RS485, LAN
Communication Protocol
VISCA, Pelco-D, Pelco-P, support baud rate 115200/38400/9600/4800/2400; Support VISCA Control Protocols
Power Interface
HEC3800 power socket (DC12V)
Other Parameters
Input Voltage
Power Adapter: 12V
POE Supply: 48V
Input Current
Power Adapter: 0.42A (max)
POE Supply: 0.104A (max)
Power Consumption
5W (max)
Stored Temperature
-10°C ~ +60°C
Stored Humidity
20% ~ 95%
Working Temperature
-10°C ~ +50°C
Working Humidity
20% ~ 80%
Dimension (W x H x D)
5.9 x 3 x 3in [149 x 76 x 76mm]
Weight
Approx. 1.17 lbs [0.53kg]
Working Environment
Indoor Only
PACKAGE CONTENTS
1x BG-MAESTRO Camera
1x 10' USB 3.0 Cable
1x Metal Wall/Ceiling Mount (White)
1x User Manual
Interfaces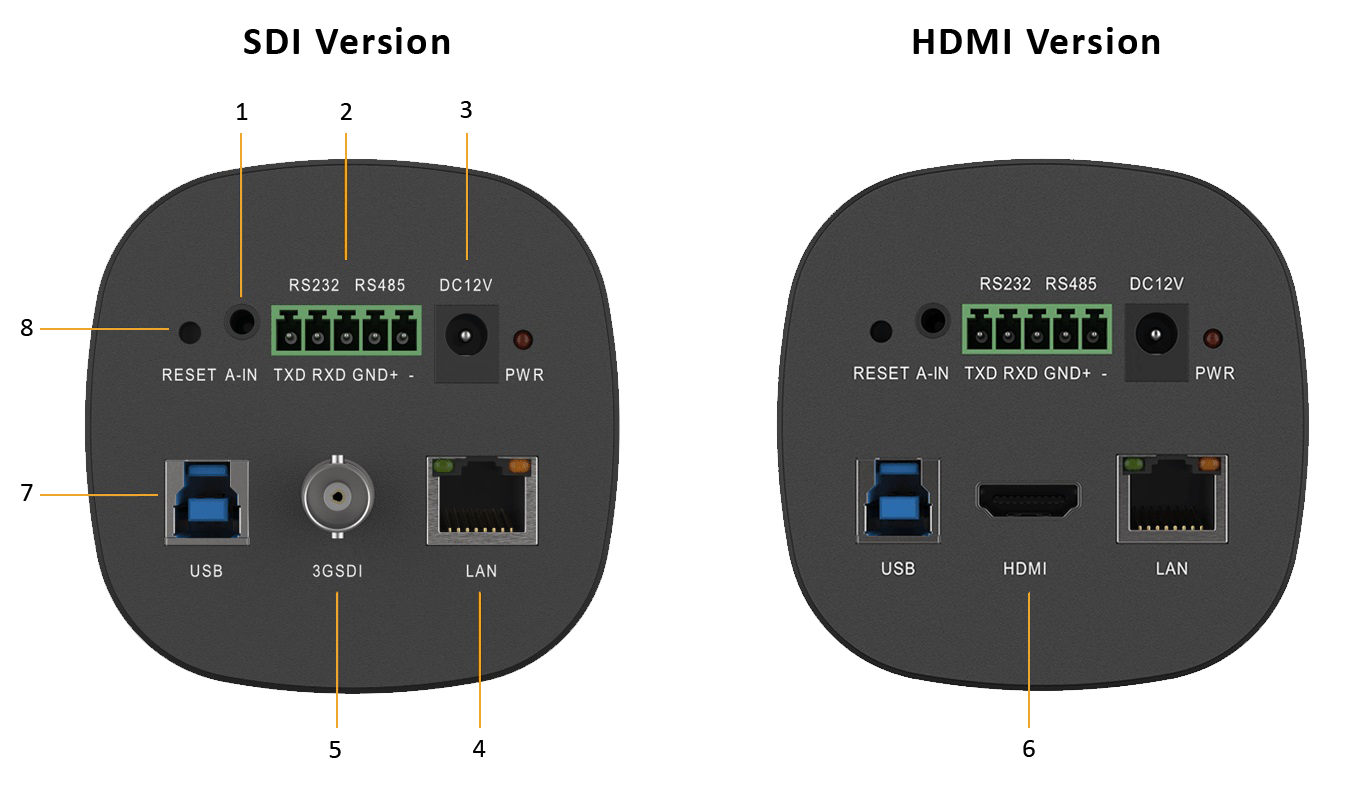 A-In:

Connect external audio sources such as a microphone or small audio mixer to embed the sound into all video output interfaces.

RS-232, RS-485:

Connect cascading RS-232 or RS-485 to control the camera(s) with a joystick controller or control software.

Power:

Connect supplied 12V power adapter.

LAN:

Connect to a network switch via category cable to supply power (PoE), control (TCP/IP or webGUI) and stream.

3G-SDI:

Connect to an SDI device up to 330ft such as a video production switcher or a video display at resolutions up to 3G (1080p@30Hz) over SDI cabling.

HDMI:

Connect to an HDMI device such as a video production switcher or a video display at resolutions up to 1080p@30Hz.

USB:

Connect USB3.0 type B cable to a PC for plug & play connectivity for any conferencing service like Skype or Zoom, supporting resolution up to 1080p@30Hz.

Reset:

 Hold Reset button to factory restore.