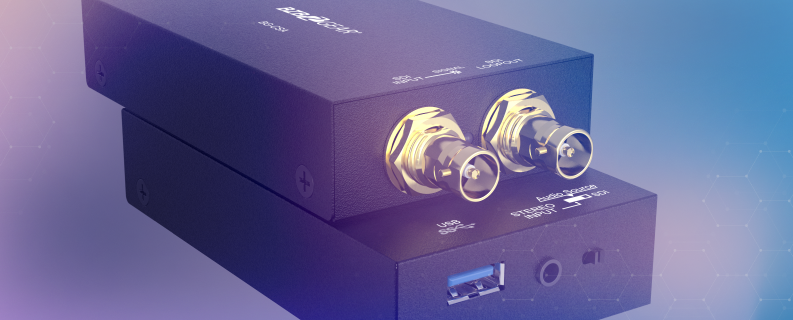 Overview
The BG-CSA is a 3G/HD/SD-SDI capture device. When you need to record or stream any SDI source (like video camera or video mixer output) on your PC – this device will do the job.
It supports any resolutions up to 1080P at 60fps on USB 3.0/3.1 ports. Built-in scaler gives you more flexibility for the capturing video format. Large volume image buffer ensures smooth uninterrupted video capture.
Using 3.5mm stereo audio input you can switch to the external mic or other audio signal and embed it into the video stream. All aluminum housing and power from USB port (no additional power adapter required) adds durability and portability to our setup.
If you need to set up additional local monitor or extend/split input there is an SDI loop-out port which will re-clock and mirror original signal.
 TAA COMPLIANT PRODUCT.
 This product meets the standards of the Trade Agreement Act (TAA).
 You can find all BZBGEAR TAA Compliant Products on
this page
.
Features
3G-SDI

Crystal clear image with resolutions up to 1080p@60Hz

Portable

Ideal for recording in the field or on the go

USB Data Transfer

The USB 3.1 port supplies power for the unit and transfers data to the connected device

Audio Input

Embed audio from microphone or other source

Easy to Use

Simple for anyone to learn

Compatibility

Supports Mac OS, Windows, and a wide array of third-party applications
1080P Resolution – Capture and store Full HD signal

Metal Enclosure – Durable metal structure built to withstand years of operation

Loop Output – Allows uncompressed signal pass-thru for local displays
Videos
Choose The Right Capture Device for Live Streaming and Gaming - BZBGEAR Capture Cards!
Reliable Capture Cards for HDMI and SDI from BZBGEAR
What Is a Video Capture Card and Do I NEED It?
Talk Tech Ep. 2 - Professional Live Stream System Employing A Video Mixer
Tech Specifications
Technical
Max. Data Rate
350 Mbps
UAC Video Output Resolution
SMPTE 424M-2.97 Gbps
3G-SDI: 1080p at 50/59.94/60 Hz (4:2:2)
SMPTE 274M-1.485 Gbps
HD-SDI: 1080p at 23.98, 24, 25, 29.97, 30 Hz, 1080i at 50, 59.94, 60 Hz
SMPTE 292M-1.485 Gbps
HD-SDI: 1080i at 30 Hz, 720p at 60 Hz
SMPTE 296M-1.485 Gbps
HD-SDI: 720p at 23.98, 24, 25, 29.97, 30, 50, 59.94, 60 Hz
SMPTE 259M-270 Mbps
SD-SDI: NTSC 525 at 59.94 Hz, PAL 625 at 50 Hz
UAC Audio Output Format
Stereo / 16-bit / 48000Hz
Recording Video Format
YUY2 (USB3.1 Gen 1), MJPG (USB2.0/3.1 Gen 1)
Audio Input
SDI Embedded Audio
3.5mm Analog Stereo Audio
Operating System Compatibility
Windows 7, 8, 10, Mac OS X 10.9 or above, Linux
3rd-Party Software Compatibility
OBS Studio (Windows, Linux)/ AMCap (Windows)
Potplayer (Windows)/ Skype (Windows, OS X)
Hangout (Windows)/ TeamViewer (Windows)
Hardware Requirements
Desktop: Intel Core i5-3400+NVIDIA GTX660 or higher
Notebook: Intel Core i7-4810MQ+NVIDIA GTX870M or higher+4GB RAM or higher
ESD Protection
8 KV - Contact Discharge
15KV - Air Discharge
Mechanical
Housing Design
Aluminum
Casing Style
Portable
Power Connection
Micro-USB Port
Power Supply
5V DC, 1A
Power Consumption
4 watts (Max)
Operating Humidity
20-90% RH (no condensation)
Operation temperature
32~104°F / 0~40°C
Product Weight
0.3 lbs [135g]
Package Weight
0.6 lbs [270g]
Certifications
CE, FCC, RoHS
PACKAGE CONTENTS
1x BG-CSA USB 3.1 Gen 1 3G-SDI Capture Device
1x USB 3.1 Gen 1 A to A Cable (host to device)
1x User Manual
Interfaces
USB OUT:

Connect to a USB host device such as a PC, laptop, or MAC.
STEREO AUDIO IN: Embed audio using a 3.5mm stereo mini cable.
AUDIO SWITCH: [left] Audio from 3.5mm stereo audio in, [right] Audio from SDI.
SDI IN: Connect to a 3G/HD/SD-SDI source.
LED INDICATOR: SDI input signal indicator LED.
SDI LOOPOUT: Connect to a local 3G/HD/SD-SDI display.