1080P FHD/4K UHD HDMI 2.0 18Gbps Portable Signal Test Generator and Analyzer

Overview
The BG-AVTPG-MINI is a portable handheld 4K signal analyzer and test pattern generator. Capable of generating and analyzing HDMI signals at resolutions up to 4096x2160@60Hz 4:4:4, This powerful tool provides users with the ability to quickly test and verify HDMI cabling and equipment.
Features In-depth
Supports a maximum resolution of 4K2K@60Hz, the BG-AVTPG-MINI can generate and analyze signals with chroma subsampling rates of 4:4:4 8 bit and 4:2:0 16 bit (HDR). This analyzer is HDCP 1.4 and 2.2 compliant, allowing users to test a wide variety of 1080P and 4K HDMI devices. The rechargeable battery provides an operating time of up to three hours.
The BG-AVTPG-MINI features three useful video test patterns designed to demonstrate signal quality and stability. The adjustable color depth allows users to test range of the connected equipment's capabilities. By connecting the HDMI output to the HDMI input, users receive a link quality estimate based on the HDMI 2.0 Character Error Detection.
TAA COMPLIANT PRODUCT
 TAA COMPLIANT PRODUCT.
 This product meets the standards of the Trade Agreement Act (TAA).
 You can find all BZBGEAR TAA Compliant Products on
this page
.
Features
4K Support

Supports up to 4K2K@60 4:4:4 8bit, HDR 10 bits, 12 bits 16 bits

HDCP 2.2

HDCP 1.4 and 2.2 compliant

18Gbps/HDMI 2.0

The maximum bandwidth possible due to the introduction of HDMI 2.0

Mobile

Hand-held pocket size with 3 hour battery life

Easy to Use

Simple for anyone to learn

Multiple Patterns

Easily and quickly test HDMI devices
Supports video resolution outputs up to 4K2K@60 4:4:4 8bit, HDR 10bits, 12bits, 16bits

Fundamental HDMI feature analysis up to 4K2K@60 4:4:4 8bit HDMI 2.0 input

Provides statistics analysis for cable quality or connection stability

Rechargeable battery design with short charging time about 3 hours

Built-in 3 video patterns

HDCP 1.4 & 2.2 compliant

Hand-held pocket size

Both HDMI input and output support up to HDMI 2.0

Tests cable quality

Battery powered for portability, it can extend operation time with full load up to 3 hours
Videos
BZBGEAR Debuts 8K Test Pattern Generator at InfoComm 2023 - AVTPG-MINI
InfoComm 2023 AV TPG MINI Test Pattern Generator
Professional Grade 4K Video Test Pattern Generators, Testers & Analyzers
Mini 4K Test Pattern Generator and Analyzer Perfect for any Job BG-AVTPG-MINI
Tech Specifications
Role of usage
HDMI 2.0a Installation Gear
Video bandwidth
Single link 600MHz [18Gbps]
HDMI compliance
HDMI 2.0 and below
HDCP compliance
HDCP 2.2 and below
Video Support
up to 4K@60 4:4:4 8bit, 4K2K@60 4:2:0 16bit (HDR)
ESD protection
Human body model — ±15kV [air-gap discharge] & ±8kV [contact discharge]
Video Format Support
HDMI
Input
1x HDMI
Output
1x HDMI
Control
Push Button
HDMI connector
Type A [19-pin female]
USB Support
Firmware update / Recharge
USB connector
Micro-USB (Type B)
Mechanical
Enclosure
Metal case
Dimensions (L x W x H)
Model
5.1" x 3.5" x 0.6" [130 x 89 x 14mm]
Package
7.8" x 5.4" x 2.9" [198 x 137 x 74mm]
Weight
Model
7.8oz [220g]
Package
11.3oz [320g]
Power supply
Micro-USB / Battery
Power Consumption
5W [MAX]
Operation temperature
32~104°F / 0~40°C
Storage temperature
-4~140°F / -20~60°C
Relative humidity
20~90% RH [no condensation]
PACKAGE CONTENTS
1x BG-AVTPG-MINI
1x User Manual
1x Micro-USB to USB cable
Interfaces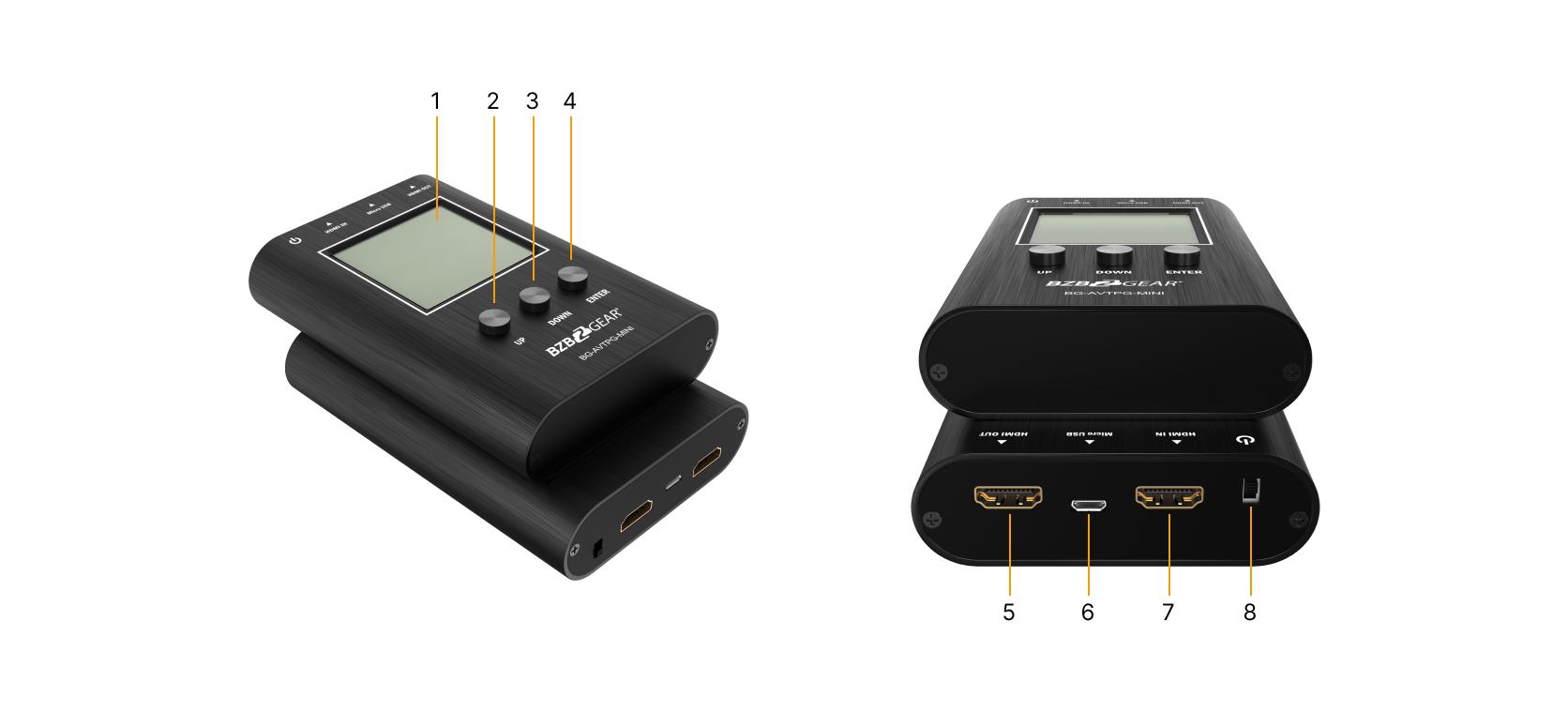 LCD Display: The data is shown on the display.
Up Button: Move the cursor up.
Down Button: Move the cursor down.
Enter Button: Confirm selection on screen.
OUTPUT: HDMI output.
Micro-USB: Firmware update / Recharge.
INPUT: HDMI input.
Power Switch: Power ON/OFF Switch.