Overview
Introducing the BG-4KPTZ-12XUHP high-quality PTZ camera, redefining video production with its 4K60Hz output powered by a 12X motorized zoom lens. Equipped with a 1/2.5 Sony CMOS sensor, it captures brilliance in every frame. The camera's 80.4° field of view and precise auto-focusing ensure both detailed shots and expansive scenes are captured with clarity. It offers USB 3.0, HDMI, and IP streaming simultaneously, supports ONVIF, RTSP, and RTMP protocols, and boasts versatile control options. With 255 presets and adaptable mounting, it's the ultimate choice for premium content creation.
Connectivity & Performance
The BG-4KPTZ-12XUHP is engineered to redefine how you capture visuals. Combining an expansive 80.4° field of view with a powerful 12X optical zoom, this camera is equipped to deliver stunningly detailed shots of individual subjects, all while effortlessly encompassing the entire scene. Its cutting-edge auto-focusing technology ensures rapid and precise focus adjustments, guaranteeing that every moment remains sharply in focus.
Unleash the camera's versatility with its simultaneous USB 3.0, HDMI, and multiple IP stream outputs. This enables you to flexibly broadcast your content across various platforms. Remarkably, the USB 3.0 output supports dual streaming, expanding your streaming possibilities. With a built-in 3.5mm audio jack, you can seamlessly embed stereo audio from the scene into all video outputs, enriching your content with immersive soundscapes.
Harness the efficiency of H.264 and H.265 video compression formats, optimizing both image quality and data transfer. Additionally, the device boasts a LAN port with Power over Ethernet (PoE) support, simplifying installation by delivering power and data through a single category cable.
Control
The BG-4KPTZ-12XUHP camera supports ONVIF, RTSP, and RTMP protocols, enabling the camera to directly stream video to streaming and video platforms like YouTube, Facebook, and Twitch. Operators can control the camera via a web GUI, IR remote, IP VISCA, ONVIF, RS-232 and RS-485 (VISCA/Pelco-P/D). There are 255 preset positions for the camera, with ten of these presets being available via IR remote control. An onboard dial on the camera enables operators to set the output resolution as well. A full suite of exposure and video settings are available to help operators tailor the image for different environments and lighting conditions.
The BG-4KPTZ-12XUHP has ceiling, wall, and tripod mounting options, allowing for great deal of versatility when choosing an installation location.
This camera supports SRT, enabling high-quality, low-latency video to be sent reliably over the internet.
Features
Stunning 4K60Hz output

Delivers the ultimate in clarity

Power over Ethernet

Delivers power directly over an ethernet cable

Multiple Video Outputs

Simultaneous USB 3.0, HDMI, and IP streaming

Control

IP, IR, and cascadable RS232/485 (VISCA/Pelco) + 255 preset positions

Zoom

Powerful 12x Zoom Lens

Superb Auto Focus

Auto focusing algorithms resulting in quick, accurate, and stable focus
Dual stream output over USB 3.0

Exposure mode options for best shot

Ceiling/wall/tripod mounting options

Low noise and high SNR (≤50dB)

3.5mm stereo audio input

10M/100M/1000M adaptive ethernet port

Multiple audio/video compressions

Pan/tilt speed controls

Minimum illumination 0.05Lux
Videos
Command and Control Various BZBGEAR PTZ Cameras via Newly Updated BG-PTZ-Control App (Full Overview)
How to Connect a PTZ Camera to a Joystick Using Serial Control - RS232, RS422, RS485
How BZBGEAR PTZ Camera Picture Quality Stacks Up
BZBGEAR Heads Chris & Steve Talk Tech - Ep. 1 IP PTZ cameras, Live Streaming & Accessories
4K PTZ Cameras from BZBGEAR for Live Streaming Produces High Quality Video, Events, & Experiences
Tech Specifications
Optical Zoom
12X
Focus
f=3.85 mm ~ 43.06 mm ±5%
FOV

Horizontal:7.59° (tele) ~ 80.4° (wide)

vertical:4.6° (tele) ~ 50.0° (wide)

Aperture
F1.8 ~ F3.56±5%
Image Sensor
1/2.5 Inch SONY CMOS Sensor
Effective pixels
8.51M; 16:9
Video Format

HDMI Video Output Format:

4KP60, 4KP50, 4KP30, 4KP25, 1080P60, 1080P50, 1080i 60, 1080i 50,

1080P30, 1080P25, 720P60, 720P50

USB3.0 Video Output Format:

YUY2/NV12:

1920x1080P30, 1280x720P30,1024x576P30,

960x540P30, 800x448P30, 640x360P30, 640x480P30, 320x176P30

MJPEG/H.264:

3840x2160P30,1920x1080P30,1280x720P30,1024x576P30,

960x540P30, 800x448P30, 640x360P30, 640x480P30, 320x176P30

USB3.0 downward compatible USB2.0:

YUY2/NV12: 640x360P30, 640x480P30, 320x176P30

MJPEG/H.264: 3840x2160P30, 1920x1080P30, 1280x720P30, 1024x576P30,

960x540P30, 800x448P30, 640x360P30, 640x480P30, 320x176P30

Minimum Illumination
0.05Lux (F1.8,  AGC ON)
DNR
2D&3D DNR
White Balance
Auto / Manual / One Push / Specified Color Temperature
Focus
Auto / Manual / One Push
Exposure mode
Auto / Manual / Shutter Priority / Aperture Priority / Brightness priority
Aperture
F1.8 ~ F11, CLOSE
Shutter speed
1/25~1/10000
BLC
OFF/ON
Dynamic range
OFF/ Dynamic Level Adjustment
Video Adjustment
Brightness, Color, Saturation, Contrast, Sharpness, B/W mode, Gamma curve
SNR
≥50dB
Interface Features
Interfaces

HDMI, LAN (POE), USB3.0 (Type B, compatible with USB2.0), A-IN, RS232-in & out;

RS422 (Compatible with RS485), Dial switch, DC12V, Power Switch

Video Compression

LAN: H.264,H.265

USB 3.0: MJPG, H264, YUY2, NV12

Audio-in Interface
Double track 3.5mm linear Input
Audio out
HDMI, LAN, USB3.0
Audio Compression
AAC, MP3, G.711A
LAN
10M/100M/1000M adaptive Ethernet port, support POE and audio/video output
Network Protocol
RTSP, RTMP, ONVIF, GB/T28181, VISCA Control Protocols, Remote Upgrade, reboot and reset
Control Interface
RS232-IN, RS232-OUT, RS422 (RS485)
Serial Protocol
VISCA/ Pelco-D / Pelco-P; Baud rate: 115200/38400/9600/4800/2400
USB Communication Protocol
UVC (video), UAC (audio)
Power Interface
HEC3800 (DC12V)
Power Adapter
In: AC110V-AC220V; Out: DC12V/2.5A
Input Voltage
DC12V±10%
Input Current
<1A
Power Consumption
<12W
PTZ Parameters
Pan Rotation
-170°~+170°
Tilt Rotation
-30°~+90°
Pan Control Speed
0.1°/s~120°/s
Tilt Control Speed
0.1°/s~80°/s
Preset Speed
Pan: 120°/s, Tilt: 80°/s
Preset Number
255 Presets (10 presets by remote control)
Other Parameters
Storage Temperature
14°F ~ 140°F / -10°C ~ +60°C
Storage Humidity
20%~95%
Working Temperature
14°F ~ 122°F / -10°C ~ +50°C
Working Humidity
20%~80%
Dimension
6.2"(L) x 7.4"(W) x 7.9"(H) [157.5mm(L) x 189mm(W) x 201mm(H)]
Weight
5.73 lbs [2.60kg]
Working Environment
Indoor Only
PACKAGE CONTENTS
1x BG-4KPTZ-12XUHP
1x IR Remote Control
1x Power adapter
1x Wireless Remote Control
1x RS232 Cable
1x User Manual
1x USB3.0 Cable
Interfaces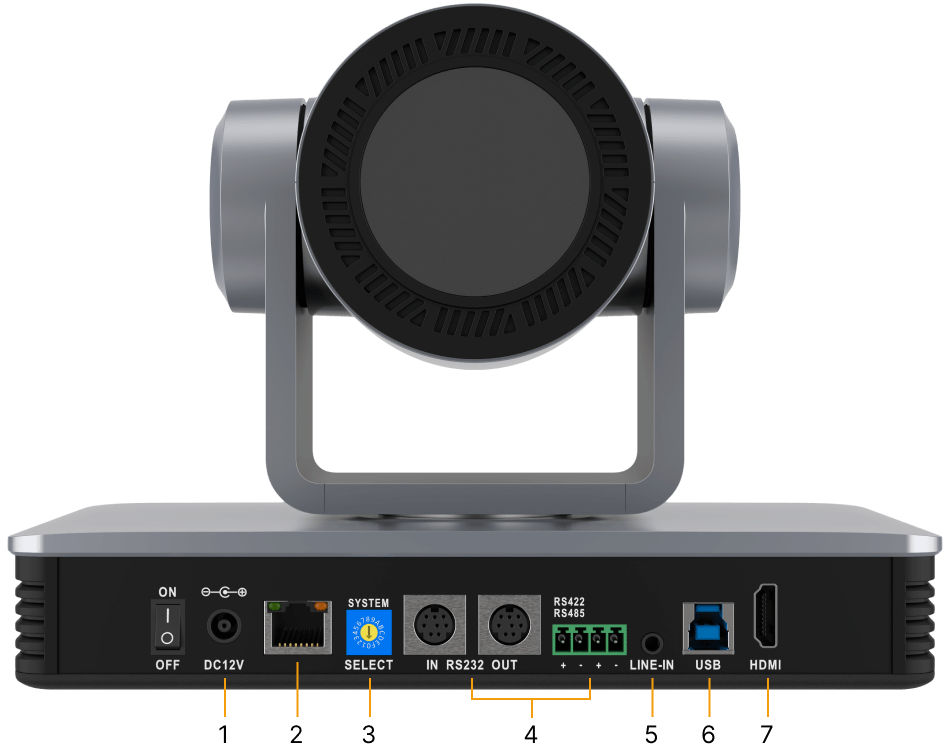 Power:

Connect supplied 12V power adapter.

LAN:

Connect to a network switch via category cable to supply power (PoE), control (TCP/IP or webGUI) and stream.

System Select:

Turn this dial to set desired output resolution. See manual for resolution options.

RS-232, RS-422/485:

Connect cascading RS-232 or RS-422/485 to control the camera(s) with a joystick controller or control software.

Line In:

Connect external audio sources such as a microphone or small audio mixer to embed the sound into all video output interfaces.

USB:

Connect USB3.0 type B cable to a PC for plug & play connectivity for any conferencing service like Skype or Zoom.

HDMI:

 

Connect to an HDMI device such as a video production switcher or a video display up to 4K@60Hz.