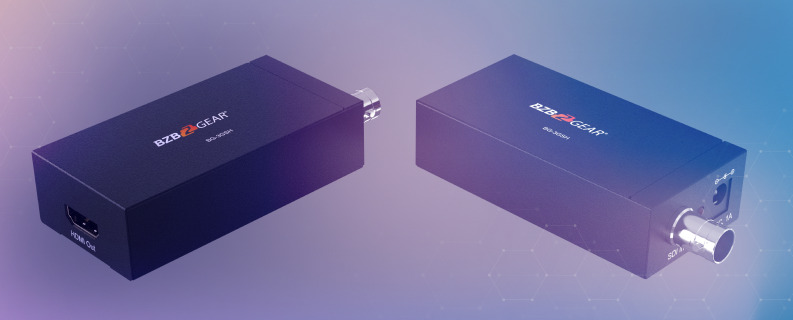 Overview
The BG-3GSH is a versatile signal converter designed to convert SD-SDI, HD-SDI, and 3G-SDI signals to the more commonly used HDMI interface. With a high bit rate of 2.970 Gbit/s, the unit supports transmission of video signals without any loss, ensuring a crystal-clear 1080p@60 image on HDMI displays. The BG-3GSH also supports SMPTE 425M, SMPTE 424M, SMPTE 292M, and SMPTE 259M-C standards, making it compatible with a wide range of video sources.
In addition to its signal conversion capabilities, the BG-3GSH also offers the ability to convert from SMPTE 425M Level B to Level A 1080p 50/59.94/60 4:2:2 10-bit, making it a powerful tool for professionals working with high-quality video content. The unit can accept 3G-SDI signals using long-range SDI cables, and convert it to display on consumer-grade HDMI displays.
Durability is also a key feature of the BG-3GSH. The unit is housed in a sturdy metal housing, providing protection against damage from everyday wear and tear, as well as ensuring reliable performance in demanding environments.
Features
1080p/60 Support

Crystal clear images with resolutions up to 1080p@60Hz

Portable

Ideal for any on-the-go kit

Rigid Design

Durable metal structure built to withstand years of operation
Operation at 2.970Gbit/s, 1.485Gbit/s and 270Mbits/s

Supports SMPTE 425M, SMPTE 424M, SMPTE 292M, SMPTE 259M-C

Conversion from SMPTE 425M level B to Level A 1080p 50/59.94/60 4:2:2 10-bit

Connect with other units to extend your signal over long distances

Easy to Use - Simple for anyone to learn
Videos
Go the Distance with BZBGEAR's Compact SDI / HDMI Converters
Tech Specifications
Input Port
1 x BNC (SDI/HD-SDI/3G-SDI)
Output Port
1 x HDMI
SDI Transmission Rates
2.970 Gbit/s and 2.970/1.001 Gbit/s
In/Output Resolution

480i, 576i, 720p@50/59.94,60, 720p@50/59.94,60, 1080i@50/59.94/60,

[email protected]/24/25/29.97/30/50/59.94/60

Power Supply
DC 5V - 12V
ESD Protection Human body model

±8kV (air-gap discharge)

±4kV (contact discharge)

Dimension
3.1in x 1.6in x 0.98in [80mm x 41mm x 25mm]
Weight
0.33 lbs [150g]
Operating Temperature
32°F ~ 104°F / 0°C ~ 40°C
Storage Temperature
-4°F ~ 140°F / -20°C ~ 60°C
Relative Humidity
20 ~ 90% RH (Non-condensing)
Power Consumption (Max)
5W
PACKAGE CONTENTS
1x BG-3GSH 3G SDI to HDMI Converter
1x 5V DC Power Supply Adaptor
1x User Manual
Interfaces

SDI-IN:

Connect the SDI source.
POWER LED: LED illuminates red when the device is connected with the power supply.
DC IN: Port for the 5V-12V DC power supply.
HDMI OUT: Connect the HDMI display.