The BG-PSC6X2-4K multi-function 4K@60Hz presentation switcher provides users with a variety of inputs, allowing numerous devices to be displayed on a 4K HDMI display. The powerful integrated scaler allows resolutions as low as 640 x 480 to be displayed in multiple aspect ratios at resolutions up to 4096x2160@60Hz 4:4:4.
Featuring audio embedding, de-embedding, and a MIC level input, the BG-PSC6X2-4K is an effective solution for use in auditoriums, classrooms, and conference rooms.
Connectivity
The BG-PSC6X2-4K is equipped with six inputs including three 18 Gbps HDMI 2.0, one DisplayPort, one USB-C, and one VGA. The VGA input is paired with a 3.5mm audio input. A three-way selectable input with phantom power allows users to connect microphones or line input sources for audio embedding. Two mirrored HDMI outputs provide connections for dual displays. Equipped with one digital coax and one RCA line output, the BG-PSC6X2-4K provides audio de-embedding for connection to external audio systems.
Control
The BG-PSC6X2-4K can be operated via the front panel buttons, included IR remote, RS-232, or IP commands. The LCD menu display provides access to advanced EDID management settings to ensure stable signals and reliable switching. Scaler settings, audio levels, audio formats, and network settings can also be adjusted, providing a high degree of flexibility for installation. An IR input port allows integration with IR distribution and third-party control systems.
Features
Stunning Image Quality

Supports Resolutions up to 4K@60 4:4:4

Microphone Input

48V phantom power

Multiple Control Options

Front panel, IR, RS-232, TCP/IP

Audio Support

Embed or De-Embed audio signals

Multiple Inputs

3xHDMI, 1xVGA w/audio, 1xUSB-C, 1xDisplayPort

Multi-Display Support

2x HDMI mirrored outputs
Switch & Scale 6 sources to 2 displays

Front-panel LCD display for status feedback

3x HDMI inputs support CEC pass-through

Front-panel button, IR remote control, RS-232, TCP/IP and WebGUI for control

Scaling from 640x480 to 4096x2160@60Hz

HDCP 2.2 compliant
Videos
4K Multiple Input Conference Room and Presentation Switcher and Scaler | BG-PSC6X2-4K
Install & Demo | BZBGEAR BG-PSC6x2-4K & BG-PSC7x2 Presentation Switchers
Scale Signals for Any AV Space with BZBGEAR Presentation Switchers | BG-PSC6X2-4K & BG-PSC7X2
Tech Specifications
| | |
| --- | --- |
| Bandwidth: | 18Gbps |
| Video Input Connectors: | 3x HDMI Type A, 1x VGA, 1x USB-C, 1x DP |
| Video Output Connectors: | 2x HDMI Type A |
| Audio Input Connectors: | 1x 3.5mm stereo jack |
| Audio Output Connectors: | 1x 3.5mm stereo jack, 1x RCA (SPDIF) |
| RS-232 serial port: | 1x DB 9 connector |
| IR Input ports: | 1x 3.5mm stereo jack |
| Dimensions (W x H x D): | 13.6" x 6.5" x 1.8" [345mm x 165mm x 45mm] |
| Shipping Weight: | 4.4lbs [2.0Kg] |
| Operating Temperature: | 32°F to 104°F / 0°C to 40°C |
| Storage Temperature: | -4°F to 140°F / -20°C to 60°C |
| Power Supply: | DC 24V/1A |
PACKAGE CONTENTS
1x BG-PSC6X2-4K
1x 24V/1A power supply
1x Remote control
1x IR Receiver cable
1x Mounting kit
Interfaces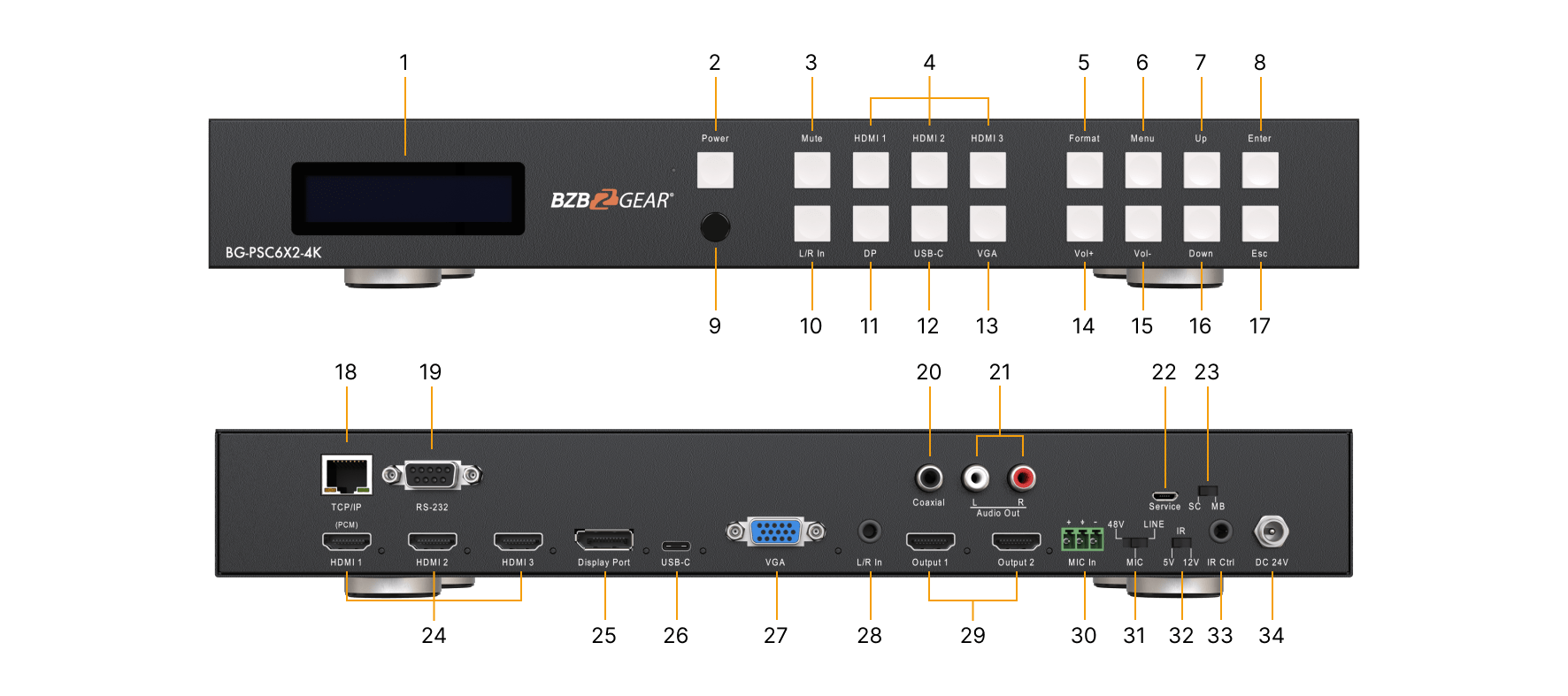 LCD display: It shows the status of input-to-output selection, EDID info, and the other information.
Power button: Press to power on the unit.
Mute button: Press to mute the HDMI outputs and L/R & Coaxial audio outputs.
HDMI 1-3 Input selection buttons: Press to select Output 1&2 from HDMI Input 1 to 3.
Format set button: Press to set the resolution for the output.
Menu button: Press to enter EDID setting, volume setting or F/M information.
Up selection button: Press to change the segment's value.
Enter button: Press to confirm the settings.
IR receiver window: Receive the IR from the remote control.
L/R In: Press to embed analog audio into the HDMI outputs.
DP: Input button – Press to select DisplayPort Input.
USB-C Input button: Press to select USB-C Input.
VGA Input button: Press to select VGA Input.
Volume up: Press to increase audio's volume from HDMI outputs and Audio output.
Volume down: Press to decrease audio's volume from HDMI outputs and Audio output.
Down selection button: Press to change the segment's value.
ESC: Press to quit EDID set mode.
TCP/IP port: RJ45 connector, for TCP/IP control.
RS232 port: DB9 female connector, to control the unit from a PC or control processor.
Coaxial audio output: Output coaxial audio which always follows HDMI outputs.
L/R audio output: Output analog audio which follows HDMI outputs.
Service port: Micro USB port, for firmware upgrade.
Upgrade slip switch: Used with a service port to upgrade SC/Scaler Chip or MB/Main Board.
HDMI Input 1-3: Connect to HDMI sources.
DP Input: Connect to DisplayPort source.
USB-C: Input – Micro USB port, connect to USB-C source.
VGA Input: Connect to VGA source.
L/R Input: L/R audio input with VGA input.
HDMI Output 1-2: Connect to an HDMI display.
MIC In: Plug microphone in for audio source output.
48V/MIC/Line: Slip switcher.
IR slip switcher: Slip to select 5V IR or 12V IR.
IR Ctr: Connect to an IR receiver cable.
DC 24V: Use included 24V/1A power supply to power on the unit.