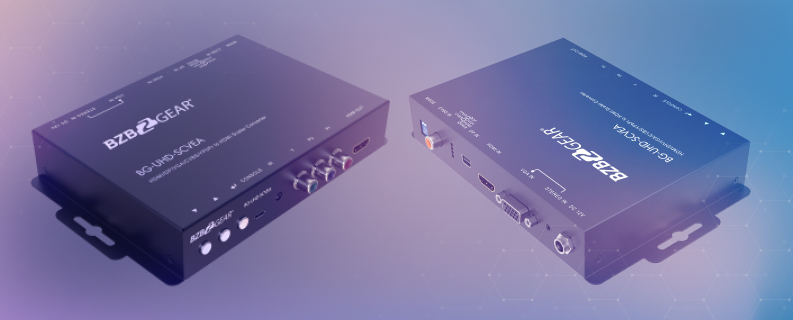 Overview
The BG-UHD-SCVEA is a multi-format 4K UHD scaler converter. This unit is designed to scale and convert multiple analog and digital formats (HDMI/DP/VGA/CVBS/YPbPr) to support HDMI devices. This HDMI 1.4/DP1.1 compliant device supports output resolutions up 4K2K@30 4:4:4 with video bandwidth speeds up 10.2Gbps.
Embed analog audio to the HDMI output via the 3.5mm stereo input. Operate and adjust advanced settings including resolution outputs via the front panel push buttons, IR remote, or the provided control software.
With its versatile array of inputs, the BG-UHD-SCVEA is the perfect solution for users looking to convert legacy media formats for use in a modern A/V system.
 TAA COMPLIANT PRODUCT.
 This product meets the standards of the Trade Agreement Act (TAA).
 You can find all BZBGEAR TAA Compliant Products on
this page
.
Features
4K Support

Crystal clear images with resolutions up to 4K2K@30Hz 4:4:4

Multiple Control Options

Use the front panel push buttons, IR remote, or control software

Easy to Use

Simple for anyone to learn

Portable

Ideal for any on-the-go kit

Rigid Design

Durable metal structure built to withstand years of operation

Audio Embedding

Embed audio using the 3.5mm stereo input
Supports Input HDMI1.4 /DP1.1/ VGA/CVBS/YPbPr

Input maximum pixel rate: 165MHz

Supports multiple VESA resolutions

De-interlacing supported

Supports video enhancement features

Over / under scanning adjustable

Video H/V mirror supported

USB firmware upgradable for expanding compatibility

Wall-mount housing design for easy installation
Videos
Modernize and Scale Any A/V Setup Regardless of Legacy Inputs | BG-UHD-SCVEA
Analog to Digital Video Converter and Upscaler - BZBGEAR BG-UHD-SCVEA
Tech Specifications
Technical
 
Role of usage
HDMI/DP/VGA/CVBS/YPbPr to HDMI Converter
HDMI standards
HDMI1.4
Input Video Maximum Pixel Rate
165MHz
Output Video bandwidth
10.2Gbps
Output Video support
up to 4K2K@30 4:4:4
Audio support
PCM 2 (32KHz - 192KHz Fs sample rate)
ESD protection
[1] Human body model ±19kV [air-gap discharge] & ±12kV [contact discharge) [2] Core chipset ±2kV
PCB stack-up
4-layer board [impedance control -differential 100Ω; single 50Ω)
Firmware update
Feasible via USB Port
CEC Channel
N/A
Input
1x HDMI + 1x VGA + 1x DP+1x RCA + 1x YPbPr + 1x stereo (for VGA)
Output
1x HDMI
HDMI connector
Type A [19-pin female)
USB connector
Micro USB
Housing
Metal enclosure
Dimensions (L x D x H)
Model
5.6" x 4.4" x 1" [144 x 113 x 30mm]
Package
10.3" x 6.7" x 3" [264 x 170 x 77mm]
Weight
Model
9.3 oz [264g]
Package
1.6 lbs [724g]
Fixedness
Wall-mounting case with screws
Power supply
12V 2A DC
Power consumption
6 Watts (max)
Operation temperature
32~104°F / 0~40°C
Storage temperature
-4~140°F / -20~60°C
Relative humidity
20-90% RH (no condensation)
PACKAGE CONTENTS
1x BG-UHD-SCVEA
1x 12V/2A power supply unit
1x IR Remote control
1x User Manual
1x Installation software CD
Interfaces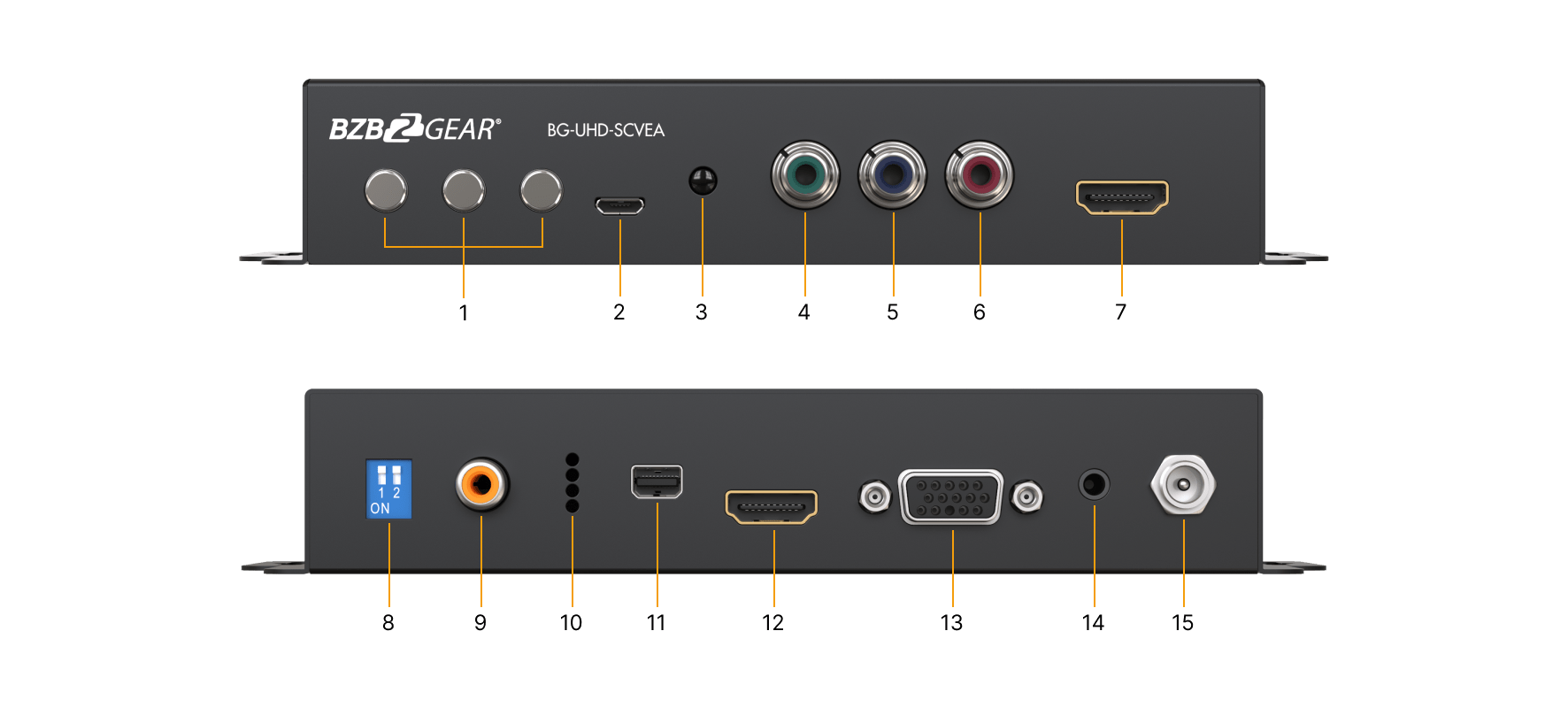 PUSH BUTTON:

 [LEFT]: Down Button.
[MID]: Up Bottom.
[RIGHT]: Menu/Enter Button.
Micro USB: Micro-USB port for control port.
IR SENSOR: IR sensor for receiving the IR commands from IR remote.
COMPONENT: Y INPUT.
COMPONENT: Pb INPUT.
COMPONENT: Pr INPUT.
HDMI OUTPUT: Connect to a HDMI display.
DIP SWITCH: For firmware updates.
CVBS INPUT: Connect to a RCA source.
LED INDICATOR: Indicates power and selected input (see manual).
DP INPUT: Connect to a DP source.
HDMI INPUT: Connect to a HDMI source.
VGA INPUT: Connect to a VGA source.
STEREO AUDIO INPUT (VGA): Connect to analog stereo audio source.
+12V DC: Interlocking power jack for 12V DC power supply unit.