BG-UHD-42M
The BG-UHD-42M is a powerful 4K UHD HDMI Matrix Switcher with audio and downscaling support. It features four HDMI inputs and two HDMI outputs, allowing users to effortlessly route high-quality 4K content between displays. With support for 4K@60Hz 4:4:4 resolution, HDCP compliance, advanced EDID management, and flexible control options, this switcher simplifies multimedia integration in various settings, including conference rooms, sports bars, restaurants, and auditoriums. Its capabilities include auto-scaling, audio de-embedding, and compatibility with Dolby Vision, HDR 10+, HLG, and CEC, making it an ideal choice for anyone seeking a reliable and user-friendly solution for seamless 4K content distribution.
CONNECTIVITY:
High-Resolution Support: The BG-UHD-42M can handle a maximum resolution of 4K@60Hz 4:4:4, ensuring that it delivers the highest quality video content with exceptional clarity and detail.
Uncompressed Bandwidth: With 18 Gbps of uncompressed bandwidth, this matrix switcher ensures that HDMI signals are routed without any loss of quality. This is crucial for maintaining pristine video and audio quality in demanding applications.
HDMI Compatibility: All HDMI ports on the device are HDMI 2.0a and HDCP 2.2 compliant. This guarantees seamless compatibility with the latest HDMI devices, ensuring that you can connect a wide range of modern equipment without any issues.
Downscaling Capability: The switcher offers downscaling from 4K to 1080p, which is a crucial feature for compatibility with older displays or projectors. This ensures that you can use both modern 4K displays and legacy equipment without worrying about resolution mismatches.
Audio Features: The BG-UHD-42M provides audio de-embedding from each HDMI input, allowing you to extract audio signals from your video sources. It also supports Audio Return Channel (ARC), which simplifies audio routing between devices, making it ideal for home theaters and professional audio setups.
HDR and Audio Format Support: The switcher is compatible with advanced video technologies like Dolby Vision, HDR 10+, and HLG, ensuring that you can enjoy stunning, vibrant visuals. Additionally, it supports CEC (Consumer Electronics Control), which simplifies the control and operation of multiple connected devices.
CONTROL:
Advanced EDID Management: The switcher's EDID management is a valuable feature, as it helps increase reliability and troubleshoot HDMI connectivity issues. This means it can automatically adjust the settings to ensure seamless communication between source devices and displays, reducing compatibility problems.
User-Friendly Control: The BG-UHD-42M offers flexible control options. Users can control the matrix switcher using the front panel buttons, which provide a tactile and easy-to-understand interface. Additionally, it comes with an included IR remote control, allowing for convenient remote operation. This versatility in control methods makes it adaptable to various use cases and user preferences.
Simplified Guide to Understanding a 4x2 Matrix Switcher
A 4x2 matrix switcher works by allowing you to connect four input sources (e.g., computers, cameras) and two output destinations (displays, recording devices) to the device. Using a control mechanism, you can select which input source you want to route to which output destination. The switcher intelligently routes audio and video signals from the selected source to the specified destination by switching internal connections, making it a versatile tool for managing and distributing audio and video signals in various settings.
Features
Stunning Image Quality

Supports resolutions up to 4K@60Hz 4:4:4

HDCP 2.2 & HDCP 1.4

High-Bandwidth Digital Content Protection Supported

EDID

Advanced EDID management for rapid integration of sources and displays

Easy to Use

Flexible control via front panel buttons and IR remote

4x2 Matrix

Route any of the 4 inputs to either of the 2 outputs

Auto-Scaling

Supports resolution downscaling from 4K to 1080P
Supports 18Gbps uncompressed bandwidth on all HDMI ports

Supports audio de-embedding via optical and analog outputs

Features 4 HDMI inputs and 2 HDMI outputs

Durable metal enclosure designed to last for years

Supports Dolby Vision, HDR 10+, HLG, and CEC function

Supports ARC
Videos
BZBGEAR 4x2 HDMI Matrix Switcher & Scaler for 4K 18Gbps 4:4:4 Signals
Tech Specifications
Technical
HDMI Compliance
HDMI 2.0
HDCP Compliance
HDCP 2.2 and HDCP 1.4
Video Bandwidth
18 Gbps
Video Resolution
Up to 4K2K@50/60Hz(YCbCr 4:4:4), 4K2K@30Hz.  All HDMI 3D TV format, etc.
Color Space
RGB, YCbCr4:4:4, YCbCr4:2:2, YCbCr 4:2:0
Color Depth
8-bit, 10-bit, 12-bit [1080P, 4K@30Hz, 4K@60Hz (YCbCr 4:2:0)] 8-bit [4K@60Hz (YCbCr4:4:4)]
HDMI Audio Formats
PCM2.0/5.1/7.1CH, Dolby Digital/Plus/EX, Dolby True HD, DTS, DTS-EX,DTS-96/24, DTS High Res, DTS-HD Master Audio, DSD
Optical Audio Formats
PCM2.0, Dolby Digital / Plus, DTS
L/R Audio Formats
PCM2.0CH (Note: If ARC function is turned on, the audio port will mute.)
ESD Protection
Human-body Model: ±8kV (Air-gap discharge), ±4kV (Contact discharge)
Connections
Input Ports
4×HDMI Type A [19-pin female]
Output Ports
2×HDMI Type A [19-pin female] 1×L/R audio out [3.5mm Stereo Mini-jack] 1×OPTICAL audio out [S/PDIF]
Mechanical
Housing
Metal Enclosure
Color
Black
Dimensions
9.9"(W) x 4.1"(D) x 0.79"(H) [251mm(W) x 105mm(D) x 20mm(H)]
Weight
1.97 lbs [620g]
Power Supply
Input: AC100~240V 50/60Hz Output: DC12V/1A
Power Consumption
3.8W (max)
Operating Temperature
32°F ~ 104°F / 0°C ~ 40°C
Storage Temperature
-4°F ~ 140°F / -20°C ~ 60°C
Relative Humidity
20~90% RH (non-condensing)
PACKAGE CONTENTS
1x HDMI2.0 Matrix Switcher
1x 12V/1A Locking Power Adapter
2x Mounting Ears
1x IR Remote
1x User Manual
Interfaces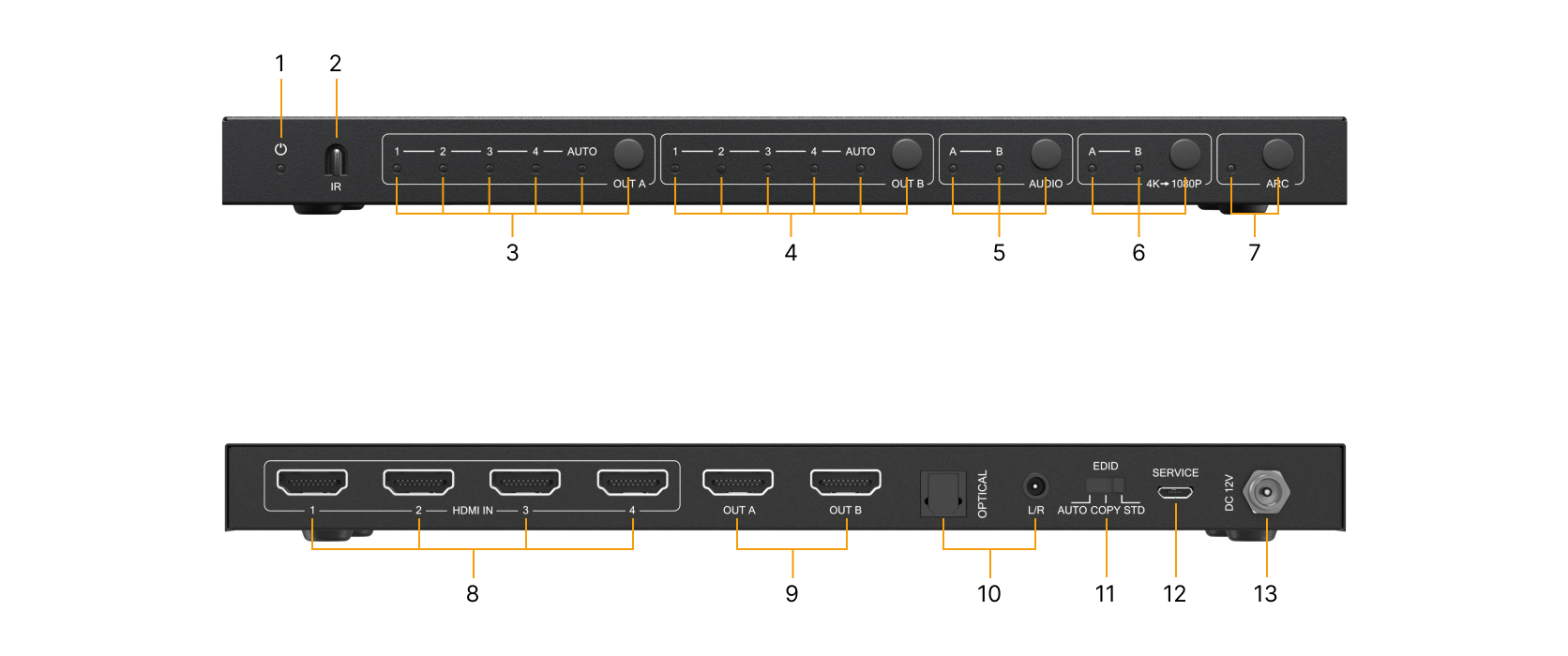 Power LED:

The blue LED will illuminate when the product is connected to the power supply.

OUT A button and LEDs:

Press the OUT A button to select an input source to OUT A output, the corresponding blue LED will illuminate.

OUT B button and LEDs:

Press the OUT B button to select an input source to OUT B output, the corresponding blue LED will illuminate.

AUDIO button:

Press AUDIO button to select to extract the input source audio.

4K→1080P button:

Press the button to select OUT A or OUT B 4K→1080P downscale function.

ARC button:

Turn on / off ARC function. The ARC LED will illuminate when you turn on the ARC function.

HDMI IN ports:

HDMI input ports, connect to HDMI source devices with an HDMI cable.

HDMI OUT A / OUT B ports:

HDMI output ports, connect to HDMI display devices with an HDMI cable.

OPTICAL / L/R ports:

Connect to an audio output device such as an amplifier or speaker with optical and analog audio cable.

EDID AUTO / COPY / STD:

AUTO: Compares display device's EDID information from each output and then sends the best option for both to the source device.

COPY: Copies 'Out A' display device's EDID information to source device of Out A and Out B.

STD: Out A and Out B display device output default 1080P.

SERVICE port:

Firmware update port.

DC 12V: Plug in a 12V/1A adapter to the AC wall outlet for power supply.