Overview
This seamless-switching quad KVM multiviewer is a great choice for anyone looking for an easy way to control four separate devices on one screen with one set of peripherals. With one mouse and one keyboard, a user can control up to four PCs in quad-view simply by hovering the mouse over the desktop of the computer they'd like to control on the screen to instantaneously activate control over that machine.
The BG-MKVM41R can help create a productivity enhanced workstation and also enables several PCs to share a printer, camera, or other peripherals via two USB 2.0 ports.
Connectivity
With four HDMI/USB 2.0 PC HOST ports and one HDMI output, connecting four devices and displaying them on one screen in quad-view is simple. They can also be shown in full screen and switched between via different control methods. The BG-MKVM41R can support HDMI output resolutions up to [email protected] This device is compliant with HDMI 1.3a and HDCP 1.2. The device can also be controlled via a RS-232 connection.
The ability to display and control four separate devices on one screen offers unparalleled productivity and versatility for anyone looking to make the most out of a device management workstation.
Control
Users can easily switch between displays using mouse and keyboard hot keys. Front panel buttons on the switcher are also available, as well as an IR remote controller. With the two USB 2.0 device ports, up to four computers can share the same printer, camera, or other peripherals. An audio push button is also available that allows users to select the audio from the BG-MKVM41R's HDMI input sources while using quad-view.
The BG-MKVM41R's superior control over multiple devices makes it a great choice for multi-computer workstations in conference rooms, industrial centers, and surveillance applications.
Features
Multi-Viewer
View up to 4 computers or devices on one screen simultaneously
Seamless KVM Control
Control connected devices in quad-view by merely hovering your mouse over the desired screen
HDCP 1.2
High-Bandwidth Digital Content Protection Supported
Full HD
USB 2.0
Supports up to 4 USB peripherals to share between connected device
Compatible
Compatible with Mac OS and Windows
Control with mouse, keyboard, hot keys, front panel button, RS232, or IR control

Supports multiple output resolutions

Maximum resolution of [email protected] for crystal clear images
Tech Specifications
| | |
| --- | --- |
| Signal Inputs/Output | |
| Maximum Single Link Range | 1920×[email protected] |
| HDMI Input/Output Connector | Type A 19 pin |
| Operating Frequency | |
| Vertical Frequency Range | 50/60Hz |
| Video Amplifier Bandwidth | 2.25Gbps |
| Resolutions | |
| Input Resolution | 480i60Hz, 480p60Hz, 576i50Hz, 576p50Hz, 720p50/60Hz, 1080i50/60Hz, 1080p24/25/30/50/60Hz |
| Output Resolution | 720p, 1080p |
| Mechanical Data | |
| Chassis Material | Metal |
| Color | Black |
| Environmental | |
| Operating Temperature | 32°F to +158°F / 0°C to +70°C |
| Operating Humidity | 10% to 85% RH (no condensation) |
| Storage Temperature | 14°F to 176°F / -10°C to +80°C |
| Storage Humidity | 5% to 90% RH (no condensation) |
| Power Requirement | |
| External Power Supply | 12V [email protected] |
| Power Consumption (max) | 24W |
| Regulatory Approvals | |
| Main Unit | FCC, CE |
| Power Supply | UL, CE, FC C, REACH, ROHS |
PACKAGE CONTENTS
1x BG-MKVM41R 4×1
1x User Manual
1x 12V/DC, 2A Power Supply
1x Remote Control
2x L shape stand feet
1x Phoenix plugs for RS232 cable termination
6x Screw
Interfaces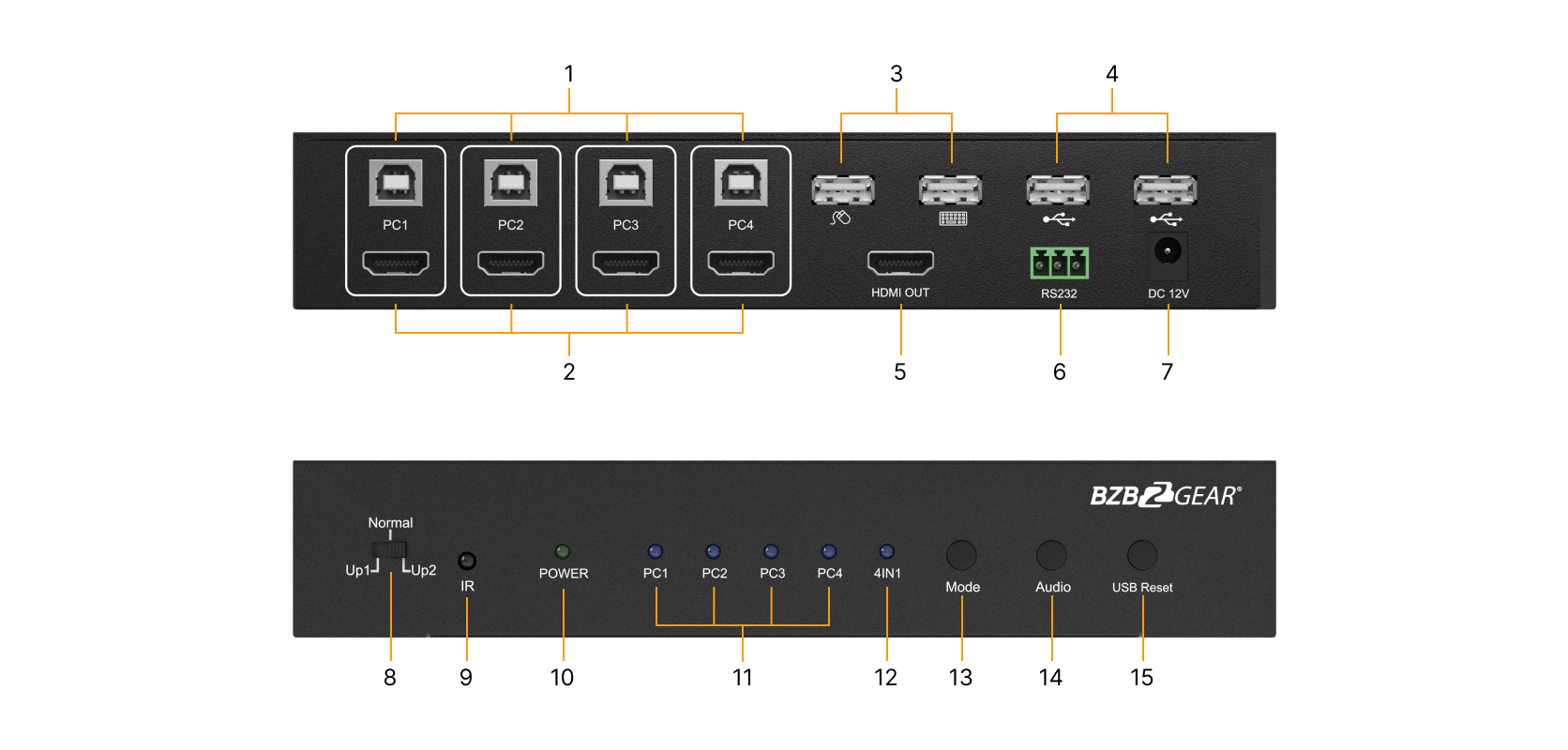 USB 2.0 Type B Inputs (PC1-PC4):

Connect to USB 2.0 ports of 4 PCs respectively.
HDMI Inputs (PC1-PC4): Connect to HDMI ports of 4 PCs respectively.
USB 2.0 Type A: Connect the keyboard and mouse.
USB 2.0 Type A: Provides 2 additional USB 2.0 sharing ports to connect USB 2.0 devices (such as USB Hard Disk, Printer, etc).

HDMI Output:

Connect to a display to view the signal sources.
RS-232: Upgrade firmware.
DC 12V: Plug the 12V DC power supply into the unit and connect the adapter to the AC wall outlet.

Update function select switch:

 Normal: Normal use
Up_1: Upgrade data for MCU_1 via RS232
Up_2: Upgrade data for MCU_2 via RS232.
IR: Remote control receiver window.
Power LED: The blue LED illuminates when the device is connected to the power supply.
PC1-PC4 LED: Input LED – Indicate which input is selected.
4IN1 LED: Indicates 4IN1 mode is selected.
Mode Button: Press this button to select the input.
Audio Button: In the 4IN1 mode, press this button to select the audio from the input sources.
Reset Button: Press this button to reset the KVM switch.