2x1 4K UHD HDMI Seamless Switcher MultiViewer with Audio De-embedder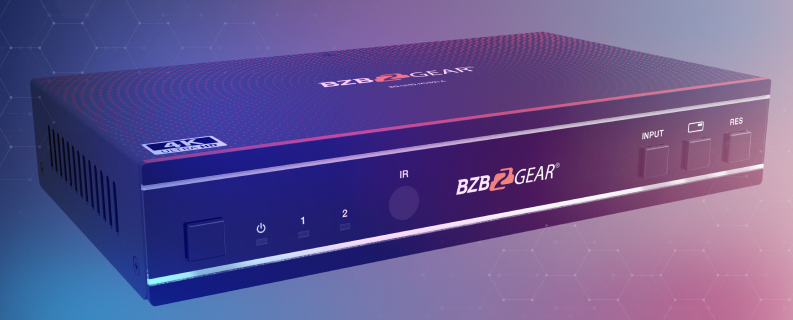 Overview
The 4K@60 2x1 Multiviewer Seamless UHD Video Switcher is designed to allow you to display multiple video sources at 4K resolution on a single screen. It combines two video signals and allows you to manage each input, create combinations of the two inputs, and adjust their positions on the display.
Besides instant switching between 2 sources the BG-UHD-MVS21A has the ability to display the two video inputs in a Picture-in-Picture (PIP) or Picture-by-Picture (PBP) mode. In PIP mode, one of the video inputs is displayed as a small inset window on top of the other input, which takes up the majority of the screen. In PBP mode, the two video inputs are displayed side-by-side, taking up equal or partial amounts of screen space.
Connectivity and Quality
This device supports a wide range of input resolutions up to 4096x2160p 60Hz. It also could de-embed audio from any of the sources in different formats for your external audio system. Supported audio formats are LPCM, AC3, DD+, DTS, DTS- HD. User can control the volume of audio in LPCM format.
Control
Multiple control options are available for the BG-UHD-MVS21A. It can be controlled through the front panel buttons, an IR remote, or RS-232 commands. EDID control is available through the RS-232 interface.
Features
Secure Content

HDMI 2.0b, HDCP 2.2, and HDCP 1.x compliant

4K Resolution

Input and output resolutions support up to 4K2K@60 4:4:4

Audio Management

Volume control and independent audio selection

EDID management

Seamless scaling for the best results

Control Options

Control via front panel buttons, IR remote, RS-232 commands

Compact design

For easy and flexible installation
18Gbps video bandwidth

LPCM, AC3, DD+, DTS, DTS-HD, up to 7.1 audio channels

Seamless switching between input channels and combined multiple images on a single UHD screen

Up to 4 display modes: SINGLE, PIP, PBP (1), PBP (2)

Audio de-embedding via analog and optical fiber audio ports
Videos
Elevate Your Media With This 2x1 4K 60hz UHD Multiviewer and Video Switcher | BG-UHD-MVS21A
Display Two 4K Sources at 60Hz on the Same Screen | BG-UHD-MVS21A
Tech Specifications
Technical
HDMI Compliance
HDMI 2.0b
HDCP Compliance
HDCP 2.2 / 1.x
Video Bandwidth
18Gbps
Video Resolutions
Up to 4K2K@60 4:4:4
IR Level
5Vp-p
IR Frequency
38KHz
Color Depth
8-bit
Color Space
RGB, YCbCr 4:4:4, YCbCr 4:2:2, YCbCr 4:2:0
Audio Formats
HDMI: PCM2.0/5.1/7.1CH, Dolby Digital/Plus, DTS, DTS High Res
Analog audio [3.5mm L/R]: PCM2.0
SPDIF (OPTICAL): Dolby Digital, DTS 5.1, PCM2.0
Note: It does not support HBR audio.
ESD Protection
Human-body model:
±8kV (Air-gap discharge) & ±4kV (Contact discharge)
Connection
Input ports
2 x HDMI IN [Type A, 19-pin female]
Output ports
1 x HDMI OUT [Type A, 19-pin female]
1 x L/R OUTPUT [RCA]
1 x OPTICAL OUTPUT [S/PDIF]
Control ports
1 x RS-232 [3pin-3.81mm phoenix connector]
1 x IR EXT [3.5mm Stereo Mini-jack]
Mechanical
Housing
Metal Enclosure
Color
Black
Dimensions
6.9"(W) x 3.9"(D) x 1.2"(H) [175mm(W) x 100mm(D) x 30mm(H)]
Weight
1.1lbs [497g]
Power Supply
Input: AC 100~240V 50/60Hz
Output: DC 12V/1A (US/EU standards, CE/FCC/UL certified)
Power Consumption
4.56W (Max)
Operating
Temperature
32°F ~ 104°F / 0°C ~ 40°C
Storage Temperature
-4°F ~ 140°F / -20°C ~ 60°C
Relative Humidity
20~90% RH (no-condensing)
PACKAGE CONTENTS
1 x 4K60 2X1 Multiviewer Seamless UHD Video Switcher
1 x IR Remote
1 x 3pin-3.81mm Phoenix Connector (male)
1 x 38KHz IR Wideband Receiver Cable (1.5 meters)
2 x Mounting Ears
4 x Machine Screws (KM3*4)
1 x 12V/1A Locking Power Adapter
1 x User Manual
Interfaces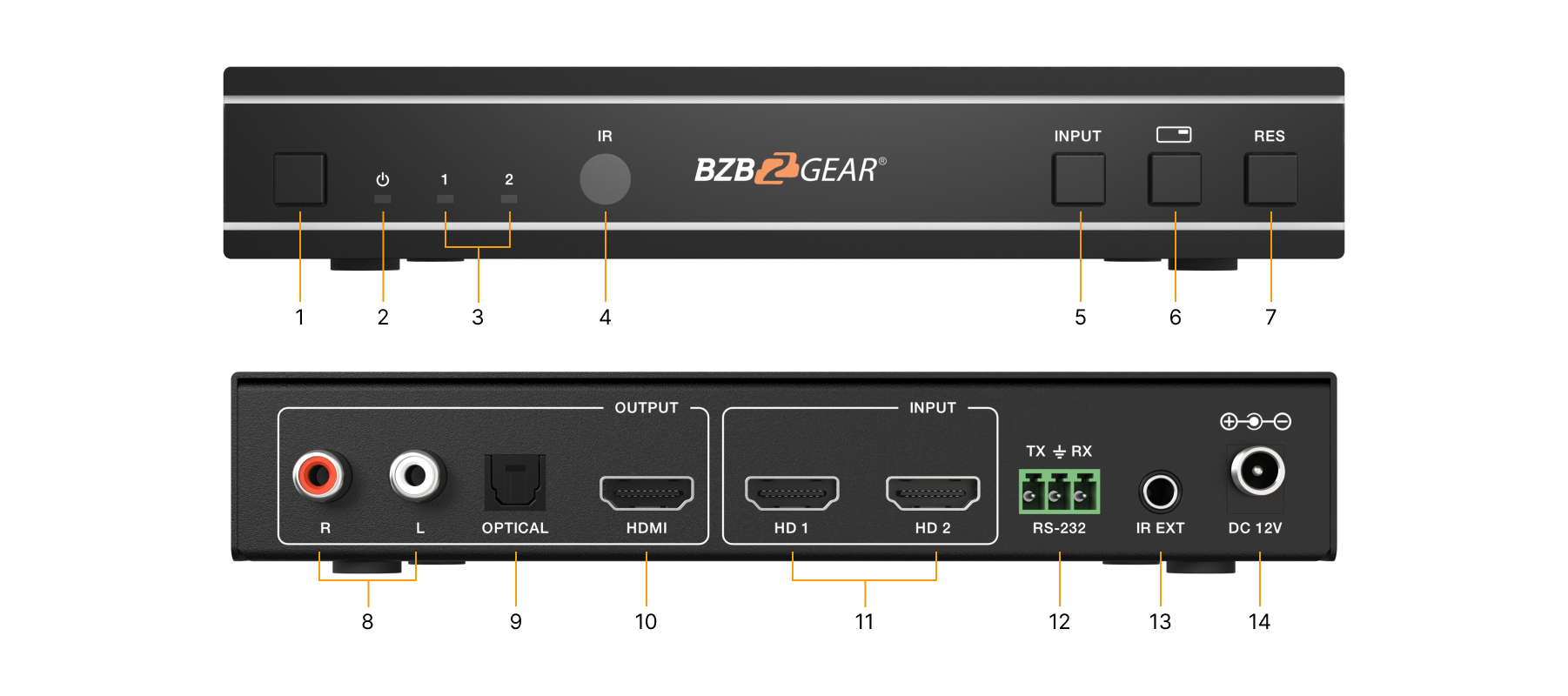 Power button:

Short press this button to power on the device. Long press this button for (1 second) to enter the standby mode.
Power LED: The Power LED will illuminate green when the product is powered on and red when the product is in standby.

Input 1-2 LEDs:

 Input signal indicator lights. When the HD 1/2 port connects to an active source device, the corresponding green LED will illuminate.
Note: Only the LED of the selected input channel will illuminate green during single screen display mode; all LEDs will illuminate green when multiview mode is activated.
IR Window: IR signal receiving window.
INPUT button: Input source switching button, only available during single screen display mode.
Multiview button: Multiview display mode switching button. Short press this button to cyclically select: SINGLE - PIP - PBP (1) - PBP (2). Long press this button for 3 seconds to select the aspect ratio for PBP (1) / PBP (2).
RES button: Output resolution switching button. Short press the RES button to cyclically switch the output resolution of the HDMI OUTPUT port (Please refer to the output resolution list in the "Video & Audio" section of this manual). Long press the RES button for 3 seconds to switch the output resolution to 720P60.
L/R port: PCM 2.0 Analog audio output port.
OPTICAL port: Optical fiber S/PDIF digital audio output port.
HDMI OUTPUT port: Connected to an HDMI display device such as a TV or Monitor with an HDMI cable.
HD 1-2 INPUT ports: Connect to HDMI source devices such as Bluray players, Gaming Consoles, or Set-top boxes with HDMI cables.
RS-232 port: 3-pin phoenix connector, connected to a PC or control system for serial port upgrade or RS-232 command control.
IR EXT port: Connect to an IR Receiver cable. If the IR receiving window of the unit is blocked or the unit is installed in a closed area out of infrared line of sight, the IR receiver cable can be inserted to the "IR EXT" port to receive the IR remote signal.

DC 12V:

 DC 12V/1A power input port.