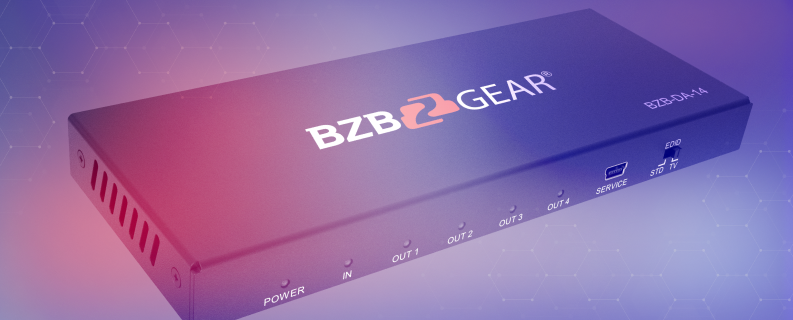 Overview
Introducing the BG-DA-14 4K UHD HDMI Splitter: Unlock the Ultimate in Visual and Audio Excellence. The BG-DA-14 is a compact powerhouse, splitting a single HDMI signal into four 4K UHD displays with support for HDMI 2.0b, HDCP 2.2, HDR, and 3D content. Enjoy stunning 4K visuals at 60Hz with vivid 4:4:4 color, coupled with exceptional audio quality featuring LPCM 7.1CH, Dolby TrueHD, and DTS-HD support.
Connectivity issues are a thing of the past, thanks to smart EDID control, all within a sleek, space-saving design. With a high-speed 18Gbps transfer rate and compatibility with multiple displays, the BG-DA-14 redefines your multimedia experience, making it a must-have for home entertainment, professional presentations, or educational setups. 
A simplified explanation of a 1X4 splitter
An HDMI 1x4 signal splitter takes a single HDMI input signal and duplicates it into four identical HDMI output signals. Each of these output signals can be connected to separate display devices, such as TVs or monitors, allowing the same audio and video content to be shown simultaneously on multiple screens.
Stunning Image Quality: 
Stunning 4K Visuals: The BG-DA-14 supports resolutions up to 4K2K@60Hz 4:4:4, ensuring your content shines with unrivaled image quality. Watch movies, play games, or deliver presentations with breathtaking clarity and detail, all at the smooth 60Hz frame rate.
Flexible Audio Support:
Immersive Audio: Elevate your audio experience with multi-channel support. The BG-DA-14 is your gateway to LPCM 7.1CH, Dolby TrueHD, and DTS-HD audio formats, delivering rich, lifelike sound to complement your high-definition visuals.
Enhanced Versatility:
Seamless Connectivity: Say goodbye to connectivity headaches. Our smart EDID control ensures that your displays work harmoniously with the source, reducing compatibility issues and making setup a breeze.
Space-Saving Design: Designed to fit seamlessly into your multimedia setup, the BG-DA-14 features a compact and unobtrusive design. Even in tight spaces, this splitter can be easily installed, making it perfect for any environment.
Lightning-Fast Transfer: With an impressive 18Gbps transfer rate, this HDMI splitter handles your content with speed and precision, ensuring that every frame and pixel reaches your displays flawlessly.
Versatile Outputs: Connect up to four displays, transforming your viewing experience and making it ideal for multi-screen setups, home theaters, boardrooms, and classrooms.
Advanced Compatibility: The BG-DA-14 is HDMI 2.0b and HDCP 2.2 compliant, ensuring compatibility with the latest devices and content protection standards. It even supports 3D video formats up to 4K2K@30Hz and high-resolution VESA mode video formats up to QSXGA@60Hz.
Features
4K

Supports resolutions up to 4K2K@60Hz 4:4:4

Multi-channel audio support

Supports LPCM 7.1CH, Dolby TrueHD, DTS-HD

Smart EDID

Eliminates connectivity issues

Compact Design

Easily installed in tight spaces

Hi-Speed

18Gbps transfer rate

Multiple Outputs

Supports up to 4 displays
HDMI 2.0b, HDCP 2.2 compliant

Supports 3D video formats up to 4K2K@30Hz

Supports high resolution VESA mode video format up to QSXGA@60Hz
Videos
BZBGEAR 1x4 Splitter & 4x1 Switcher for HDMI up to 4K2K 18Gbps & HDCP 2.2 Support
Tech Specifications
Video Bandwidth
600MHz/18Gbps
Input Ports
1x HDMI Type A [19-pin female]
Output Ports
4x HDMI Type A [19-pin female]
Output Resolution
480i ~ 1080p@50/60, 4Kx2K@24/30, 4k2k@60Hz
ESD Protection
Human Body model:
±8kV (Air-gap discharge),
±4kV (Contact discharge)
Power Supply
5V/1A DC (US/EU standards,CE/FCC/UL certified)
Dimensions
2.5" (W) x 6.4" (D) x 0.6" (H) [63mm (W) x 163mm (D) x 16mm (H)]
Weight
0.57lbs [260g]
Chassis Material
Metal
Silkscreen Color
Black
Operating Temperature
32°F ~ 104°F / 0°C ~ 40°C
Storage Temperature
-4°F ~ 140°F / -20°C ~ 60°C
Relative Humidity
20~90% RH (non-condensing)
Power Consumption
2W
PACKAGE CONTENTS
1x 1X4HDMI 18Gbps Splitter
1x 5V/1A DC Power Adapter
1x User Manual
Interfaces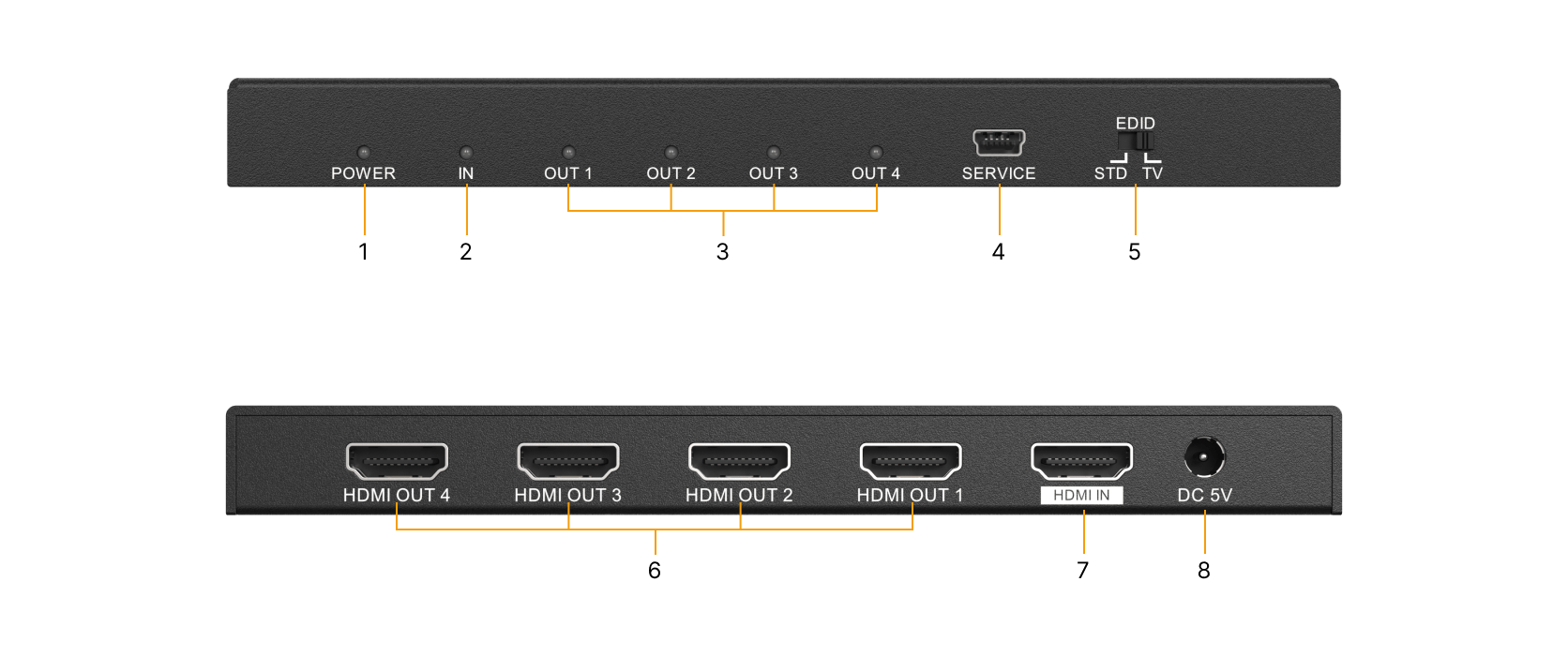 POWER LED:

This blue LED illuminates when the device is connected to the power supply.
IN LED: This blue LED illuminates when a Source is connected to the device.
OUT LEDs: These blue LEDs will light up to indicate which HDMI outputs are connected to an active TV/ display/monitor.

SERVICE:

Micro USB firmware update use only.
EDID STD / EDID TV: When in 'STD' mode, the unit will use its own built-in EDID settings. When in 'TV' mode, the unit will read the EDID settings of the display device connected to HDMI OUT 1.
HDMI OUT 1-4: Connect each of the HDMI outputs to an HDMI display for simultaneous HDMI distribution, or cascade the output to another transmitter to extend the signal distance.
HDMI IN: Connect the input port of the HDMI splitter to the output of your source device such as a DVD player or set-top box with an HDMI cable.
DC 5V: Plug the 5V DC power supply into the unit and connect the adapter to an AC outlet.