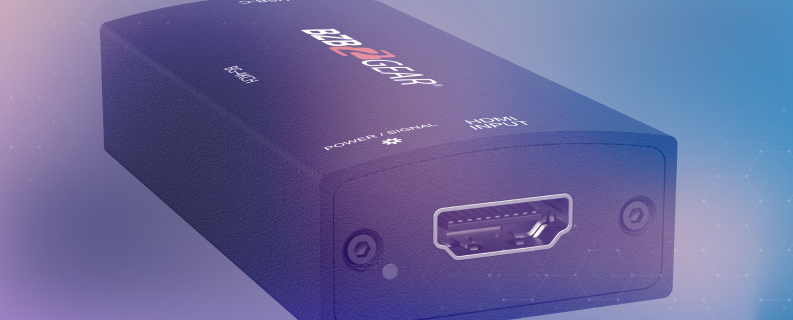 Overview
The BG-4KCH is a 4K capture device that enables users to capture a video signal from any HDMI source and transfer it to a computer via USB-C for recording or streaming. With this conveniently sized unit, video signals from devices like gaming consoles, cameras, computers, and media players can be captured in pristine 4K quality.
Connectivity and Quality
This video capture device supports video resolutions up to 4K2K@30Hz. It supports USB 3.1 Gen 1 (RGB/YUY2/NV12) as well as USB 2.0 (YUY2/NV12). The USB 2.0 connection supports a max resolution of 720p@30Hz. HDMI audio is supported in 2CH 16-bit PCM format. This device supports UVC1.0/1.1/1.5 formats and has a maximum data rate of 350Mbps. Compatibility with Windows, MacOS, and Linux makes this unit versatile enough to use with almost any desktop or laptop.
Features In-depth
The BG-4KCH is highly compact and portable for use on the go. The capture box supports video format auto-detection, enabling plug and play operations. Auto-format detection saves time that would otherwise be spent on configuring the video for recording and streaming. This unit also supports deinterlacing and upscaling. The upscaling feature on this device supports resolutions up to 1080p@60Hz. This provides additional flexibility for working with various resolutions and video sizes.
 TAA  COMPLIANT PRODUCT.
 This product meets the standards of the Trade Agreement Act (TAA).
 You can find all BZBGEAR TAA Compliant Products on
this page
.
Features
Crystal Clear Image Capture

Capture resolutions up to 4K@30Hz

USB Type-C

USB 3.1 Gen 1 (RGP/YUY2/NV12)

Portable

Ideal for recording in the field or on-the-go

Plug and Play

No setup required

Compatibility

Works with Windows 7 and up, Mac OS, and Linux

Streaming

Compatible with YouTube, Twitch, Facebook, Zoom, and more
Supports UVC1.0/1.1/1.5

Supports video resolution up to 4K2K@30

Supports deinterlace & scaler (Note: Scale-up feature supports up to 1080P@60)

Auto-detection of video format ensures plug and play operations

Supports USB 3.1 Gen 1 (RGB/YUY2/NV12) (capture up to 4K2K@30) and USB 2.0 (YUY2/NV12) (capture up to 720P@30)

Low Latency (3~4ms at 1080P)
Videos
Do I Really Need A Capture Card? - BG-4KCH
BZBGEAR BG-4KCH 4K UHD USB-C Video Capture Card/Scaler
Tech Specifications
Technical
Role of usage
Video Capture Device
Input Video bandwidth
297MHz
Output bandwidth
Up to 350Mbps (USB-C)
Video support (USB-C)
Up to 4K2K@30
Audio Input
HDMI Embedded Audio
Audio Format
2CH 16bit PCM
Recording Mode
Software Compression
Recording Video Format
RGB/YUY2/NV12 (USB3.1 Gen 1), YUY2/NV12 (USB2.0)
ESD protection
Human body model:
±15kV (air-gap discharge) & ±8kV (contact discharge)
PCB stack-up
4-layer board (impedance control — differential 100Ω; single 50Ω)
Firmware update
Feasible via USB-C Port
Input
1x HDMI
Output
1x USB-C
HDMI connector
Type A [19-pin female]
USB connector
USB 3.1 Type C (SuperSpeed USB)
Software compatibility
(not complete list)
OBS Studio (Windows, Linux, MAC)¸Potplayer (Windows), VLC (MAC, Linux),
AMCap (Windows), XSplit Boardcast (Windows), Skype (Windows, MAC),
Zoom (Windows), Hangout (Windows), TeamViewer (Windows)
OS Support
Windows 7 /8.1 /10, Mac and Linux OS
Mechanical
Housing
Metal enclosure
Dimensions
(L x W x H)
Model
3" x 1.5" x 0.7" [77 x 38 x 19mm]
Package
6.4" x 4.4" x 1.7" [165 x 111 x 42mm]
Weight
Model
2 oz [58g]
Package
5 oz [142g]
Power supply
Via USB-C
Power consumption
3 Watts (max)
Operation temperature
32~104°F / 0~40°C
Storage temperature
-4~140°F / -20~60°C
Relative humidity
20~90% RH (no condensation)
PACKAGE CONTENTS
1 x BG-4KCH
1 x USB 3.0 A to C Cable (host to device)
1 x User Manual
Interfaces

USB-C OUT:

Connect to a USB host device such as a PC, laptop, or MAC.
LED INDICATOR: Power & input signal indicator LED.
HDMI IN: Connect to an HDMI source.