8K UHD HDMI 2.1 48Gbps Advanced Signal Test Generator and Analyzer

Overview
The BG-AVTPG-8K stands out as an HDMI 2.1 signal generator and analyzer, serving as an indispensable and versatile tool specifically crafted for integrators. It effortlessly accommodates the full bandwidth of HDMI 2.1 and HDCP 2.2, streamlining the installation and troubleshooting processes like never before.
This compact and portable device comes equipped with a robust rechargeable battery, an array of video test patterns, user-friendly touch panel controls, and convenient access to cloud-based firmware upgrades. Furthermore, the BG-AVTPG-8K boasts the capability to support up to 8 channels of LPCM audio with selectable sample rates.
The loop-through function of the BG-AVTPG-8K allows the connected HDMI input to seamlessly transmit to an external display or its own built-in 7.0" touch screen. This feature empowers users to swiftly verify HDMI sources, displays, and cables. Additional functionalities, such as the HDCP analyzer and loop tester, ensure that installers have all the essential tools at their fingertips, simplifying their tasks with efficiency.
Features
Future Proof

8K60 4:2:0 8bits, 8K30 4:4:4, 4K2K 120Hz & 4K2K@60 1 0bits/12bits HDR pattern generator

Enhanced UX

7.0" touch panel for quick and easy access

Control Options

Mouse control and control via Ethernet

Simplified Monitoring

HDMI loop through functionality

HDCP Compliant

HDCP analyzer and generator that is able to transmit HDCP encrypted video

Rechargeable battery powered

Portable for up to 9 hours on a full charge
Supports true color

Voltage measurement on +5V and hotplug

DDC from HDMI source and display

Firmware updateable through USB Flash Drive

User defined pattern storage up to 4 GB

Embedded LINUX KERNEL system with limitless extension

Scrambler for videos over 340 MHz
Tech Specifications
Model Name
BG-AVTPG-8K
Technical
Role of usage
Generator / Analyzer
Video Bandwidth
TBD
HDMI Compliance
HDMI 2.1 and below
HDCP Compliance
HDCP 2.3 and below
Video Support
Up to 8K60 4:2:0 8bits, 8K30 4:4:4, 4K2K 120Hz & 4K2K@60 10bits/12bits (HDR)
Video Format Support
HDMI
Audio Support
8ch LPCM up to 192K
Control
USB mouse / touch panel / Ethernet
ESD Protection
Human body model — ±15kV [air-gap discharge] & ±8kV [contact discharge]
Input
1x HDMI + 1x USB + 1x RJ-45 (Ethernet)
Output
1x HDMI + 1x 3.5mm (Stereo)
USB Support
USB 2.0
HDMI Connector
Type A [19-pin female]
USB Connector
Type A
RJ-45 Connector
WE/SS 8P8C with 2 LED indicators
Mechanical
Housing
Metal Enclosure
Power Supply
12V DC / Battrery
Operation Temperature
32~104°F / 0~40°C
Storage Temperature
-4~140°F / -20~60°C
Relative Humidity
20~90% RH [no condensation]
PACKAGE CONTENTS
1x BG-AVTPG-8K
1x DC 12V Power Supply
1x User Manual
Interfaces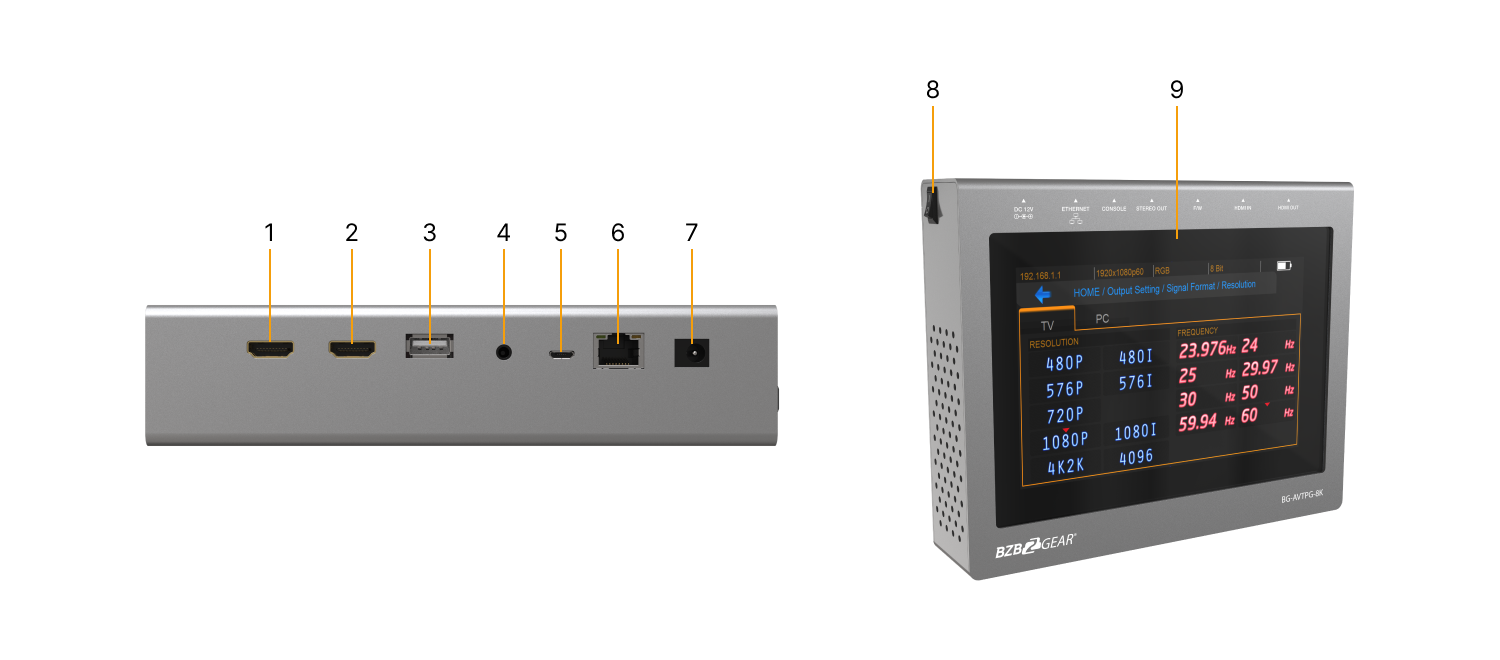 OUTPUT: HDMI output to Display or Sink device.
INPUT: HDMI input from source device.
USB: Connect to USB device for mouse control, uploading user created test patterns, EDID information, and firmware updates.
Stereo Out: 3.5mm stereo analog audio output.
Micro USB: Console port (Reserved).
Ethernet: Connect to a network for remote control.
+12V DC: 12V 5A DC power jack.
Power Switch: Power ON/OFF switch.
Touch Panel: Touch screen for control.