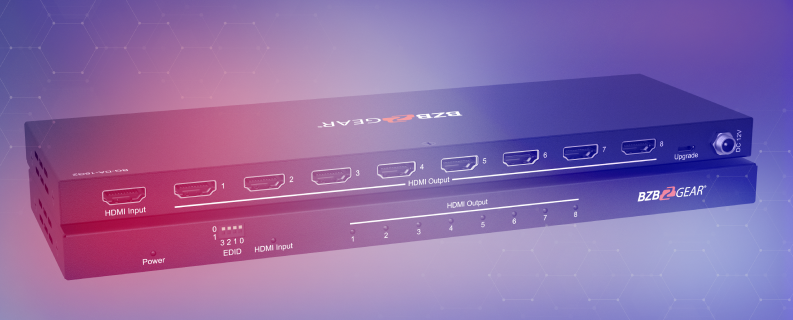 Overview
The BG-DA-18G2 HDMI splitter lets you distribute an HDMI signal to 8 separate outputs. It supports the latest HDMI 2.0 18Gbps specification, including HDR for vivid visuals. You can enjoy stunning 4K UHD resolution at 60Hz with 4:4:4 color depth, as well as all common video resolutions. This splitter also supports all HDMI audio formats, such as Dolby TrueHD, Atmos, and DTS-HD Master Audio, for superior sound quality. With advanced EDID management and HDCP 2.2 compliance, you can expect seamless compatibility with your devices. The BG-DA-18G2 is ideally used for home theater, entertainment room, lecture room, hall presentation, showroom, demo room, and public commercial display.
EDID Management
To use dip switches for EDID management, locate the dip switch or block on the device, determine the switch configuration for the desired EDID data, set the switches according to the configuration, power cycle the device, and verify the new EDID configuration. Consult the device manual or product specifications for specific instructions.
Features
1X8 Switching

1x HDMI input and 8x HDMI outputs

HDMI 2.0

18Gbps specification including HDR

4K@60Hz

Up to 4K UHD 60Hz 4:4:4

Audio Formats

All known HDMI audio formats including Dolby TrueHD, Atmos, and DTS-HD Master Audio transmission

EDID management

Seamless scaling for the best results

HDCP Compliant

HDCP 2.2 compliancy ensures copyright protection
All industry standard video resolutions including VGA-WUXGA and 480i-4K
Tech Specifications
Video Bandwidth
300MHz/6Gbps per Color
Input Ports
1x HDMI Type A, 19-pin, female
1x Mini USB (Firmware upgrade)
Output Ports
8x HDMI Type A, 19-pin, female
Resolutions
Up to 4K@50/60Hz 4:4:4, Full 3D Pass-through
HDMI Cable Distance
5m for 1080p@60Hz, 3m for 4K@60Hz 4:4:4
Power Supply
12V/2A DC
ESD Protection
Human body model:
±8 kV (air-gap discharge)
±4 kV (contact discharge)
Dimensions
11"(W) x 4.3"(D) x 0.51"(H) [273mm(W) x 109mm(D) x 13mm(H)]
Weight
1.6lbs [705g]
Chassis Material
Aluminum
Chassis Color
Black
Operating Temperature
32°F ~ 104°F / 0°C ~ 40°C
Storage Temperature
-4°F ~ 140°F / -20°C ~ 60°C
Relative Humidity
20~90% RH (non-condensing)
PACKAGE CONTENTS
1x 1X8 HDMI Splitter
1x 12V/2A DC Power Supply
1x Mounting kit
Interfaces

Power LED Indicator:

Illuminates when the unit is powered on.
EDID Dip Switch: Manage the EDID settings of the unit (see EDID Dip Switch Settings for more information).
Input LED Indicator: Illuminated when an HDMI input signal is detected.
Output LED Indicators: The LED illuminates when the corresponding output detects a connected HDMI display.
HDMI Input: Connect to a signal source such as a Blu-ray player or set-top-box.
HDMI Output 1-8: Connect to an HDMI display device such as a TV or projector.
F/W Upgrade Port: Connect a micro USB cable to upgrade the device firmware.
DC 12V: Locking power supply, connect to the provided power adapter.