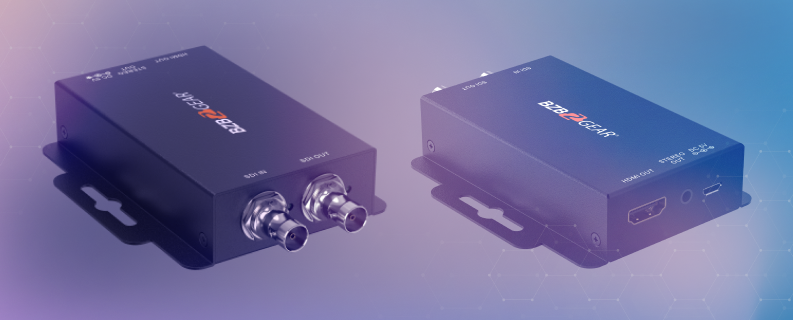 Overview
The BZBGEAR BG-4KSH is a 12G/6G/3G/HD-SDI to HDMI 2.0 converter with audio extraction. The SDI signal is digitally converted into HDMI, guaranteeing lossless conversion for both audio and video. Featuring up to 8 channels of audio, the BG-4KSH is compatible with 7.1 or 5.1 surround sound systems. The 3.5mm analog stereo output, SDI input, SDI loop-out, and HDMI output provides users convenient flexibility. With these robust features, the BG-4KSH can take SDI signals from professional or commercial AV equipment and effortlessly convert it to HDMI without compression for use of popular consumer-grade video interfaces.
Features
Crystal Clear Images

Stunning image quality up to 4K@60Hz

HDMI Output

Convert SDI to HDMI the most popular video interface in the world

SDI Loop-out

Loop out to view content locally at device

Audio De-embedding

De-embed audio using a 3.5mm Stereo Mini input

Status LEDs

See signal and power status at a glance with built in status lights

Durable Metal Enclosure

Designed for years of reliable use
7.1 or 5.1 channel surround

Convert signal from professional/commercial grade AV equipment to a more common interface

Digital conversion of signal ensures lossless transformation for audio and video
Videos
Convert Your 12G SDI Signals into 4K HDMI Signals Effortlessly with the BG-4KSH
Tech Specifications
Technical
HDMI Compliance
2.0
SDI Formats
SMPTE 2082; 11.88 Gbps / 12G-SDI: 2160p at 50/59.95/60 Hz
SMPTE 2081; 5.94 Gbps / 6G-SDI: 2160p at 25/29.97/30 Hz
SMPTE 424M-2.97 Gbps / 3G-SDI: 1080p at 50/59.94/60 Hz (4:2:2)
SMPTE 274M-1.485 Gbps / HD-SDI: 1080p at 23.98/24/25/29.97/30 Hz, 1080i at 50/59.94/60 Hz
SMPTE 292M-1.485 Gbps / HD-SDI: 1080i at 30 Hz, 720p at 60 Hz
SMPTE 296M-1.485 Gbps / HD-SDI: 720p at 23.98/24/25/29.97/30/50/59.94/60 Hz
HDMI Formats
4K UHD Video Standards / 2160p at 23.98/24/25/29.97/30/50/59.94/60 Hz
UHD Video Standards / 1080p at 50/59.94/60 Hz (4:2:2)
HD Video Standards / 720p at 50/59.94/60 Hz, 1080i at 50/59.94/60 Hz, 1080p at 23.98/24/25/29.97/30 Hz
SDI Bitrate
270 Mbps, 1.485 Gbps, 2.97 Gbps, 5.94 Gbps, 11.88 Gbps
Video Sampling
4:2:2
Audio Sampling
48 kHz & 24 bit
Auto Switching
Auto switching between SD / HD / 3G / 6G / 12G-SDI
Cable Reach
12G-SDI up to 70m (233ft)
6G-SDI up to 100m (330ft)
3G-SDI up to 190m (627ft)
HD-SDI up to 250m (825ft)
Eye-patten Measurements
Amplitude: within 800mV
Raise & Fall time: 45ps
Alignment jitter: <0.3 (100kHz to 1188MHz)
ESD Protection
8 KV - Contact Discharge
15 KV - Air Discharge
Mechanical
Housing Design
Metal
Casing Style
Wall Mountable
Power Connection
Micro-USB Port
Power Supply
5V DC, 1A
Power Consumption
2.5 Watts (Max.)
Operating Humidity
20-90% RH (no condensation)
Operation temperature
32~104°F / 0~40°C
Product Weight
0.39 lb (175g)
Package Weight
0.86 lb (390g)
Certifications
CE, FCC, RoHS
PACKAGE CONTENTS
1x BG-4KSH
1x 5V power adapter
1x User Manual
Interfaces

SDI IN:

12G/6G/3G/HD-SDI Input.
Signal LED: Illuminates when a SDI signal is detected.
SDI OUT: 12G/6G/3G/HD-SDI loop-out.
Power LED: Illuminates when power is connected.
HDMI OUT: Connect to an HDMI display using an HDMI male-to-male cable.
Stereo Audio Output: Extract audio from the SDI source using 3.5mm Stereo mini.
Micro USB Port: 5V DC power supply.